26 September, 2013
Potato Theeyal – Potato curry with shallots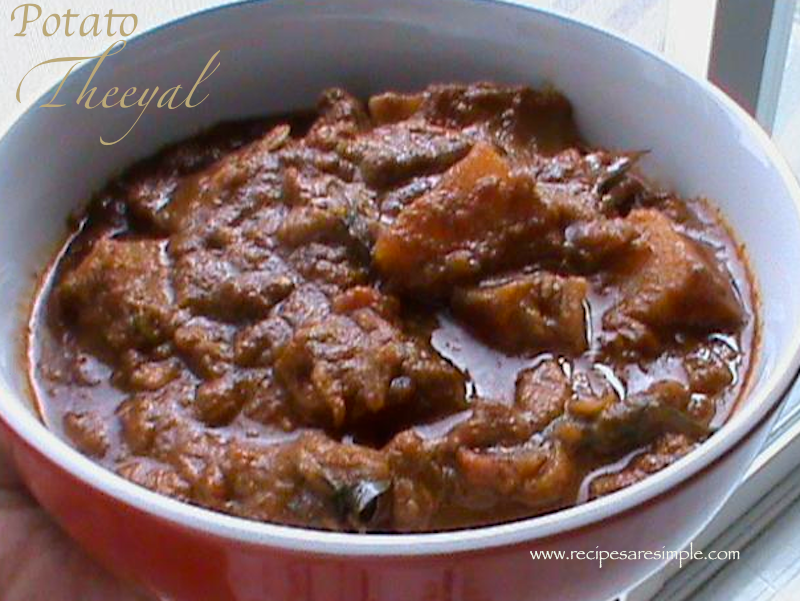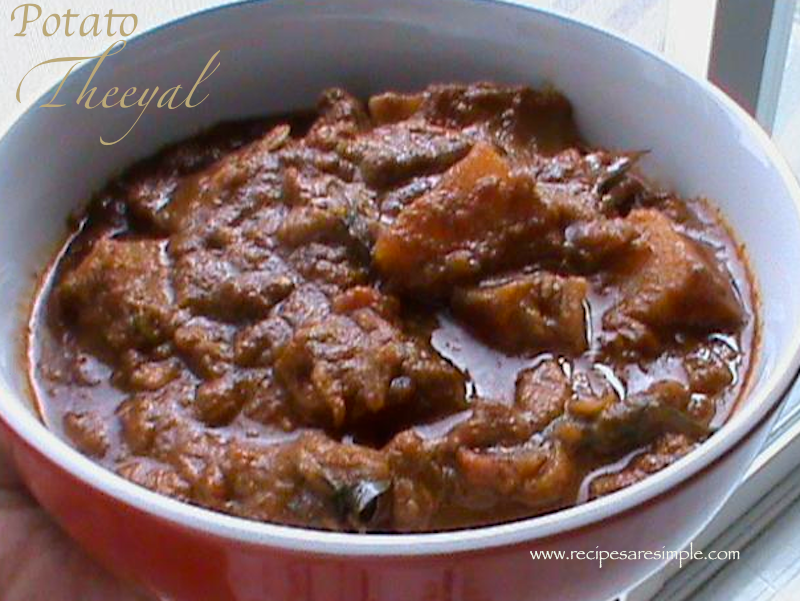 Potato Theeyal – Potato curry with shallots
By Najeeb P A
This is an Onam Speciality Item in Central Kerala. Deliciously spiced and seasoned gravy made with shallots and coconut!
This was an entry in the Onam Recipe Conest 2013.
Potato Theeyal – Potato curry with shallots
Author: 
Prep time: 
Cook time: 
Total time: 
Ingredients:
1 cup grated coconut
½ tsp cumin seeds
4 shallots (Whole)
½ cup shallots (Halved)
250 gms Potatos, cut into medium sized pieces
5 green chillies, cut into small pieces
2 ½ Tbsp fresh ginger, minced
8 large cloves garlic / 3 Tbsp, chopped finely
1 ½ Tbsp Coriander powder
1 Tbsp Chilly powder
½ Tbsp Turmeric powder
1 Medium sized Tomato, cut into small pieces
1 Large or 2 Medium sized Onions, sliced
3 Tbsp Refined oil
2 Tbsp Coconut oil
¼ TSP Garam Masala Powder
Curry leaves
Salt – as required
Method:
Dry roast the grated coconut, cumin seeds and whole shallots to a golden color, stirring constantly to prevent it from burning.
Blend/Grind this to a fine paste, adding just a small amount of water if needed.
Pour refined oil into a pan. When oil is hot, add sliced onions and fry till light brown.
Also add green chillies, ginger, garlic a little water and saute well.
When nicely sauteed, add the coriander powder, chili powder and turmeric powder.
Stir and cook till aromatic, light brown in color and the spices are cooked

(careful not to burn the spices)

.
Add tomatoes and mix well. Allow the tomatoes to get cooked and reduce a little.
Next add the halved shallots and 1 ½ cups water and bring to a boil.
After simmering a few minutes, add the potatoes and salt to taste.
Allow the potatoes to cook well.

(Cook covered on medium heat)

.
Now add the fried, ground coconut paste and bring back to a gentle simmer briefly.
Add the coconut oil on top and garnish with curry leaves.
Check for salt. The 'Potato Theeyal' should be thick and creamy.
Serve Hot with Rice for a very Tasty Sadya!
Potato Theeyal – Potato curry with shallots 
Did you enjoy our Potato Theeyal  ?
You May Also Like: