4 March, 2013
Poori Recipe – With Potato Curry – Hot Fried Flat Bread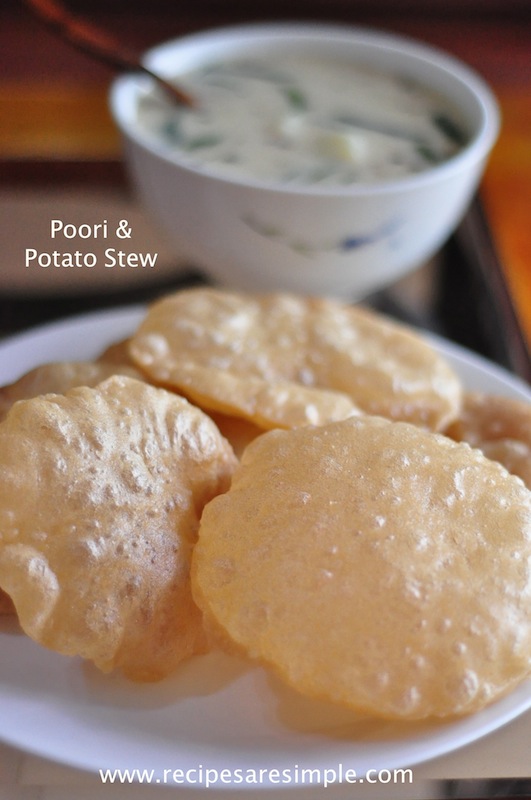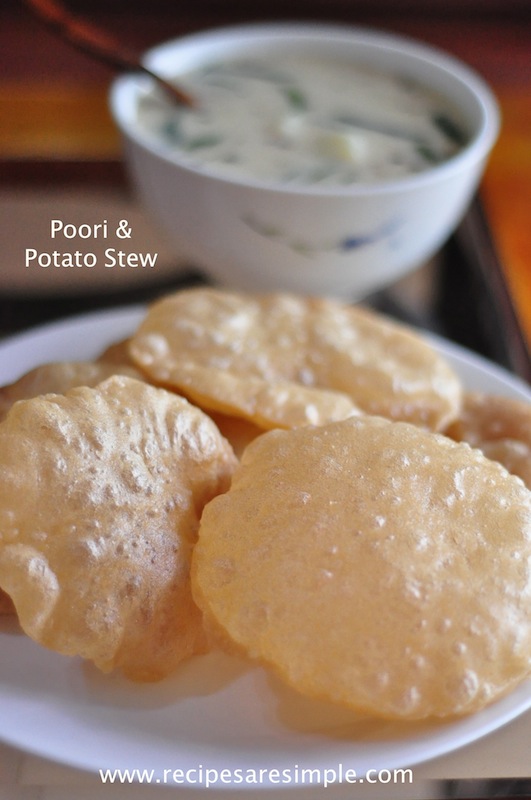 Poori Recipe – With Potato Curry
  These hot fried Indian flat breads are made so quickly and are a kids favorite! The Potato Stew can be made just as quickly and served together.
Poori Recipe – With Potato Curry
Recipe Type: Breads / Breakfast
Author: Recipes 'R' Simple
Prep time: 5
Cook time: 5
Total time: 10
Serves: 2-3
Ingredients for Poori:
1 cup Wheat flour (Aata)
2 tsp vanaspati(Indian  Vegetable Shortening), ghee or oil
salt  to taste about 1/4 tsp
1 – 2 tsp sooji/ rava / semolina – optional
water (½-1 cup) this may vary according to th texture and quality of flour.
Combine the flour, (

and semolina if using

) with the shortening and salt  and mix with hands till the shortening is well distributed and you get an even, buttery flour mixture.
Next add water  just enough to knead into a nice pliable dough that is moistened but doesn't stick to you hands.

(dryer dough than for chapathi  – this is so the poori does not absorb the oil)

Within your palms- mould into balls the size of large limes. Flatten slightly into discs.
Heat oil to fry in a medium sized deep wok.
Oil the surface of a chapathi press.  Press the discs one at a time with just enough pressure to get a nice round  Poori/Puri. Not too thick. Not too thin

(Fry 1 and you will know – the poori should puff up  and be crisp but soft and not flat and hard)

If you do not have a chapathi press you can roll each disc out with a rolling pin evenly

(do not flour the rolling surface though – you can oil the surface for ease in rolling instead. )

Slide each rolled out puri into the wok and allow to fry on medium heat.
When it comes to the surface, puffed up and one side is golden, gently turn over and fry the other side pressing gently into the hot oil with a flat slotted spoon/spatula.

(This will make the puri puff up further

)

Remove from oil with the slotted spoon into a colander or large strainer to drain off excess oil.
Note: Puri is meant to be fried just before serving time.
Serve with Potato Curry (Stew):
1 cup Potatos peeled and chopped into large dice.
1  cup coconut milk
1 cup water
1 Tbsp oil
1 green chilly
½ cup onion, finely sliced
½ -1 Tbsp garlic,minced
½ tsp mustard seeds
3 fenugreek/methi seeds
6 curry leaves
1/2 tsp salt(approx)
1 tsp flour
Method:
Boil the potato in  ½ cup of the coconut milk + the water  and salt.
When potato is cooked, add the remainder of the coconut milk and heat to a simmer.Careful that it doesn't boil over.
In a small frying pan, Heat oil, add the mustard & fenugreek seeds, When the mustard seeds pop, add the curry leaves green chilly, garlic and stir followed by the onion. Saute till the onion  

starts

 to turn brown. Add the flour and stir well to thicken .
Add to the curry.
Poori Recipe – With Potato Curry
Try it and let us know – 
Poori Recipe – With Potato Curry
 .
You can add a little turmeric to the potato curry if you like, add while Sautéing the onions. This provides a different flavor.