15 April, 2016
Pongal Recipe | Ven Pongal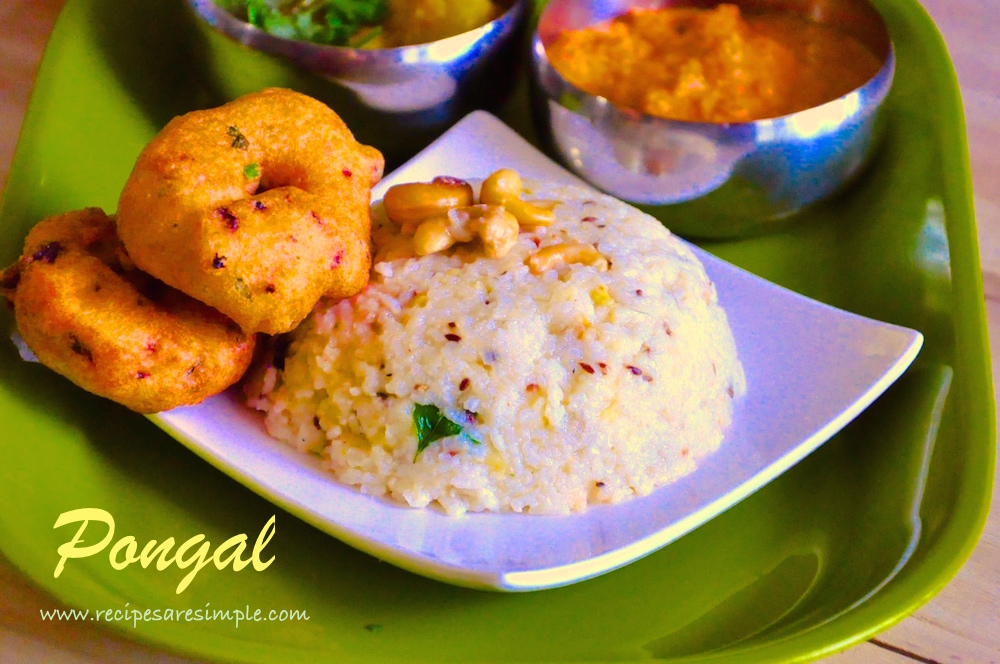 Pongal Recipe | Ven Pongal (with slideshow)
'Pongal' is a festival in Southern India to celebrate the coming of the Harvest Season.   'Pongal' is a derivation of the word  'Pong',  which means to 'spill over' or 'boil over'.
There are two dishes associated with this festival. One savory and one sweet. The savory version is called Ven Pongal (White Pongal) or Khara Pongal (Spicy Pongal). It is a very common breakfast item in parts of  the South. The sweet version is called Sakkara Pongal (Sweet Pongal).
If the dish is simply referred to as  'Pongal' it is referring to the Savory Version. It is a very satisfying and quick breakfast ( or anytime) dish. It is often served with Chutney , Sambar and 'Vadai' (lentil fritters). The dish is made of de-husked green gram and short grained rice. It is cooked to a creamy but thick (porridge like) consistency, perhaps like a 'Risotto'. The ghee is absolutely essential, and Pongal just isn't Pongal without it.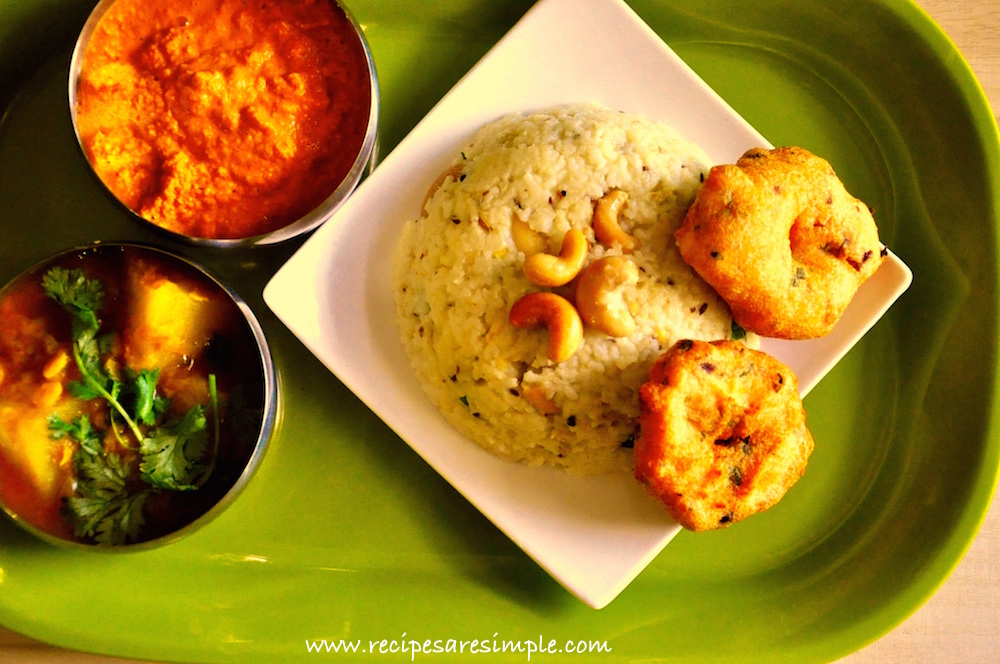 Pongal Recipe | Ven Pongal
You are here: Home > Rice Dishes  > Ven Pongal
 

Recipe Type: Rice/ Breakfast / Festive

Author: Shana c/o Recipes 'R' Simple
Ingredients:
1 cup short grained rice / son maser
 ½ cup moog dal / husked green gram
¼ tsp turmeric powder
¼ tsp whole back pepper corns
¹/8 tsp cumin
2 tsp ghee
1- 1½  tsp salt (to taste)
½ cup milk (optional)
For tempering:
¾ tsp cumin & ½ tsp whole black pepper, crushed
1 Tbsp ginger, crushed and then chopped finely
1 Tbsp green chili(i use mild chill), chopped finely
large handful of raw cashew nuts
a few curry leaves (optional)
¼ tsp asafoetida (hing)
¼ cup ghee
Method:
Dry roast the husked green gram till slightly nutty in aroma.
Rinse the rice thoroughly (till water runs clear).
Add the rice to a pressure cooker along with the roasted green gram and turmeric.
Add 5 cups water or 4 ½ cups water and ½ cup milk.
Add the whole black pepper corns and cumin to this. We will use more for tempering, but I like to add a little along now while cooking the rice.
Pressure cook on high till you hear the first steam and then lower the heat and cook for the remaining 4 whistles.
Allow to cool. Open and cook down if any liquid remains.
Mash the mixture to get a nice creamy porridge like consistency.
Stir in salt and ghee now and set aside.
Tempering:
Heat the ghee in a small wok/pan.
Add the coarsely crushed cumin and black pepper.
When sizzled, add the ginger and green chili and cute till the raw smell dissipates.
Add cashew nuts, and curry leaves and allow nuts to turn golden.
Stir in hing/ asafoetida and remove from heat.
Pour this into the cooked rice and dal, stir really well till the pongal is thoroughly mixed.
To serve, add the Pongal to a small bowl and invert not serving plate.
Served traditionally with Chutney, Sambar and Vadai (Lentil Fritters).
Pongal Recipe | Ven Pongal
Although short grained rice is preferred to get the creamy consistency, if you can not find it, basmati rice may be substituted. It just needs to be cooked with more liquid till you get a mashed, creamy consistency.
Key Ingredients: Rice, Mung Bean, Ghee, Ginger, Green Chili, Cumin, Black Pepper, Cashewnuts.
Leave a comment if you tried – Pongal Recipe | Ven Pongal.