23 June, 2014
Pepper Chicken Chettinad
Pepper Chicken Chettinad
  Chettinad is a region in Tamil Nadu, India and is famous for its 'Spice rich' Non – Vegetarian dishes. The 'Chettiar' community here is famous for using a variety of freshly ground spices to enhance their dishes. Pepper Chicken Chettinad is one of the most popular Chettinad creations. The chicken is spiced and very succulent. Of course, you could reduce the heat to suit your palate. Recipes vary, some even contain coconut. This recipe comes from one of my old class mates turned chef Raj. Thanks it always turns out good. And it's so simple.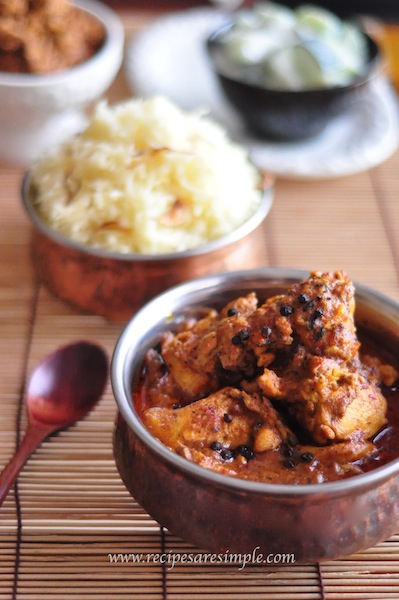 Pepper Chicken Chettinad
Recipe Type: Chicken / Curry

Author: Recipes 'R' Simple

Prep time: 20

Cook time: 20

Total time: 40

Serves: 6
Ingredients:
1 kg chicken, cut into small – medium sized pieces. (skin removed)
½ tsp turmeric powder
1 – 2 tsp salt
1 Tbsp Black Pepper Corns
6 dried red chillies or according to taste
1 tsp fennel seeds, divided

10 shallots, peeled

10 large cloves garlic, peeled

5 medium sized tomatos, chopped
¼ cup oil (sunflower, corn oil etc..)
Coriander leaves, ginger julienne, crushed pepper corns to garnish
Method:
Clean, rise and drain the chicken pieces thoroughly.
Marinate with salt and turmeric powder for 15 minutes.
Add the pepper corns, dried chillies, and half tsp of the fennel to a small pan and heat while stirring for about 2 minutes till nice and aromatic. Careful not to burn. You should get a nice toasted aroma from the spices.
Crush these spices using a pestle and mortar.
Add shallots and garlic to a small grinder jar and grind to a paste.
Add the crushed spices and pulse for a few seconds to combine.
Heat oil in a heavy bottomed pan / pressure cooker and add the remaining half tsp of fennel seeds.
When they crackle, add the marinated chicken and toss well on high heat, just till the chicken is uniformly cooked on all sides and the color is  no longer pink. (About 2 minutes should do).
Remove the chicken from the pan and set aside.
Add the chopped tomatoes to the oil left in the pan and fry on high heat, while stirring to get a reduced sauce. Add some salt.
When the tomatoes are cooked well, add the ground up mixture of garlic, shallots and spices.
Stir on medium heat, patiently till the raw smell of the garlic dissipates and the mixture is thoroughly cooked. (Stir constantly).
Return the chicken and any juices to the pan and cook covered on low heat till chicken is tender OR pressure cook on low till you hear the first steam. Continue to cook and turn off just before the 3rd steam whistle is released.
Leave to cool.
Garnish with the ginger and coriander leaves and more crushed pepper corns if desired.
Pepper Chicken Chettinad
Try it and let us know – Pepper Chicken Chettinad .
¼ tsp of fenugreek seeds may be added to the spices while dry roasting but they must be watched closely. Even slightly over roasted – they would turn the curry bitter.
You can make this dish with boneless chicken breasts as well but reduce the frying and cooking time, to prevent them from drying out.