16 October, 2013
Peechinga Parippu -Luffa / Ridge Gourd with Split Green Lentils /Moong Dal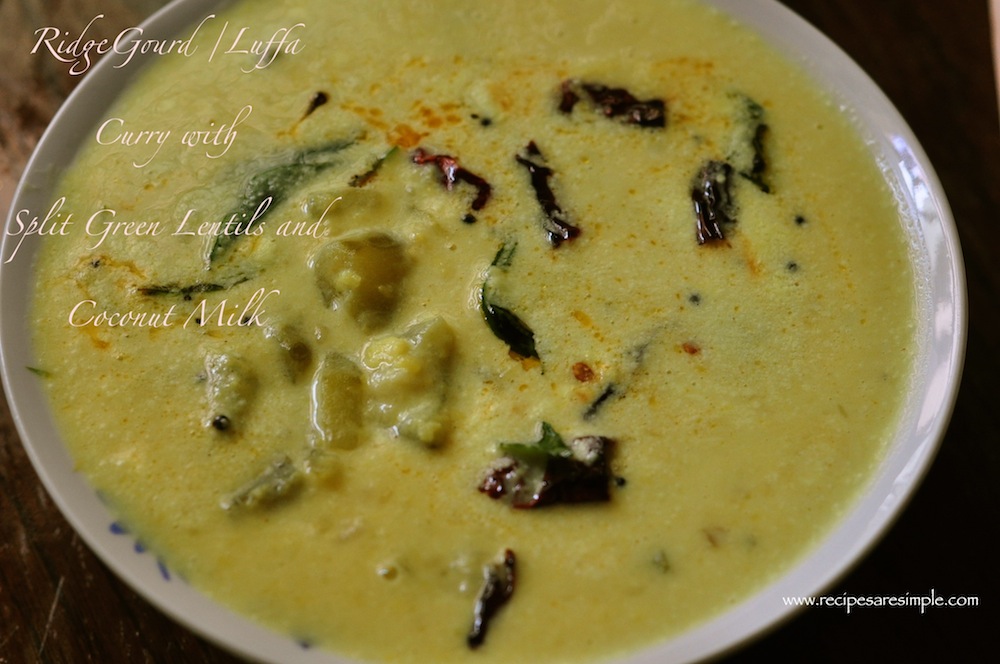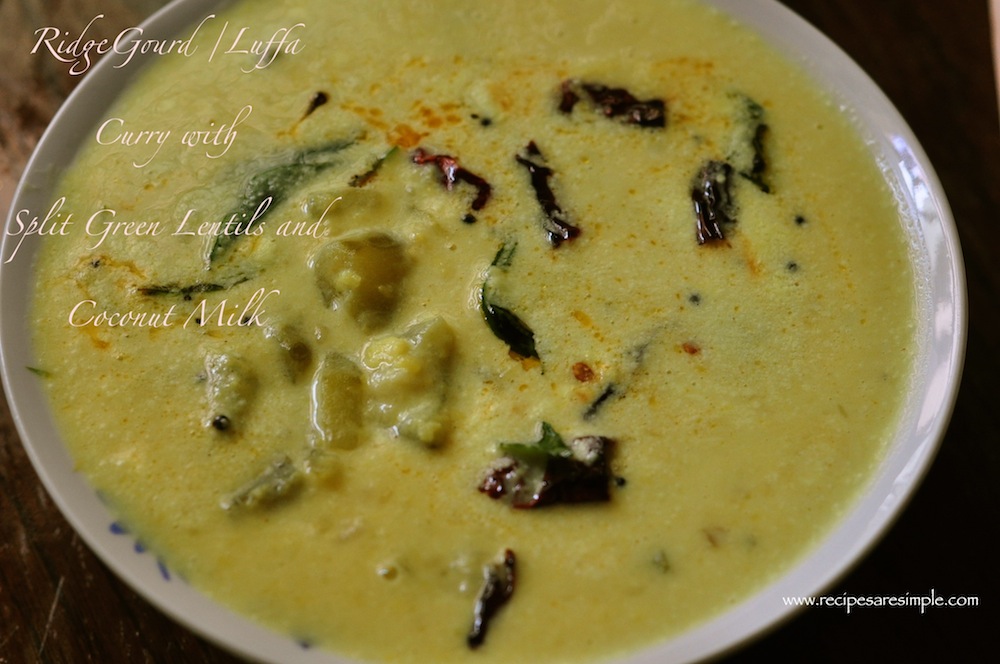 Peechinga Parippu -Luffa / Ridge Gourd with Split Green Lentils /Moong Dal
This, for me is the ultimate comfort food. So easy to prepare and so good over rice. Especially over Kerala Rice.
I dont need anything else. My Chilly Fried Dry Shrimp Delicacy goes great with this!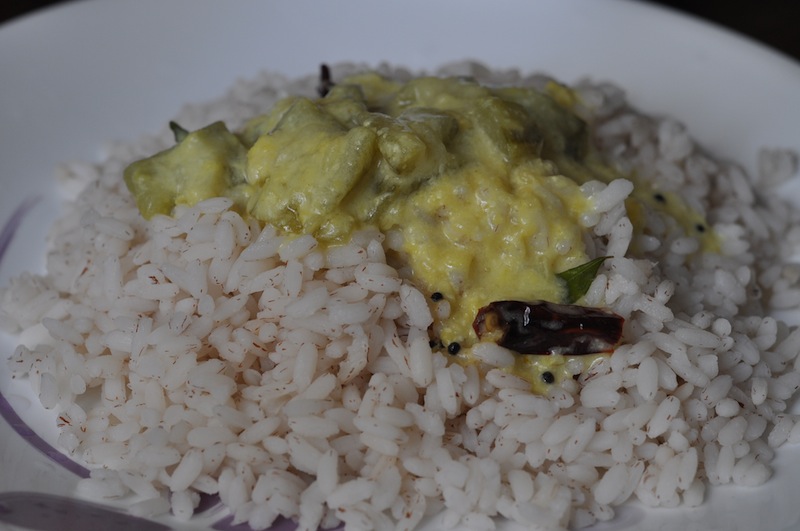 Peechinga Parippu -Luffa / Ridge Gourd with Split Green Lentils /Moong Dal
Recipe Type: Sides
Author: Recipes 'R' Simple
Prep time: 
Cook time: 
Total time: 
Serves: 4
Ingredients:
1 peechinga /luffa  / ridge gourd – washed, peeled gently and cut into bite size pieces
¹⁄3 cup split green lentils/beans  (moong dal)
½ cup or more coconut milk
2 large cloves garlic
1 long, mild green chili , chopped into large rings
1⁄8 tsp cumin seeds (up to 1 tsp if you like the flavor)
¹⁄3 tsp turmeric powder
Oil for tempering
3 dry chillies,cut into pieces
¼ tsp mustard seeds
a handful of curry leaves
Method:
Add the rinsed and drained lentils as well as the Ridge grourd pieces to a pressure cooker.
Add enough water to cover the ingredients, salt, the garlic, green chili and cumin seeds.
Pressure cook for 2-3 steams. Manually release the steam after cooling off the cooker.
Open. Add the coconut milk and turmeric and bring to a boil. Taste and season with salt if needed.
Heat 1 Tbsp oil in a small pan.
Splutter the mustard seeds and then add dry chili and curry leaves.
Add to the curry. Serve over hot rice!
Luffa/ Ridge Gourd Curry with Split Green Lentils/Moong Dal
Chopping the ridge gourd. Scrub the ridge gourd thoroughly.  We want to peel the rough ridged skin away and yet eave some skin intact. I use a peeler to peel away the thickened ridge and some of the tougher portions. Do not peel off all the skin. Scrub thoroughly to remove the earthy smell.
Choosing the ridge gourd. Choose one that is firm without punctures in the skin. The ridge gourd / luffa must not be over mature. There should be ample flesh and less amount of seeds. They must be consumed before they mature, or they will be too woody and fibrous to eat. Ridge gourd is also sometimes referred to as Chinese okra.
Did you enjoy our Peechinga Parippu -Luffa / Ridge Gourd with Split Green Lentils /Moong Dal?