26 March, 2013
Peanut Masala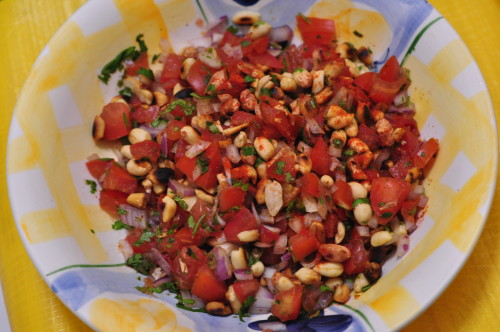 Peanut Masala
This crunchy, tangy, savory salad bar snack is great  to take out to the poolside or  as a quick fix for evening eats. Peanut Masala is a sure  crowd pleaser.

Peanut Masala
Recipe Type: Snacks N Salads
Author: Recipes 'R' Simple
Prep time: 
Total time: 
Serves: 4
Ingredients:
1 cup roasted, unsalted peanuts
2 tomatos, deseeded – small diced
1 small onion, small diced
2 Tbsp coriander leaves,  finely chopped
1-2 tsp Kashmir chilly powder
2 Tbsp  lemon juice
1 tsp chat masala
oil for glaze




Method:
To a

non reactive bowl,

add the chopped onion tomato, chat masala, salt and lemon juice. Stir to combine
Just before serving add the roasted roasted peanuts . Mix. Top with the coriander and  chilly powder. Serve.
Peanut Masala
Did you enjoy our Best Fried Chicken Recipe ?
Notes: Non – Reactive Bowl : A glass, ceramic, or stainless steel bowl, not an aluminium or cast-iron one. Non-reactive bowls should be used while preparing and storing dishes, such as dressings or marinades, which contain acidic ingredients such as vinegar or lemon juice.
You may also like: Bombay Mixture Salad