20 August, 2015
Pazham Pori – Tea Shop Plantain Fritters Kerala favorite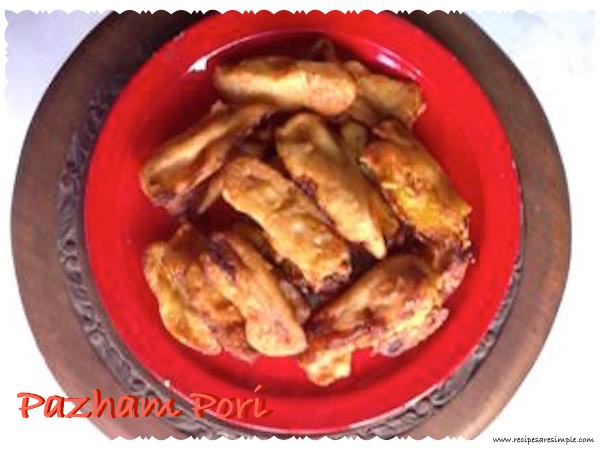 Pazham Pori
Pazham Pori is a staple at Tea stalls in Kerala. When you have rainy weather and you see these batter fried sweet snacks, the truth is they are quite hard to resist! Perfect to make at home for tea time, especially during the rainy season!  Gather around! Let's have tea and talk!
Pazham Pori 
You are here: Home > Snacks and Savories  > Pazham Pori
 

Recipe Type: Snacks/ Sweet Snacks

Author: Shana c/o Recipes 'R' Simple



Ingredients:
5 RIPE Plantains / ethapazham
1 cup plain / all purpose flour
½ cup water OR ¼ cup water plus ¼ cup thick coconut milk

 ¹/3 cup sugar

¼ tsp turmeric powder – optional
¹/8 tsp salt
Oil for frying, coconut oil is preferred
Method: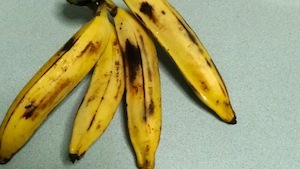 Peel the RIPE plantains.
Slit vertically/ lengthwise and then cut in half to make 4 fritters. (If the plantains are very big, you might cut them into six parts)
Mix flour and water till smooth.
Add sugar, salt and turmeric and stir again.
Heat oil in a deep sided wok /kadai.
One at a time, dip the fritters in the batter and slide into the hot oil.
Fry till golden brown and crisp.
Drain on paper towels and serve.
Pazham Pori 
As with many Kerala recipes, Coconut oil is the preferred choice and gives best flavor.
The optional addition of coconut milk also boosts flavor.
These fritters are great served hot, but are yummy even if cool/ served later in the day.
The batter should be thick enough to provide an nice  – full and crispy coating.
Read more about KERALA CUISINE.
Key Ingredients: Plantain, Sugar, Flour, Turmeric, Salt, Oil.
Let us know if you tried it – Pazham Pori  . Comments from you provide motivation to keep up the driving force behind this blog, bringing you more delicious and perfected recipes regularly. Please do leave a comment. We love to hear from you.