27 July, 2015
Patatas Alioli – Spanish Tapas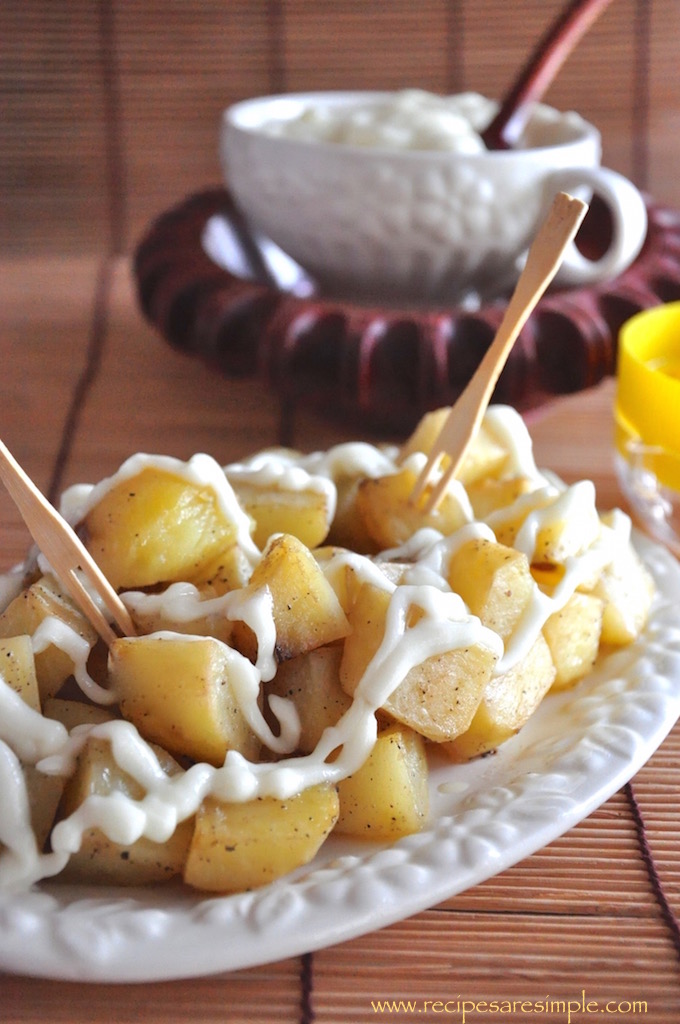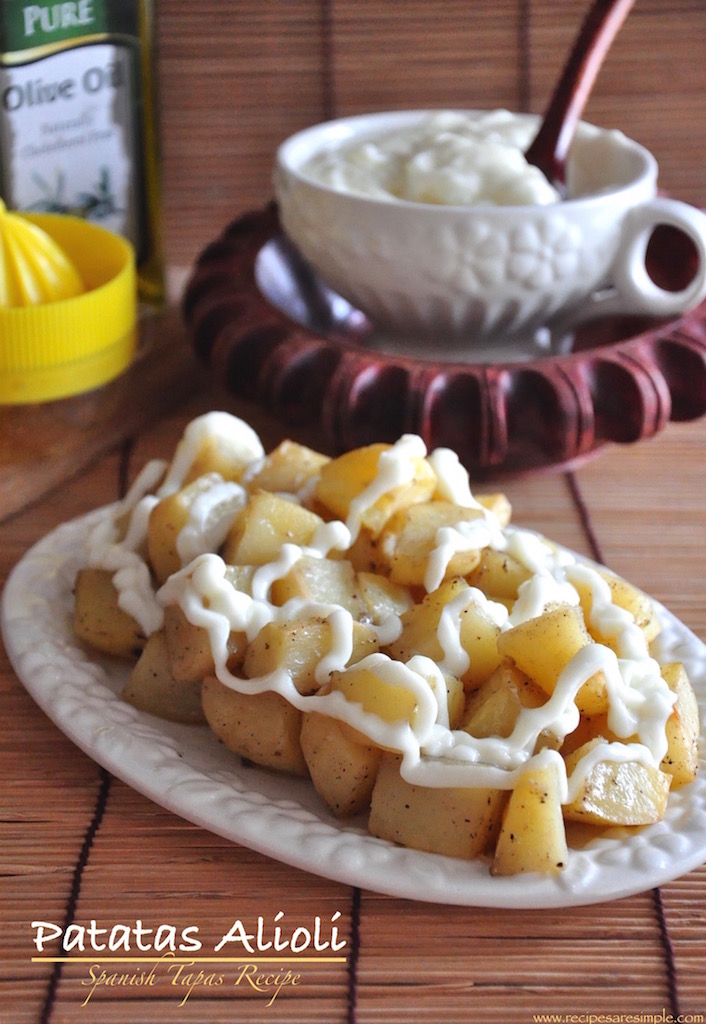 Patatas Alioli – Spanish Tapas
Over the last decade or two, Tapas have gained world wide popularity. These 'small bites' of Spanish origin showcase racy and contrasting flavors, a good dose of extra virgin and pure olive oil, obsessive use of salt cod, cured meats and the freshest ingredients.
Being able to try an array of these individual small sized Tapas (Singular – Tapa) is a common mans luxury, inextricably linked to the Spanish way of life.
 Patatas Alioli or 'Aioli' is great for garlic lovers. The creamy garlic aioli is a mayonnaise like sauce that is great for many seafood and other dishes. The potatoes may be fried, but here I have baked them in the oven till perfectly tender with a crisp bite.
Enjoy the Saucy Potato Bites!  Patatas Bravas is another Tapa, which I love – here's my version.
You are here: Home > Snacks/Appetizers > Patatas Alioli
 

Recipe Name: Patatas Alioli 

Recipe Type: Spanish Tapas Menu

Author: Shana c/o Recipes 'R' Simple

Patatas Alioli – Spanish Tapas
Ingredients:
5-6 medium sized potatoes, peeled and cut into bite size cubes or chunks. (You should be able to lift with a toothpick or skewer).
¹/8 cup olive oil
salt and pepper to taste
For the Alioli / Aioli:
 2 large cloves of garlic

original recipe calls for 2 egg yolks but I prefer one whole egg including the white (use pasteurized eggs)

½ cup vegetable oil

 ½ cup olive oil
Up to ¼ cup fresh lemon juice (use only as much as needed)
salt to taste
Method:
Preheat the oven to 200ºc,
Pat dry the peeled, cut potato chunks and place on a baking tray.
Drizzle with olive oil. Toss well to coat evenly.
Bake for 40 – 50 minutes till tender, shaking the tray a few times so that the potatoes are baked evenly.
Once done season and toss with salt and pepper.
To make the Alioli: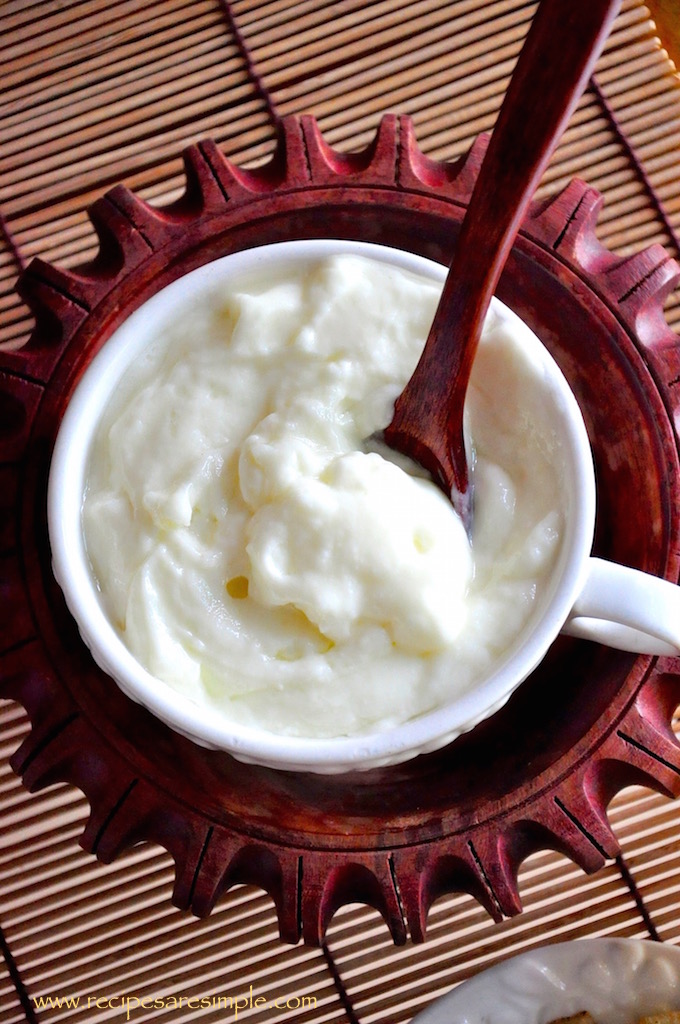 Crush the garlic using a pestle and mortar till it is a smooth paste.
(Traditionally the oil is added and the sauce is made in the mortar itself, but nowadays a blender works well too).
Add the garlic and egg to a blender. Add just enough of the oil to blend together first.
While the machine is running, add the remaining oil in a thread-like thin stream.
Pause 1 minute into doing this to add a Tbsp of lemon juice.
Continue drizzling the oil into the blender, whilst blending at medium speed till the oil is used up. Drizzle the oil very very slowly. You should see the oil and egg mixture emulsifying into a mayonnaise consistency.
(I recommend using a dry and clean blender).
Sometimes, the mixture does not thicken or 'separates'. If this is the case start  over by doing the following. Pour the separated mixture from the blender into another bowl, leaving 2 tablespoons in the blender only.
To the mixture left in the blender, add 1 Tbsp cold water.
Now drizzle the mixture from the bowl again, slowly and patiently. It should thicken this way. Just pour in a thread like stream.
Season with salt and serve with the potatoes.
(It is best to make this sauce the night before, as the flavor mellows down and also thickens further).
Patatas Alioli – Spanish Tapas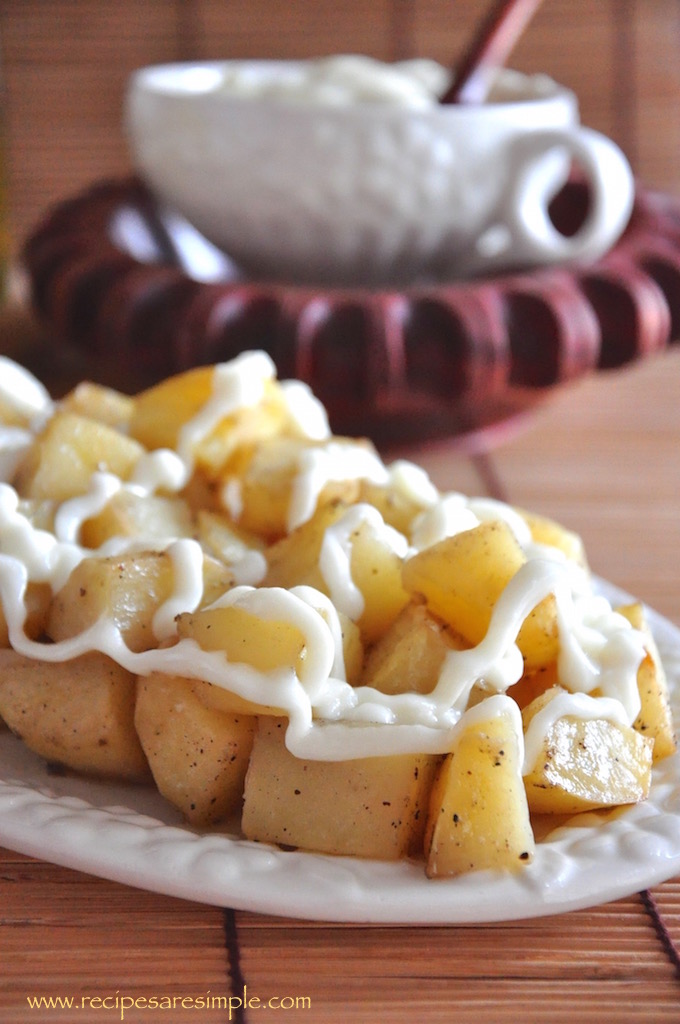 Key Ingredients: Potatoes, Olive Oil, Vegetable Oil, Garlic, Salt, Pepper, Lemon juice
Let us know if you tried it – Patatas Alioli – Spanish Tapas  . Comments from you provide motivation to keep up the driving force behind this blog, bringing you more delicious and perfected recipes regularly. Please do leave a comment. We love to hear from you.