21 May, 2015
Passion Fruit Cordial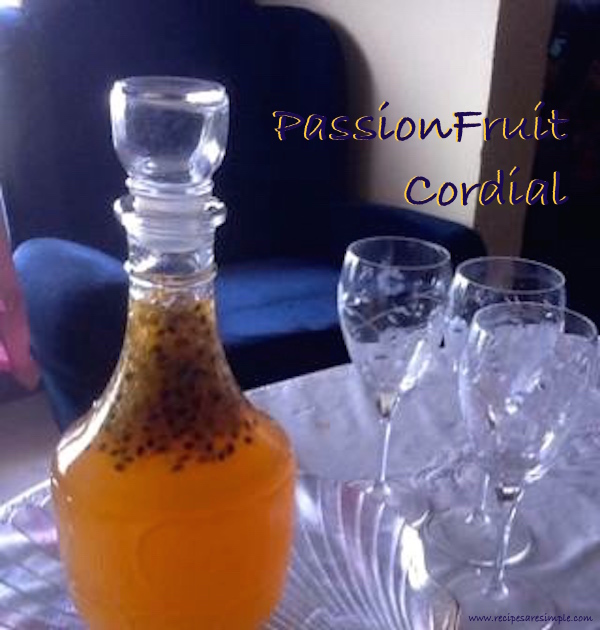 Passion Fruit Cordial
By Arifa Kochumoideen
Passion Fruit Cordial! A refreshing & tangy loose syrup, prepared from the fruity, floral goodness of fresh Passion Fruits. Diluted with water along with some of the passion fruit seeds to  achieve  just the right amount of  bite! A Vitamin C, Vitamin A and Pottasium  enriched drink! Add water to desired strength when serving.

You are here: Home > Drinks/Beverages  > Passion Fruit Cordial
 

Recipe Name: Passion Fruit Cordial 

Recipe Type: Drinks / Beverages

Author: Shana c/o Recipes 'R' Simple
Passion Fruit Cordial (with seeds)
Ingredients:
10 ripe passion fruits
4 cups sugar
4 cups water
Method:
Remove the seeds, juice and pulp from the inside of the  membranous sacs of the passionfruit and set aside. Discard the membranous sacs and rind.
Heat sugar in a saucepan lightly.
Add the water and boil. Do not stir.
When a 'one thread' consistency is reached, add all the pulp and juice of the passionfruit.
Bring back to a brief boil and remove from heat.
Allow to cool and pour into serving pitcher.
Pour 1/4  – 1/2 glass of this syrup (According to taste) and top up with water/ice.
Keep refrigerated and use within 2-3 days.
Passion Fruit Cordial Syrup
Key Ingredients: Passion Fruit, Sugar, Water
Let us know if you tried it – Passion Fruit Cordial . Comments from you provide motivation to keep up the driving force behind this blog, bringing you more delicious and perfected recipes regularly. Please do leave a comment. We love to hear from you.