21 January, 2015
Paneer and Potato Tikka Skewers (Pahadi Paneer Tikka)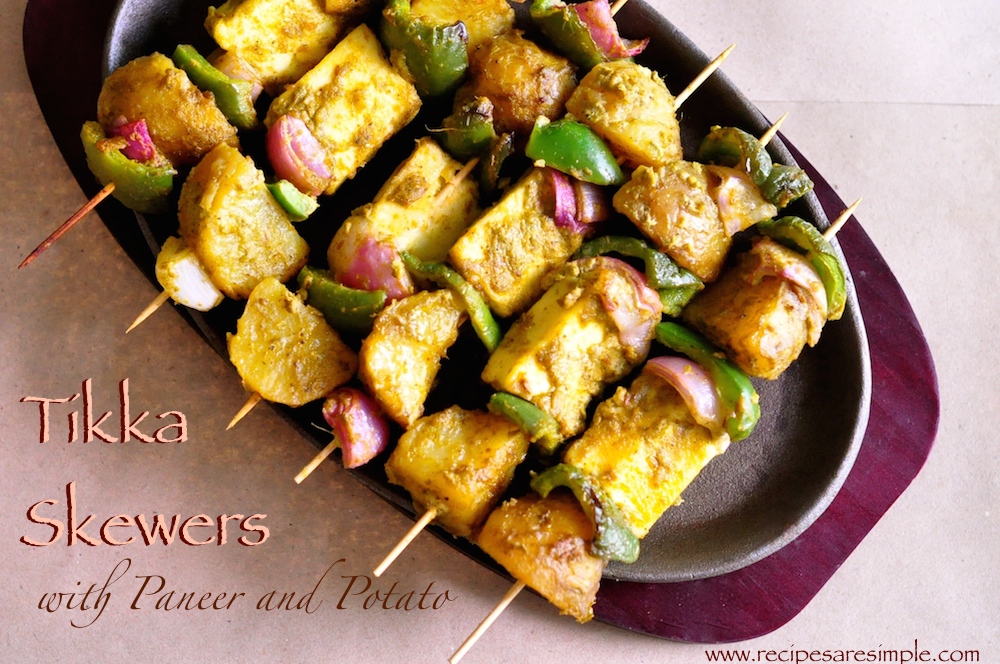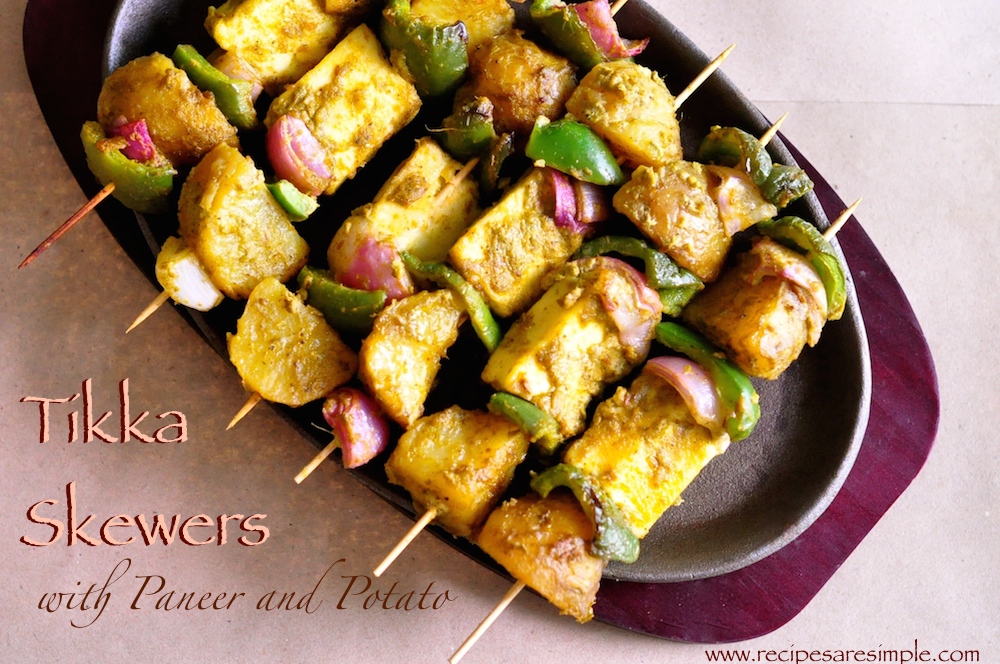 Paneer and Potato Tikka Skewers
These Paneer and Potato Tikka Skewers are reminiscent of the crisp chill, and fresh scents of luscious mountain tops. Fresh greenery, crisp vegetables, luscious paneer and tender marinated potatoes make these 'Pahadi Paneer and Potato Tikkas  HIGHLY TASTY ! The tangy, creamy marinade is made of my unique blend of fresh ingredients paired with Crispy fried shallots, all ground to a paste. Hope you try it. Enjoy!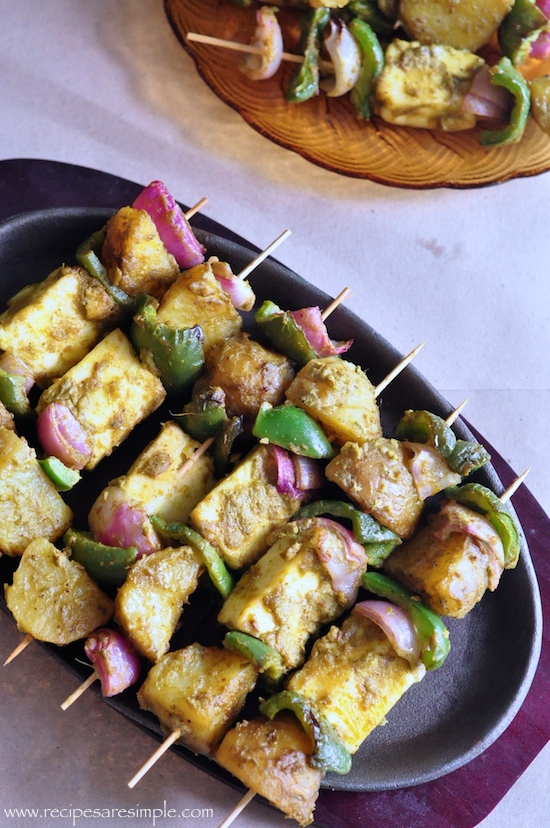 Recipe Name: Paneer and Potato Tikka Skewers (Pahadi Paneer Tikka)

Recipe Type: Grill / Tandoor / Vegetarian

Author: Shana c/o Recipes 'R' Simple

Yield: 12 skewers (6 servings)
You are here: Home > Vegetarian  > Pahadi Paneer Tikka
Paneer and Potato Tikka Skewers

Ingredients:
400 gms block paneer
5 medium sized russet potatos, or use baby potatoes
2 green bell peppers, cut into squares
3 onions, cut into squares
3 large cloves garlic
1 piece of ginger, same amount as the garlic
1 mild long, green chili
3 Tbsp fresh mint leaves
½ cup fresh coriander leaves (loosely packed)
1 tsp garam masala (I use Rajwadi Garam Masala)
½ tsp cumin seeds
8 cashew nuts
2 Tbsp crisply fried shallots

( use store bought or fry your own )

½ cup (generous) yoghurt
¼ cup pure dairy cream
juice of one small lime
½ tsp salt or to taste
¹⁄8 cup mustard oil

(must use mustard oil for best results)
Method:
Drop the plain yoghurt into muslin cloth and allow to hang for 15 minutes. Allow the whey to separate and the yoghurt to thicken.
Place the potatoes, scrubbed and skin left on into a steaming rack and place in a pressure cooker. Pressure cook for about 10 steam whistles . Do not boil the potatoes. Check if they are boiled tender. Peel the potatoes and cut into large chunks.
Cut the paneer into 3 x4 cm large rectangle chunks.
Set aside the onion and green bell pepper, cut into squares or rectangles as well.
Soak small bamboo skewers in water.
Add the  garlic, ginger, green chili, mint leaves, coriander leaves, garam masala, cumin seeds, cashew nuts, fried shallots  as well as the cream to a small mixer/ grinder. B

lend to a smooth paste.

Use a spatula to scoop out the paste into a large bowl.
Once thickened, add the yoghurt to the bowl along with lime juice and salt. Whisk till smoothly incorporated.
Do a taste test and add lime or salt as needed.
Divide this batter into two and add half the batter into another bowl.
Add the potatoes to one bowl and the paneer to the other.
Toss well to coat thoroughly. Remove the paneer and potatoes to a plate.
Toss the onion and pepper squares into the bowls of remaining marinade and toss lightly.
Preheat the oven to 200°c / 392°F.
Skewer the potatoes and paneer separated by the onion and bell pepper, securely.
Place the skewers in a single layer on microwave safe plate. Drizzle the mustard oil over the skewers. and microwave on high for 2 minutes. Do this in batches to keep the skewers in a single layer. (This step is optional but really helps to seal in the marinade)

Transfer the skewers to foil lined, baking tray (single layer again) and place on the upper most rack OF oven.  Drizzle  more mustard oil over the skewers.

Set the oven to broiler and broil for 10 minutes.  

(To broil, we need heat from upper source only)

. Check after half the time, since oven temperatures may vary.
Serve with Flat bread OR as a starter with a mint yoghurt salad.
Paneer and Potato Tikka Skewers (Pahadi Paneer Tikka)
Avoid microwaving for more than two minutes, as paneer can turn rubbery.
Avoid over broiling. We want just a crisped coating without turning brown. If you overcook these they will be dry and loose flavor. Some of the marinade will remain moist, this is how they should be.
MAKE SURE TO ADD THE SALT TO THE MARINADE BEFORE ADDING THE PANEER AND POTATO. It is difficult to blend in once, you have added these to the marinade.
Key Ingredients: Paneer, Potato, Onion, Capsicum, Garlic, Ginger, Yoghurt, Cream, Lime, Spices, Mint, Coriander.
Let us know if you tried it – Paneer and Potato Tikka Skewers (Pahadi Paneer Tikka). Comments from you provide motivation to keep up the driving force behind this blog, bringing you more delicious and perfected recipes regularly. Please do leave a comment. We love to hear from you.