1 June, 2015
Palak Chicken – Tender Chicken in Spinach Gravy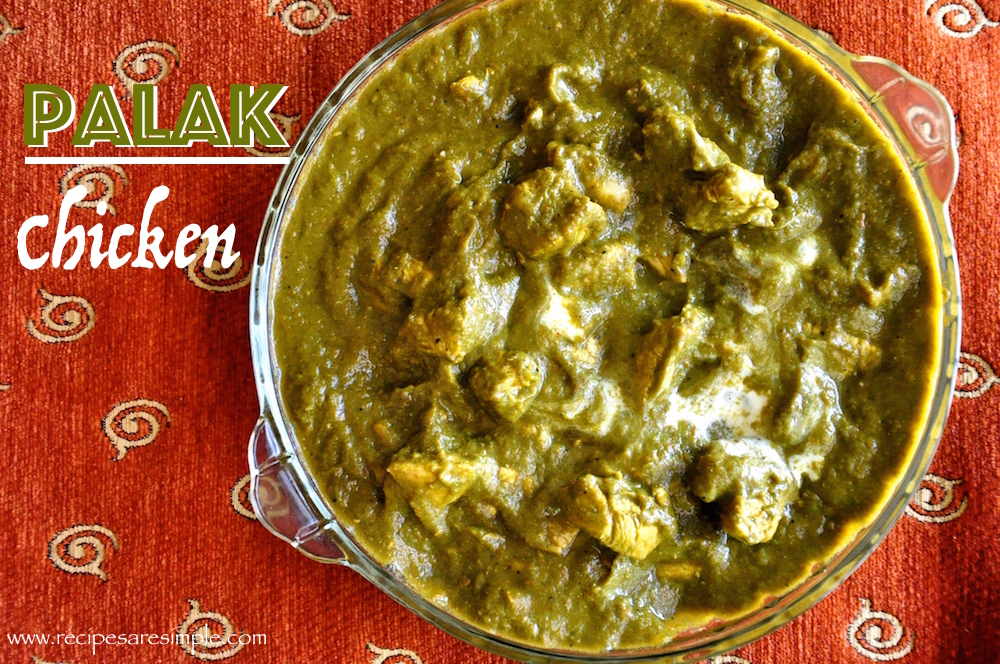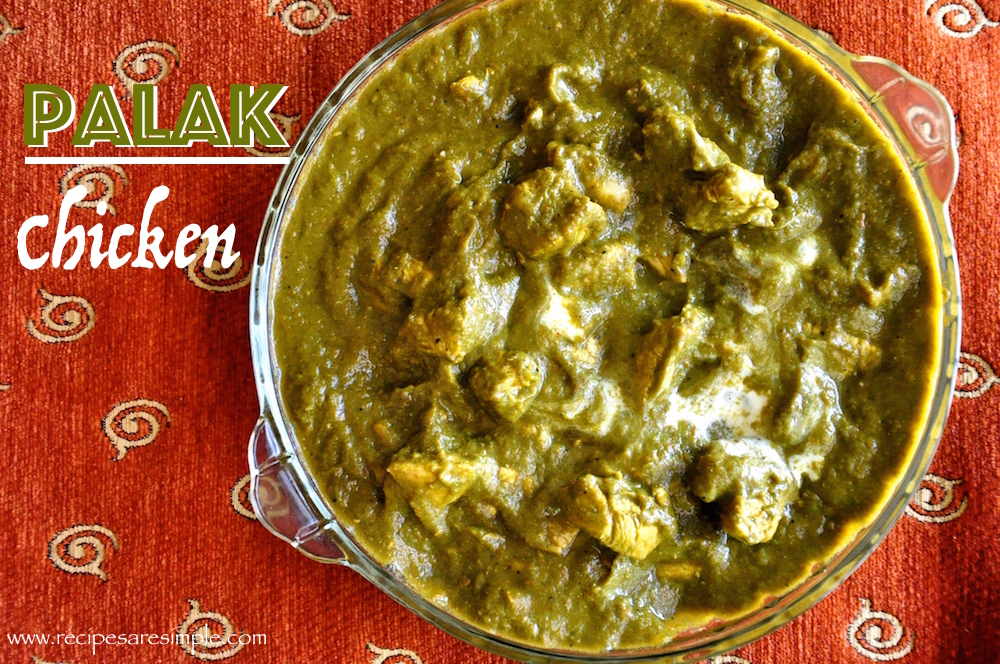 Palak Chicken – Tender Chicken in Spinach Gravy
This Palak Chicken is deliciously cooked chicken in a creamy, spinach based gravy. Adding the spinach makes it a healthy dish thats finger licking good to boost! Perfect to eat with steamed rice or roti.  Scroll down for video.
You are here: Home > Chicken Dishes  > Palak Chicken
 

Recipe Type: Curry

Author: Shana c/o Recipes 'R' Simple
Palak Chicken – Tender Chicken in Spinach Gravy
Ingredients:
500 gms chicken, cut into small pieces (You can use bone-in or boneless)
250-300 gms palak

(indian green spinach)

½- ¾ tsp salt (according to taste)
5 Tbsp oil
1-2 Tbsp fresh pouring cream (to taste)
To marinate the chicken:
2 tsp lime juice
¼ tsp turmeric
½ tsp  garam masala
½ ts salt
For ground paste:
1 large onion
1 large tomato
6 cloves garlic
1 generous Tbsp ginger
Spices:
 ½ Tbsp cumin powder

 ½ Tbsp chili powder
 ½ Tbsp coriander powder
 ½ tsp pepper
 ½ tsp garam masala
¹/8 tsp turmeric powder
Method:
Rinse the chicken and pat dry.
Marinate with lime juice, turmeric, garam masala and salt. Set aside while you prepare remaining ingredients.
Rinse the palak well. Chop.
Bring water to boil in a saucepan. Add the  palak and boil for 5 minutes.
Drain the palak.
Blend to a puree without water.
Add the chopped onion, tomato, ginger and garlic to a small blender/ mixer and blend to a paste without water.
Heat oil in a pan. Add the marinated chicken.
Fry for just a minute or two till the chicken turns white all over.
Remove from the oil and set aside.Cover tightly with foil paper to prevent drying out.
To the oil left in the pan, add the ground onion-tomato paste.
Stir and cook for 5 minutes on low heat, stirring occasionally.
The mixture should become thick.
Next add the spice powders, and stir for 1 minute till aromatic.
Now add the spinach puree.
Stir into the mixture.
Wash out the blender with some water (½ cup).  Add salt now.
Cook for 2 minutes on low heat. Then add the chicken. Also add any liquid that has accumulated in the plate in which we set aside our chicken.
Stir and cook, covered on low for 10 minutes.
Lastly, stir in the cream and remove from heat.
Serve hot with rice or roti! 🙂 Enjoy!
Palak Chicken – Tender Chicken in Spinach Gravy
You could also pop the dish in the oven. Cook down the tomato onion paste. Add the spice powders and cook briefly Then add the spinach pure and water , cook for a while. Add the chicken, and move to a preheated 200 °c oven and bake for 10 minutes. Remove and stir in the cream. This gives the top of the curry a lovely finish.
For an easier version, skip the marinade and the frying of chicken. Add the rinsed chicken directly to the spinach puree. Cook a few extra minutes.
Add a little more of each of the spices for a spicier version.
Key Ingredients: Chicken, Spinach(Palak), Onion, Tomato, Garlic, Ginger, Spices, Salt, Oil, Cream, Lime.
Let us know if you tried it – Palak Chicken – Tender Chicken in Spinach Gravy . Comments from you provide motivation to keep up the driving force behind this blog, bringing you more delicious and perfected recipes regularly. Please do leave a comment. We love to hear from you.