2 June, 2015
Palak Chicken Quesadilla – Mexico meets India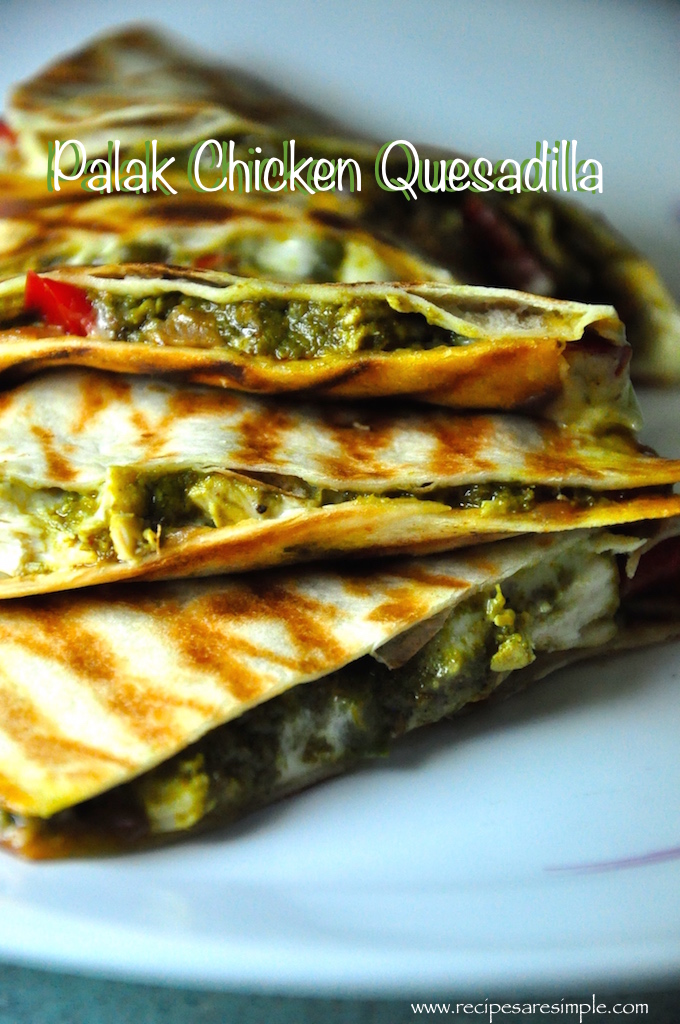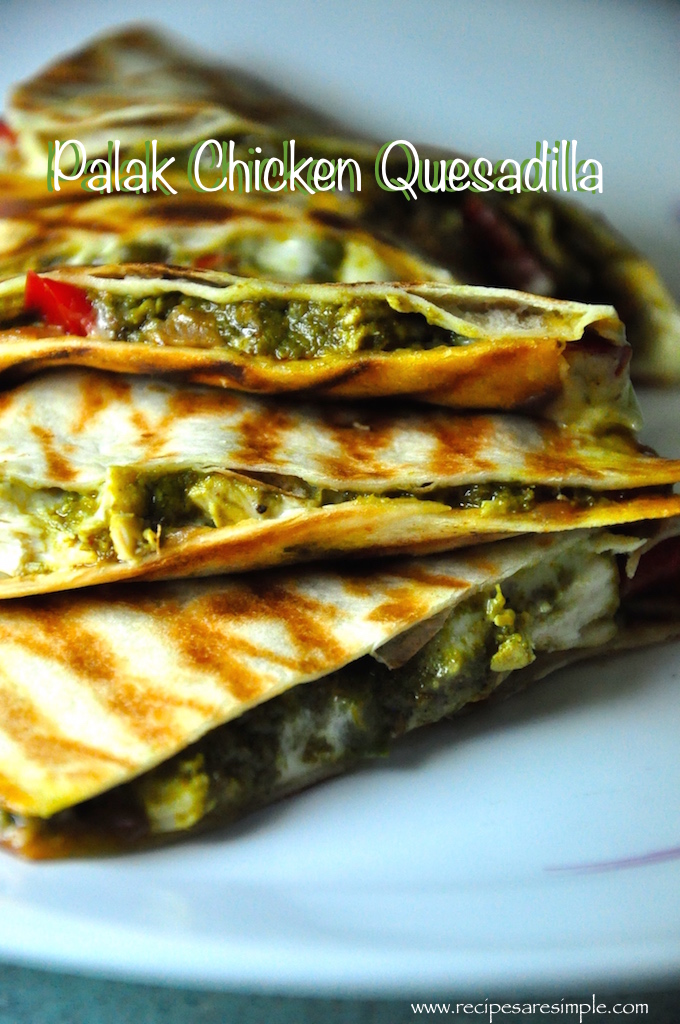 Palak Chicken Quesadilla
This Palak Chicken Quesadilla is one of those fusion recipes that work!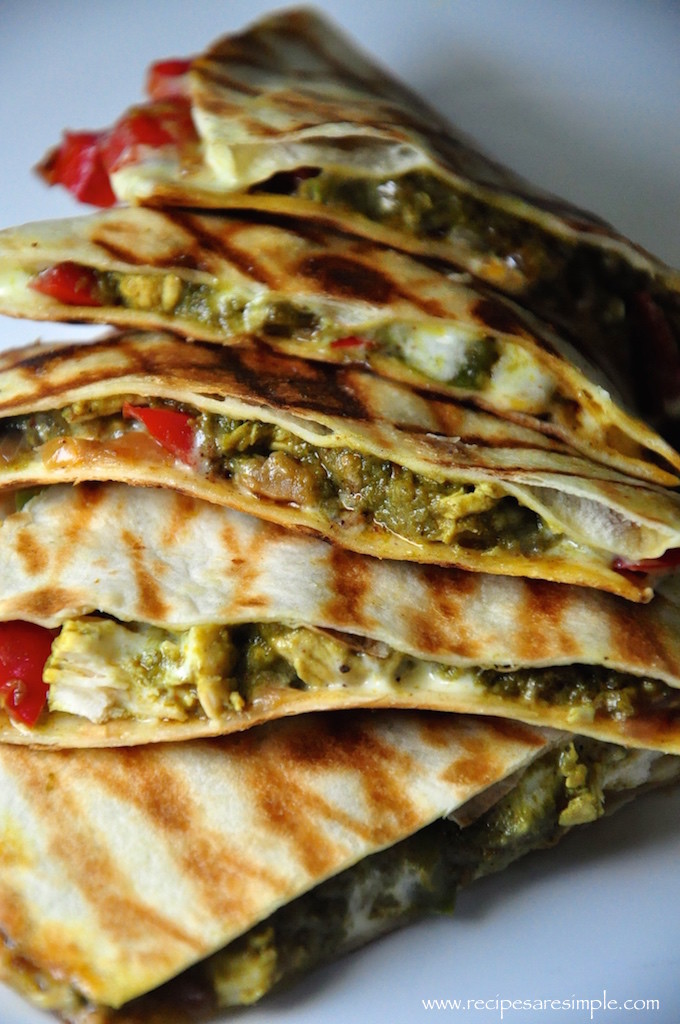 If you have left over Palak Chicken or even Palak Paneer, this is a delicious way to re-vamp the dish for the next meal. It's so yummy you might even want to make it from scratch.
If you're making from scratch, here's a super Recipe for Palak Chicken. There's something about the goodness of spinach, paired with stretchy, gooey cheese all sandwiched in a grilled Tortilla! Something that sends them flying off the platter in no time!
If you're using leftover Palak Chicken, simply reduce the ingredients accordingly. (For Kids Lunch Box, you will only need 1/4 – 1/2 cup of prepared palak chicken and 1-2 flour tortillas).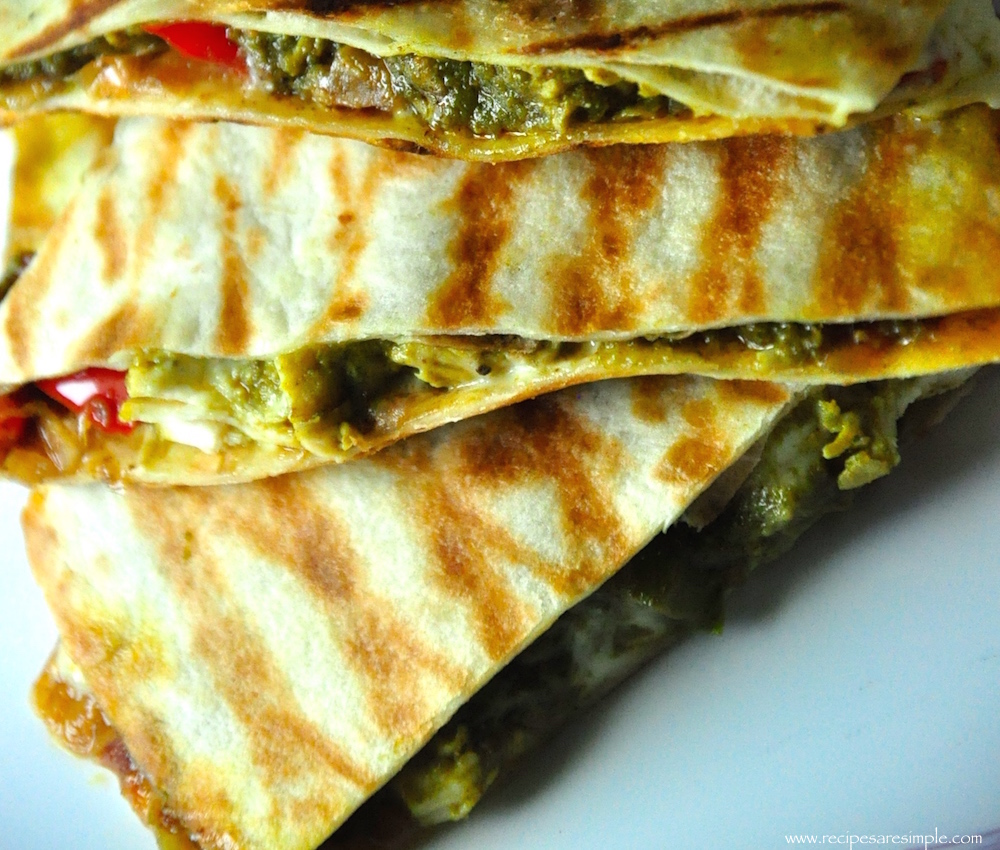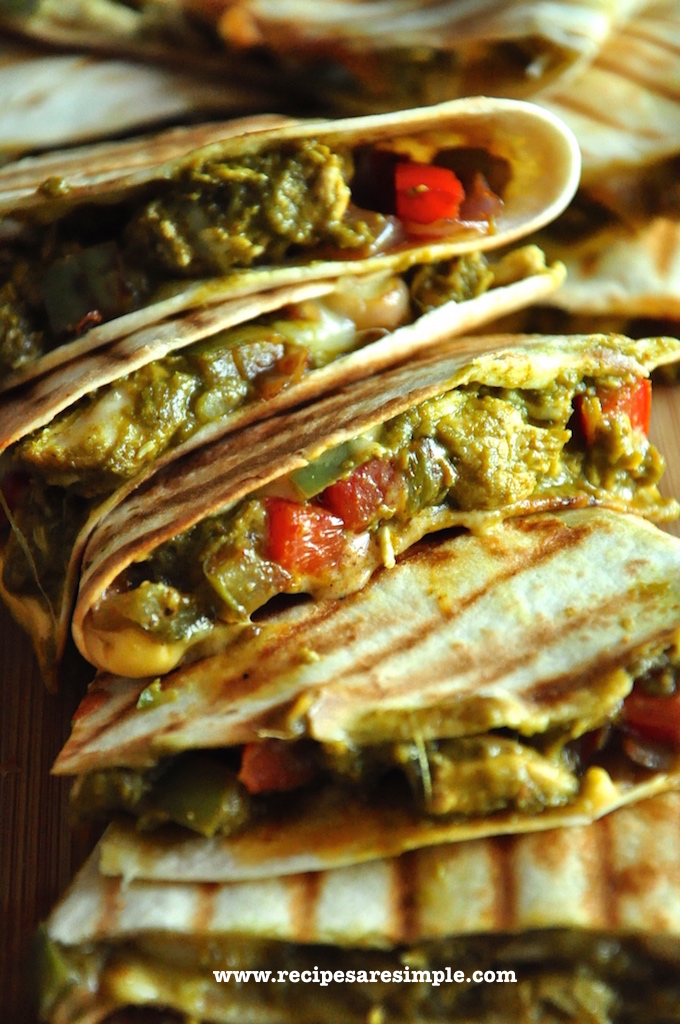 You are here: Home > Breads&Breakfast  > Palak Chicken Quesadilla
 

Recipe Name: Palak Chicken Quesadilla

Recipe Type: Sandwiches / Wraps / Fusion

Author: Shana c/o Recipes 'R' Simple

Yield: 10 quesadillas (7 servings)
Palak Chicken Quesadilla
Ingredients:
1 quantity ( about 2 ½ cups) of prepared Palak Chicken – Here's the recipe

 2  green bell peppers / capsicum, cut into 'small dice'

 2  red bell peppers / capsicum, cut into 'small dice'
2 large yellow (vidalia) or purple onions, finely chopped
1 large clove garlic, finely minced
1 tsp spice powder like, all spice / garam masala / ras el hanout etc..
1 tsp paprika / chili powder
½ tsp ground pimento – optional
salt to taste
2 Tbsp butter
10 flour tortillas
¾ cup chopped or grated cheddar cheese (I love using our favorite cheese slices, chopped up for this)
olive oil for brushing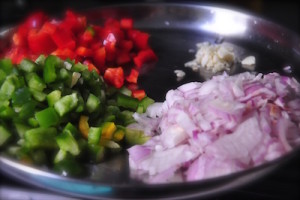 Method:
Melt the butter in a heavy pan. Cast iron is good.
Add the minced garlic and sauté briefly to develop sweetness.
Add the finely chopped onions and sauté for 2-3 minutes on low heat till the onions are light golden and softened.
Now add the 'small diced' peppers and sauté  till soft as well, another 1-2 minutes.
Add the spice powders and stir till aromatic.
Add enough salt.
Set aside this vegetable filling.
Cut up the palak chicken into smaller pieces/shreds, using kitchen scissors.
Heat a nonstick grill pan – to get those grill marks.

(A flat frying pan will do the job too, 'sans' the grill marks)

Keep the vegetable filling, palak-chicken filling and grated cheese nearby.
Working on one tortilla at a time, lightly brush one side of the tortilla with olive oil
Lay the oiled surface down on the pan. Make sure the heat is on low.
Over one half of the tortilla, quickly scatter the following ingredients(layers).
Grated cheese, followed by a little vegetable filling followed by some chicken filling and completed with another scant layer of cheese.
Work quickly so that, you don't over-brown the tortilla.
Fold the other half of the tortilla over onto the side with fillings.
Gently press, to seal and bind the filling.
Flip over and cook the other side briefly too.
Cut into wedges, and serve with a salad or salsa.






Palak Chicken Quesadilla
Make sure that your Palak Chicken is not too loose/dilute in consistency. You should have just enough thick gravy coating the chicken.
Avoid over filling the tortillas, as this will make the quesadillas limp and loose their crisp exterior. You want just enough filling for a delicious creamy interior, covered by a warm, slightly crisp and firm exterior.
This dish is easy to make ahead of time for guests. Prepare both the fillings ahead of time. Reheat when necessary. Fill the tortillas and prepare quesadillas within 15 minutes and serve.
Any ideas for Mexican Indian Fusion Recipes? Let us know.
Read more about Mexican Cuisine.
Key Ingredients: Chicken, Spinach, Tortilla, Cheese, Spices, Tomato, Onion, Garlic, Ginger, Salt, Oil, Butter.
Let me know if you tried the Palak Chicken Quesadilla . Comments from you provide motivation to keep up the driving force behind this blog, bringing you more delicious and perfected recipes regularly. Please do leave a comment. Love hearing from you.