2 August, 2013
Snakegourd Recipe – Padavalanga Thoran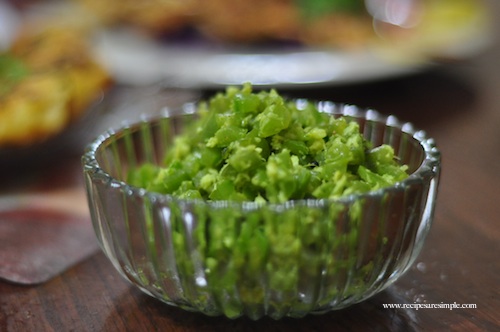 Snakegourd Recipe – Padavalanga Thoran
Going Green.  This is a quick and easy Vegetable Stir-Fry with Coconut. The bright green vegetable stays crisp and the addition of the grated coconut is just perfect. Its very tasty and goes well Rice and any main dishes. Yummy and Beautiful: Padavalanga Thoran

Snakegourd Recipe – Padavalanga Thoran
Ingredients:
2 Snakegourds
½ cup coconut
2 shallots
1 clove garlic
1 green chili
2- 3 stems Fresh Curry Leaves ;

a handful of leaves

¼ tsp Turmeric powder
¼ tsp  Mustard seeds
2 tsp oil of you choice – coconut oil is good
1 dry chilly cut in pieces

(optional)

salt to taste




Method:
Wash and peel the outer skin of the bitter gourd gently. You can cut them in half  or 4 parts to make peeling easier.
Now slice through the middle, lengthwise of each portion-

(i.e. vertically).

Scoop out the seeds gently with a spoon and discard.
Now lay each piece flat and cut into small dice. Set aside.
Add the coconut, shallots, garlic and curry leaves to the small jar of your grinder/blender.
Grind quickly or pulse: just till the shallots, garlic and leaves are minced well in to the coconut. You don't want it to be a paste. You may also do this with a mortar and pestle. Set aside.
Heat oil in a wok. Add the mustard seeds and allow to pop.
Add dry chilies if using.
Add the diced gourd and stir-fry quickly -10 seconds.
Add the coconut mixture and turmeric to a well made in the centre of the diced gourd in the wok and cover this up by folding over gourd from the sides. Cover wok for 1 minute and cook on medium low.
Open and toss everything till well mixed.
Serve the Padavalanga Thoran hot with rice!
Snakegourd Recipe – Padavalanga Thoran
Try it and let me know!