20 September, 2013
Pad Thai Recipe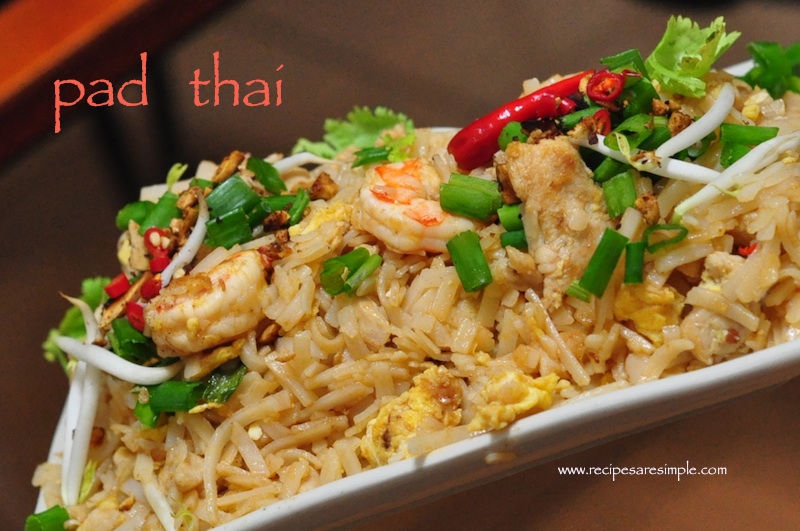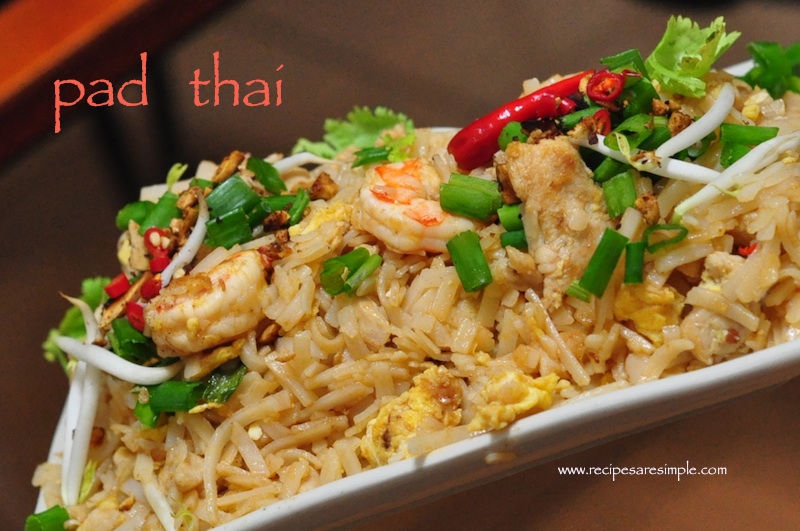 Pad Thai Recipe 

And Finally my search for the Perfect Pad Thai and Pad Thai Sauce has come to an end. I have tried so many sauces, but it missing something or too much of something! Now this is perfect. The ratio of the sweet to sour is just right. Try it. Watch our video.
PAD THAI RECIPE




Ingredients for Pad Thai Recipe:
4 cups or 'sections' of medium sized Rice Noodles.

(the rice noodles often come bunched in sections)

2 chicken breasts
   

2 Tbsp Soy Sauce (light) + 1 tsp cornflour

8-10 Prawns, Cleaned and deveined
     

½ tsp green chilly sauce  + few drops sesame oil

4 shallots, finely chopped
4 cloves garlic, finely chopped
Optional ½ cup diced tofu or bean curd
½ cup bean sprout
coriander leaves and spring onion greens for garnish
2-4 red thai chillies
4 eggs, lightly beates with pinch of salt and white pepper
2-3 Tbsp Lightly crushed Peanuts – optional
½ cup oil – used a little at a time
For the Pad Thai Sauce:
¾ Tbsp Tamarind paste/pulp soaked in ¼ cut HOT water for 10 minutes
3 Tbsp Fish Sauce
2 Tbsp Palm/Brown Sugar
2 Tbsp Ketchup
¼ tsp white pepper powder
Method:
Soak the Rice noodles in HOT water for 30 minutes. Drain. It should be soft but still with a good 'bite' left.
Cut the chicken into small strips. Marinate in the mixture of soy sauce and cornflour (mixed well)
Marinate the prawns in the green chili sauce and sesame oil.
Soak the tamarind pulp in boiled hot water for 10 minutes. Mash with fork to achieve a loose paste. Strain to remove any bits. Take 3 Tbsp of this and add to all the other PAD THAI SAUCE ingredients. Mix well and set aside.
Heat some oil in a wok.
Add and fry the chicken till cooked tender. A few minutes. Remove.
Add prawns to same oil. Fry till cooked, about a minute or two. Set aside with chicken.
Strain the oil left and wipe the wok clean.
Pour Back the oil and return to heat.
Add and saute the Shallots, Garlic and red chili (I add my thai chili last to reduce heat).
Optional:Add the bean curd/tofu now and fry till light golden.
Add the drained noodles and stir-fry till glossy all over.
Remove the noodles from the wok and wipe out the wok again.
Return to heat.
Add some oil. Add and fry the pre-cooked chicken and prawn just for 30 seconds or so to achieve a golden crust.
Move to the side of the wok. Add the beaten eggs to center of wok and allow to set a few  seconds, spreading its over the wok. Fold over the cooked egg as it gets cooked. Do not Over scramble.
Now return the noodles and toss all ingredients well.
Add our prepared Pad Thai Sauce.
Toss well.
Toast the lightly crushed peanuts in a few drops of oil and sprinkle paprika or chilly powder.
Garnish the HOT Pad Thai with scallions/spring onions, fresh coriander leaves, bean sprout, more sliced red chili and the optional toasted peanuts.
Serve Immediately.
PAD THAI RECIPE
Did you enjoy our PAD THAI RECIPE ?
Notes:
We wipe out the pan in between cooking to facilitate for smaller sized woks used at home.
If you are using a large wok you can do this as one continuous step, moving the ingredients to one side at times.
Pad thai is usually spicy – thai red chillies pack a kick. But feel free to use less chili if that suits your taste.
You May Also Like: