19 April, 2016
Orange Soufflé | Fluffy Hot French Dessert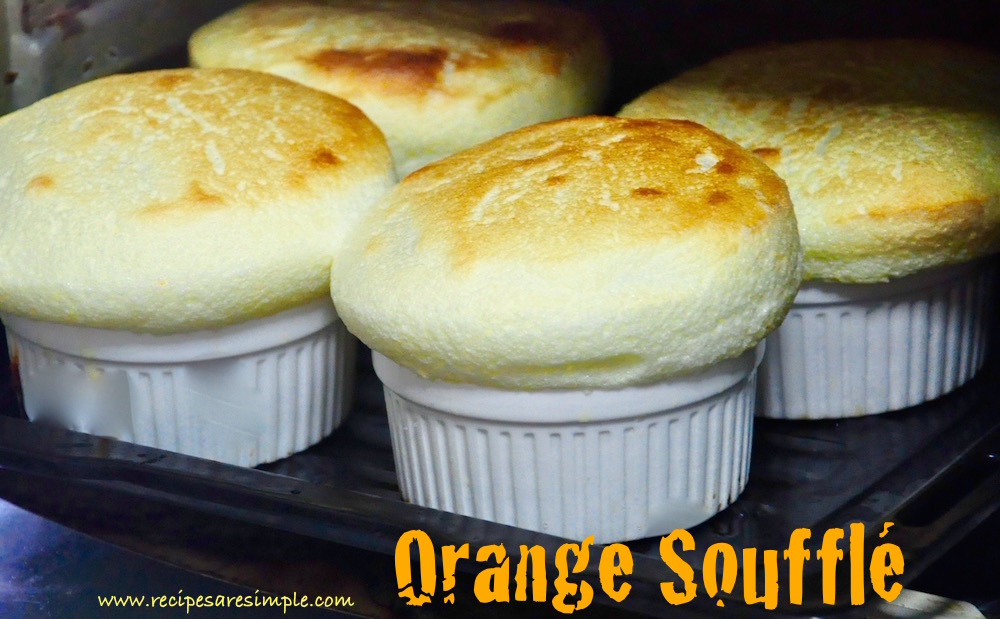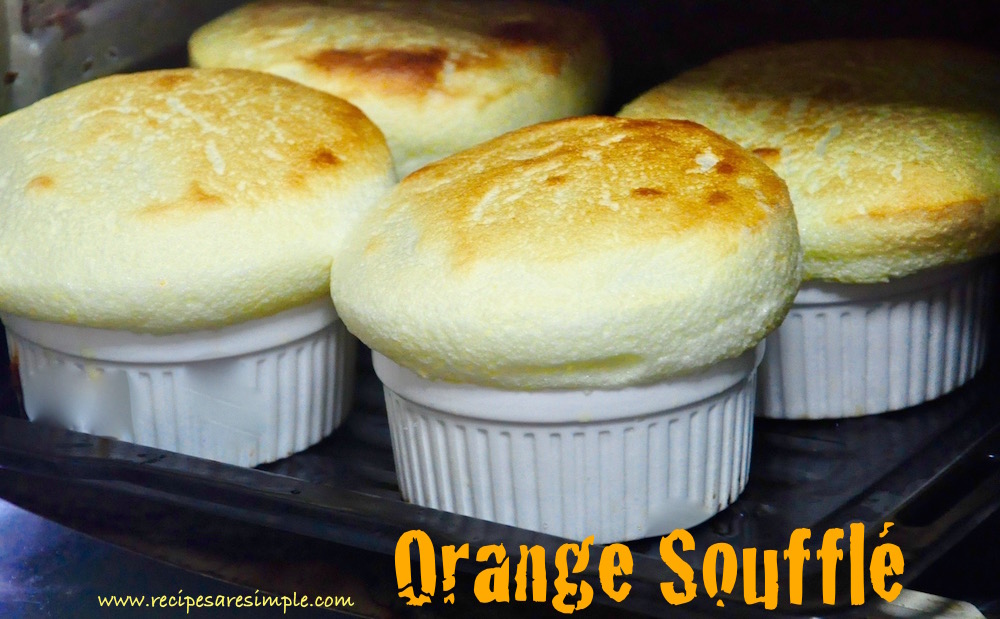 Orange Soufflé (Egg Whites Only Recipe) – With Video
This Orange Soufflé  is the perfect dessert for special entertainment. It rises and puffs up into absolute gorgeousness in the oven. Just as it rises, it also starts to fall as soon as it comes out of the oven, so it must be served quickly. A thin layer on the top is crunchy and caramelized and the inside is light, hot and oh so fluffy! It was hard to get a good photograph while they were still risen though.. By the time I found my cameras memory card the  delectable dessert was beginning to sink.. I took a only few clicks, because we were all in a rush to have them while they're hot! There is a saying in french,  " Le soufflé n'attend pas, on attend le soufflé ". It means, the soufflé doesn't wait for us, It is WE who wait for the soufflé!. Which is absolutely on the mark, because we wait patiently outside that oven door, till it's just right to take it out… and then the soufflé, paying no heed to all our anxious waiting, starts to go down just as quickly as  you can say "I love  Soufflé" . Hmph:) ! Oh well, I tell you it's still worth it!
Steps to making a good Soufflé.  Warm up the milk. Prepare the flavoring agent, juice, melted chocolate etc.. Whisk egg whites. They should be shiny and firm but never over whisked…
Orange Soufflé  | Fluffy Hot French Dessert
You are here: Home > Desserts > Orange Soufflé
 

Recipe Name: Orange Soufflé 

Author: Shana c/o Recipes 'R' Simple
Ingredients:
½ cup freshly squeezed orange juice (Juice of two large oranges)
1 tsp grated orange zest
1 ½ Tbsp butter (unsalted)
3 Tbsp flour
1 cup warm milk
5 egg whites
¼ tsp cream of tartar
pinch of salt
12 tsp plus 2 Tbsp sugar
Neutral flavored oil for brushing
extra sugar for sprinkling
Icing sugar (powdered sugar)  for dusting
You will need 6 or 7  (10 cm) ramekins,
Method:
Preheat the oven to 190.5ºC/ 375ºF. Use only the bottom heat source if possible.
Coat the soufflé ramekins lightly with oil. Brush upwards, this helps the soufflé to rise.
Sprinkle the greased surface with sugar. Shake off all the extra sugar. There should be only a light layer. Set aside.
In a saucepan, melt the butter.
Add  the flour and stir constantly till the flour is cooked. This is your roux.
Now add some of the milk and stir continuously till all the lumps are gone. Using a whisk helps.
Add the remaining milk. Add one tsp of the 12 tsp sugar at a time and stir till the sauce is thickened.
Stir in the juice till evenly incorporated and set aside.
Beat the egg whites with the creme of tartar and a pinch of salt.

Use very clean bowl and beaters without any trace of grease.

Beat  till you get soft peaks.
Now add the 2 Tbsp sugar, gradually. Beat till you get stiff peaks. Stop when you egg whites get shiny.
Take ¼  of the whisked egg white and mix thoroughly into the orange-flour mixture.
Then gently fold in the remaining egg white. Do not over mix.
Spoon into the prepared ramekins.
Bake for 20 minutes, after which you must turn on the top heat source as well as the bottom one.
Afteranother 20 minutes the soufflé should be done.
GOLDEN BROWN on top and risen well,
Sprinkle with powdered sugar and serve immediately!
Orange Soufflé  | Fluffy Hot French Dessert
Key Ingredients: Egg Whites, Orange, Sugar, Butter, Flour, Milk.
Leave a comment if you tried – Orange Soufflé  | Fluffy Hot French Dessert.