25 May, 2014
Onion Rava Dosa / Thosai – Quick and Simple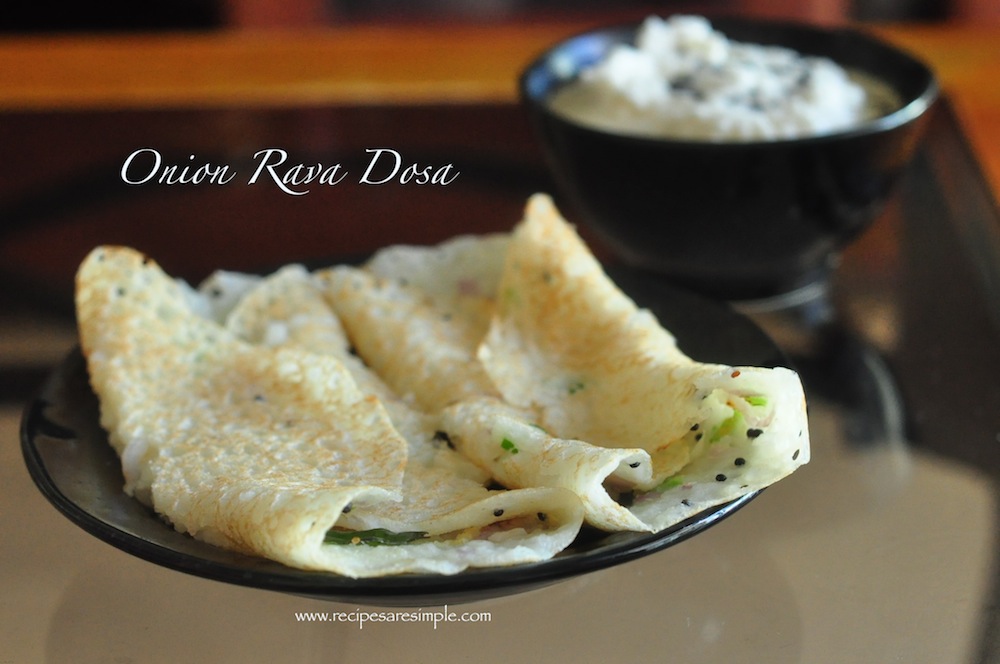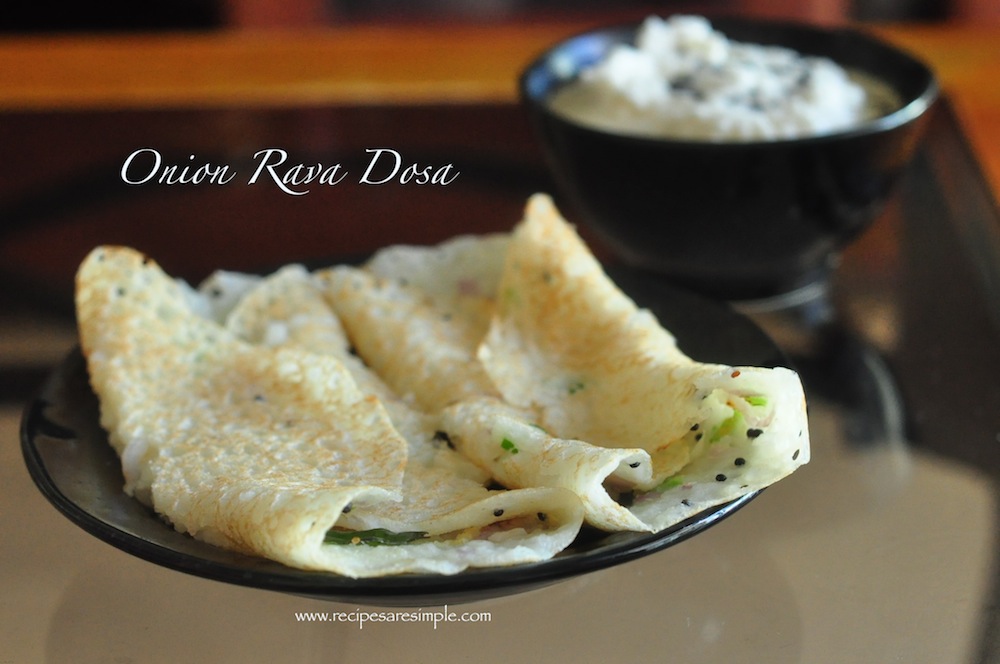 Onion Rava Dosa / Thosai – Quick and Simple 
  This dosa recipe is great because  there's no soaking, no grinding and you don't need to wait overnight to make the dosa! Mix the ingredients. Do a quick tempering. Let it sit for fifteen tot twenty minutes and you're set to make dosa as usual. Plain rava dosa is ok, but onion rava dosa adds some flavor and texture that I find more appetizing for breakfast. The onion is minced finely and cooked along with the batter well – so it doesn't have the raw onion effect –  don't worry.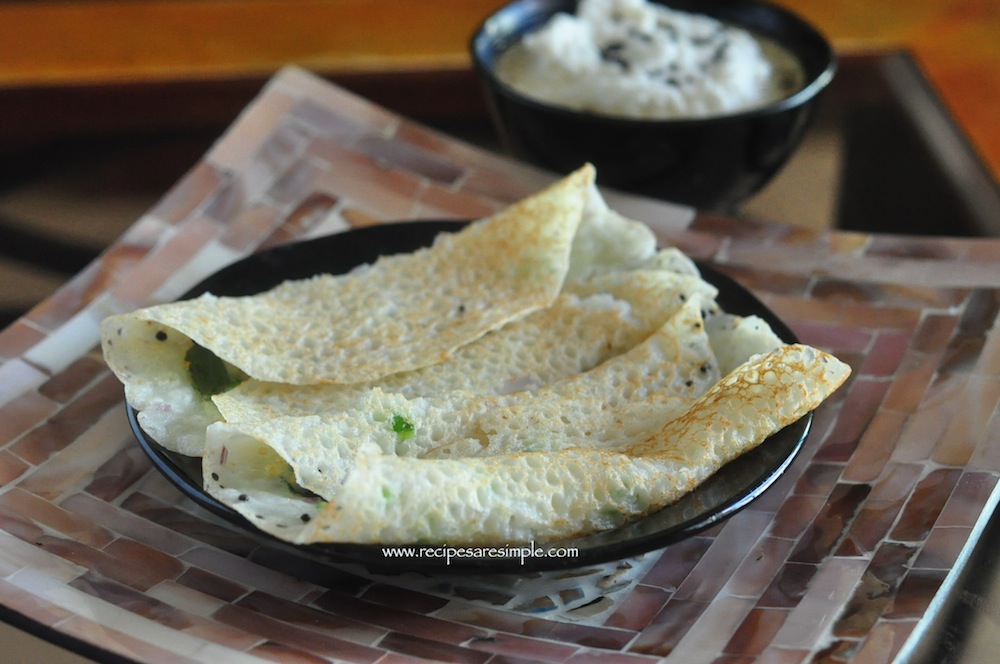 Onion Rava Dosa / Thosai – Quick and Siimple
Recipe Type: Breads and Breakfast

Author: Recipes 'R' Simple

Prep time: 10 

Rest time 15 mins

Cook time: 10

Total time: 35

Serves: 4
Ingredients:
½ cup rava / semolina
½ cup plain rice flour
2 Tbsp plain flour or wheat flour
1 ¼ cup water
2 Tbsp yoghurt – not too sour
1 medium red onion,chopped finely
1 finger length green chilly, seeds removed and chopped finely
1 Tbsp ginger, minced
 salt to taste
2 Tbsp oil
¼ tsp mustard seeds
a handful of curry leaves
¹⁄8 tsp soda bicarb (baking soda) – optional
ghee or oil for roasting the dosa
Method: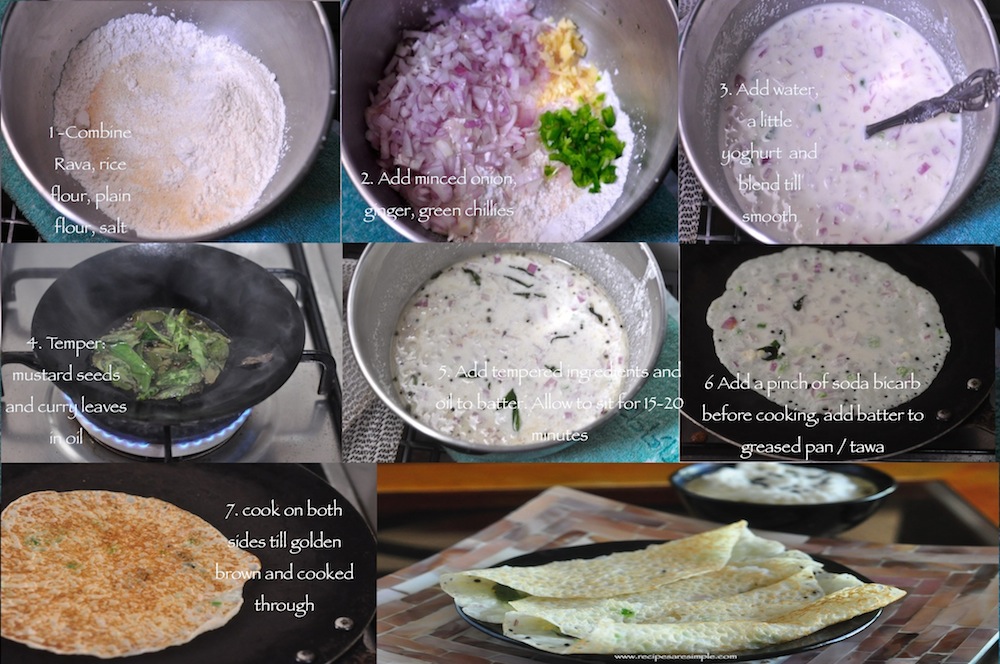 Combine the rava (semolina), rice flour, plain flour  in a bowl.
Add the chopped/ minced – onions, ginger and green chilly.
Add water and yoghurt as well as salt to taste. Stir till the flour is mixed well and there are no more dry lumps.
Heat oil in a small pan. crack the mustard seeds and add curry leaves.
Add the tempered ingredients to the batter.
Allow the batter to rest for 15 – 20 minutes.
Add  the soda bicarb when it's time to cook. Whiisk the batter well.
Heat a  lightly greased tawa / flat pan.  Add a ladleful of batter at a time.  Swirl the pan to spread the dosa.
 Cook, unditurbed on medium heat till the bottom is golden. Turn over and wait till the second side is cooked through completely.
 Serve with coconut chutney. (coconut, yoghurt, ginger, shallots ground till semi smooth, tempered with mustard seeds, curry leaves and dry chilli if desired)
Onion Rava Dosa / Thosai – Quick and Simple 
Try it and let us know – Onion Rava Dosa / Thosai – Quick and Simple .
The second side takes a little longer to cook through. Cook in medium heat. Make sure the batter is cooked. It may looked cooked  before it's completely cooked through so test your first dosa, to know how golden/ brown you need to get it.