15 January, 2016
Oats Pongal |Indian Oats Recipes | Quick Breakfast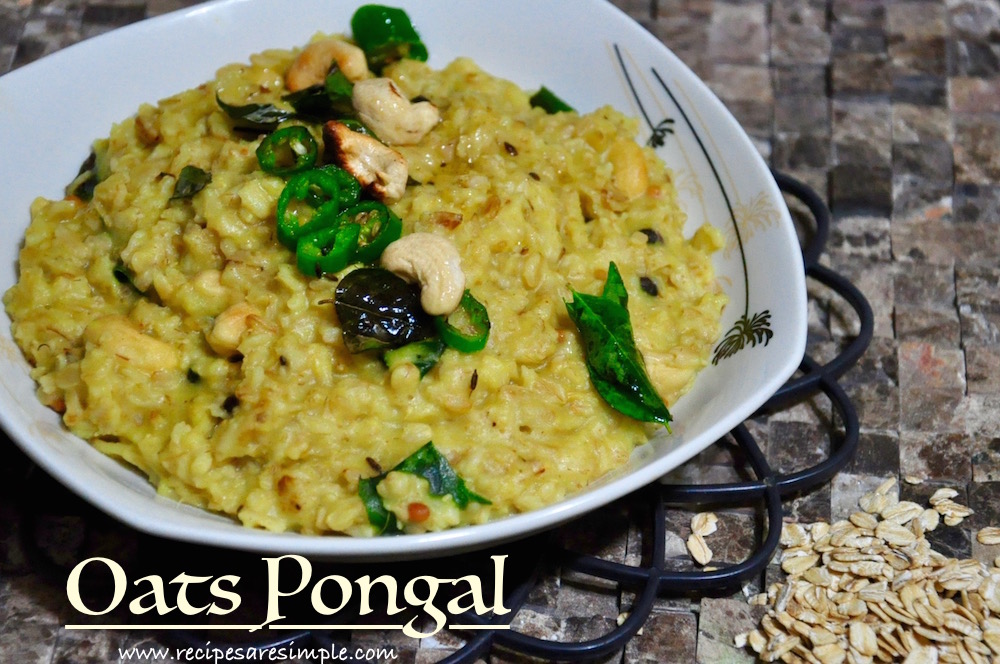 Oats Pongal |Indian Oats Recipes | Quick Breakfast
Oats Pongal is a super quick savory breakfast which is a healthier and simplified version of the Rice Pongal.
'Pongal' is a festival celebrated in Southern India to celebrate the Harvest Season.   'Pongal' is a derivation of the word  'Pong',  which means to 'boil over' or 'spill over'.
There are two dishes associated with this festival. One savory and one sweet. The savory version is called Ven Pongal (White Pongal) or Khara Pongal (Spicy Pongal). It is a very common breakfast item in parts of  the South. The sweet version is called Sakkara Pongal (Sweet Pongal).
If the dish is simply called  'Pongal' it is referring to the Savory Version. The savory version is a very satisfying and quick breakfast ( or anytime) dish. It is often served with Chutney , Sambar and 'Vadai' (lentil fritters).
In our home, the day starts very early. I need to make breakfast and pack lunches by 6:30 am. Anyone in the same shoes will know how important it is to have a few quick breakfast dishes that you can prepare even when you are half asleep. Trying to make healthier breakfast in the morning, I often use oats and quinoa.
This Oats Pongal Recipe is so simple to make and keeps you feeling fully loaded and ready to go! Perfect for those who like a quick, savory breakfast.
Oats Pongal |Indian Oats Recipes | Quick Breakfast
You are here: Home > Breakfast  > Oats Pongal
 

Recipe Type: Breakfast Recipes

Author: Shana c/o Recipes 'R' Simple
Ingredients:
1 cup rolled oats
¼ cup split green beans (Moong Dal), rinsed and kept drained
1 tsp cumin seeds
1 tsp black pepper corns
2 Tbsp curry leaves
pinch asafoetida (hing) – optional
1-2 Tbsp green chillies,  finely chopped
1 -2 Tbsp ginger, finely chopped
2 Tbsp ghee

You will need a small pressure cooker or pot with lid and a small frying pan.
Method:
Add the Moong Dal to a dry pan and roast lightly. Just till heated through, don't allow to change color. Remove.
Add the oats to the pan and roast lightly as well. Just till heated through and you can smell the oats.
add to the small pressure cooker.
Put the Moong dal in the pressure cooker with  1 cup water, a few peppercorns and cumin seeds and cook for 3 steam whistles. Open and mash lightly.
Next add the rolled oats to the cooker. Add salt to taste. Close and cook for another 5 steam whistles. Add a little water if there seems to be less liquid. You can always cook it till it goes dryish.
Leave to cool before opening. Once cooled, open and check if the water has been absorbed. If not, you can cook it a while longer left open till the water runs dryish.
Add 1 tsp of the ghee to the oat mixture and stir through.
Meanwhile, coarsely crush the remaining pepper and cumin.
Heat the rest of the ghee in the pan. Add the crushed ingredients and bring to a light sizzle.
Add the green chili ginger and sauté till aromatic and soft.
Also add the asafoetida, curry leaves and cashew nuts and roast till light golden.
Remove from heat and allow the flavors to infuse for a while.
Add to the cooked dal-oat mixture and give it a good toss and stir.
Keep covered, allowing the flavors to develop for a while.
Serve with Sambar, Chutney, Vadai etc..
Oats Pongal |Indian Oats Recipes | Quick Breakfast
If you do not have a pressure cooker, you can cook the dal and oats in a small pot with a tight fitting lid. Bring to boil and then lower heat. Cook till done. You may need to add more water.
I like to cook the dal first before adding the oats for the better texture, but if you need to you can just as well add them both together.
As with many other dishes, adding more ghee makes this dish very tasty, but restraint is the key 🙂
Key Ingredients: Rolled Oats, Moong Dal, Ginger, Green Chillies, Cashewnuts, Ghee, Curry Leaves, Cuming, Pepper, Salt.
Leave a comment if you tried – Oats Pongal |Indian Oats Recipes | Quick Breakfast. Comments from you provides motivation to keep up the driving force behind this blog, bringing you more delicious and perfected recipes regularly.  Help us to Keep On Keepin' On (: !
SaveSave