31 October, 2013
Nutella Pumpkin Cookies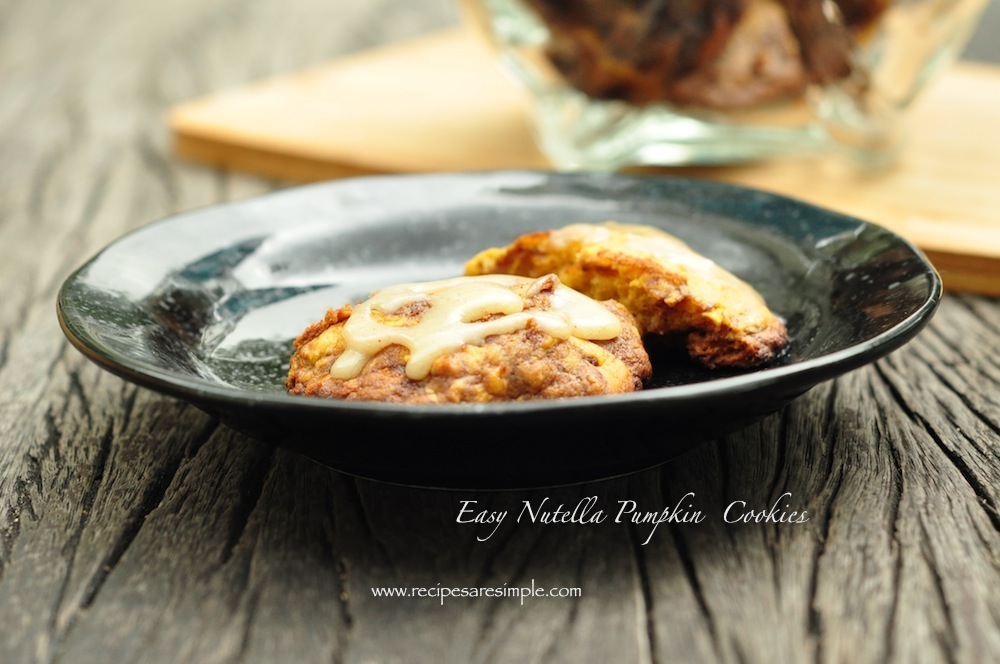 Nutella Pumpkin Cookies

I Love the idea of Pumpkin Puree in cookies, Pumpkin is so naturally sweet when baked to a puree that it creates a blissful batter. Add some 'Nutella' and  – are you kidding me?  The cookies are soft and chewy and they are so quick to make. This is adapted from the Betty Crocker Recipe.  I made some Browned Butter Frosting to drizzle on top but it isn't essential.
Nutella Pumpkin Cookies



Recipe Type: Dessert
Author: Recipes 'R' Simple
Prep time: 1 hour
Cook time: 20 mins
Total time: 1 hour 20 mins
Serves: 6-8
Ingredients:
2 ¼ cup all purpose flour
1 tsp baking soda
 cup butter, just softened (unsalted)
¼ cup castor sugar
 ½ cup light brown sugar, packed
2 eggs
1 tsp vanilla extract
1 cup pumpkin puree or 1/2 of a small pumpkin
½ cup Nutella
½ tsp ground fine cinnamon powder
For Browned butter frosting:
¾ icing sugar
¼ tsp vanilla extract
1-2 Tbsp milk
¼ cup soft butter




( you can double the recipe if you want heavily iced cookies)
Method:
Make the pumpkin puree ahead of time:
Place the washed, and dried pumpkin half, cut side down on foiled tray and bake in an oven (375º F /190º C)
for 50 – 60 minutes, till pumpkin is soft to touch.
Scoop out and discard the seeds. Scoop out the puree to measure.
When making the cookies:
Preheat oven to 375º F /190º C
Line baking tray with cookie sheet/ waxed paper.
Combine the flour, salt, cinamon and baking soda well in another bowl. Mix well with a fork. Set aside.
In a large bowl or mixer with whisk attachment, add the sugars and butter and whisk till fluffy,

scraping down the side of the bowl as needed. 

Add the egg and vanilla extract and whisk again till smooth,

scraping down the side of the bowl as needed.

Next add the pumpkin puree and mix well till smooth.
Add the pumpkin puree to the bowl with the dry ingredients and ' fold in' with a plastic spatula, till there is no more raw flour.
Lastly add all the nuttella, in one dollop and then with a table knife, cut through the batter, touching the botton of the bowl, creating swirls of nutella throughout the batter, without mixing completely.
If you want the cookies all the same size, you will need to chill them for 20 minutes.
Drop spoonfuls of batter on to the cookie sheet evenly spaced and bake for 15 – 20 minutes, or depending on your oven – check that the bottom is golden and the centre almost no more indentation on being touched in the centre.
Remove cookie sheet from oven and on to cooling rack. cool completely till the cookies become firmer.
For the browned butter:
Add the icing sugar , vanilla and half the milk to a bowl.
Add the butter to a small sauce pan. Heat and stir contstantly till it turns BROWN.
Pour the browned butter over the icing sugar mixture and whisk till  well incorporated. Ad the remaining milk or a bit more till you get a smooth but not dripping consistency. Drizzle over  cooled cookies. Store  in airtight containers.
Nutella Pumpkin Cookies
Did you enjoy our Nutella Pumpkin Cookies ?
Allow the cookies to cool down completely, before icing and storing.