1 September, 2014
North Malabar Fish Curry – with Spiced Coconut Milk Extraction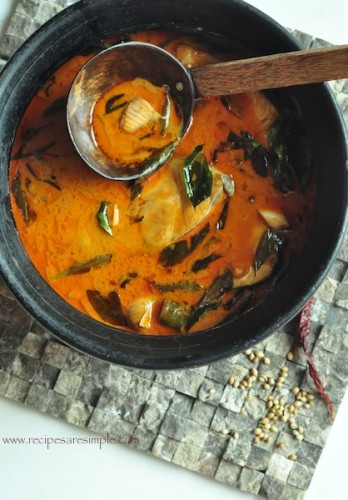 North Malabar Fish Curry – with Spiced Coconut Milk Extraction
  This curry is absolutely delicious! North Malabar Fish Curry seldom uses Fish Tamarind or Pot Tamarind (Kudampuli). Instead ordinary Tamarind (Valampuli) soaked in hot water and squeezed to get the pulp solution is used.  This curry is different in the fact that some whole coriander seeds and spice is added to fresh grated coconut and ground to a smooth paste. This paste is then squeezed to extract the 'scented coconut milk'.
The fish is cooked in the 'scented extraction' which is what makes it so yummy. Pull up a chair. Let's eat! Serve with hot rice or Puttu! See Puttu Recipe.
Scroll down for VIDEO.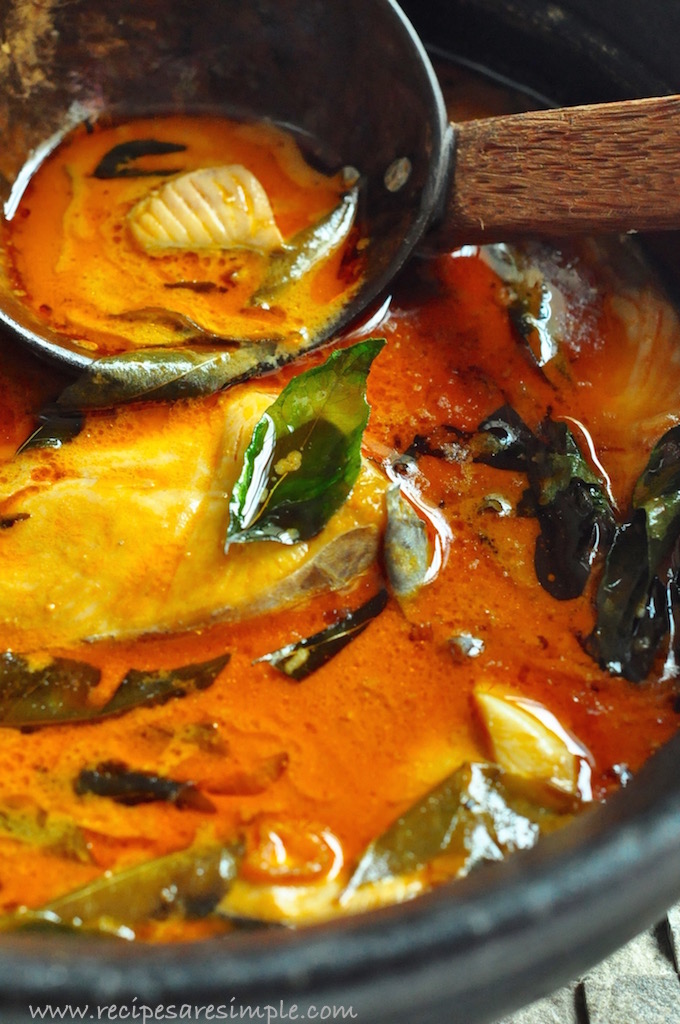 North Malabar Fish Curry – with Spiced Coconut Milk Extraction
Recipe Type: Fish and Seafood

Author: Recipes 'R' Simple

Prep time: 20

Cook time: 15

Total time: 35

Serves: 4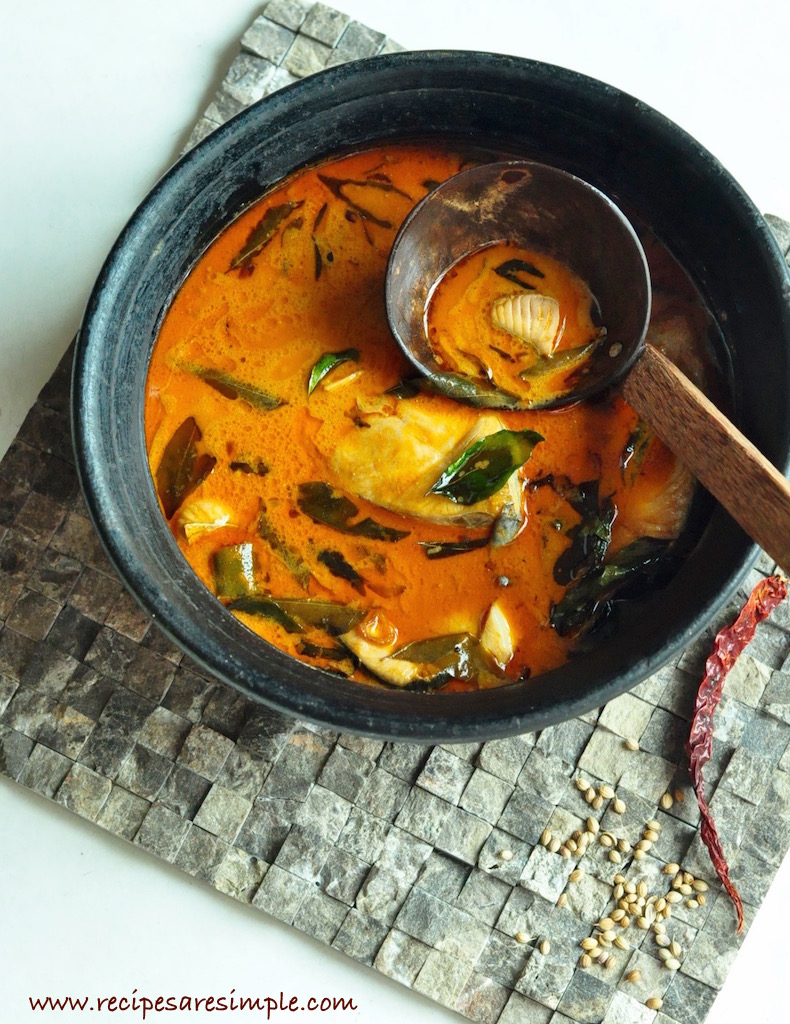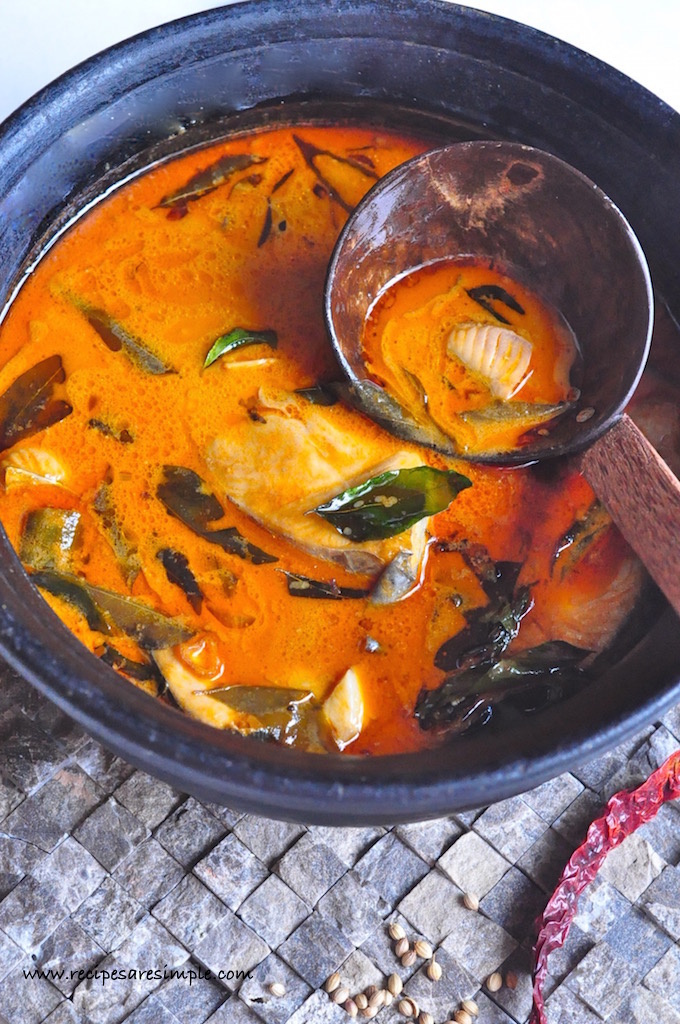 Ingredients:
½ kg / 500 gms firm fleshed fish – I recommend King Fish for this curry – with bone and skin intact.

(I often like to remove skin and bones from my fish curries. However, this curry requires both to be intact)

A piece of tamarind, the size of a small lime & ¼ cup HOT water for soaking
2 Tbsp coconut oil
A knob of ginger sliced julienne or small sticks ( about 1 rounded Tbsp)
2-3  small green chillies,  de – stemmed and left whole  Or 1 Large chili, sliced
1 Tbsp curry leaves
1 Tbsp or more of Kashmiri Red Chilli powder- as needed
1 ½ tsp salt or to taste
To marinate the fish:
1 ½ Tbsp vinegar
½ tsp salt
For the Spiced and Scented Coconut Milk Extraction:
250 gms fresh grated coconut
10 dried red chillies

(The milder, shriveled variety) – These may be soaked in hot water for 30 minutes a richer color and flavor is desired. Soak alongside the tamarind if you plan on doing so.

Just over ¼ tsp fenugreek seeds
½ tsp cumin seeds
4-5 shallots
13 gms / 3 Tbsp Coriander Seeds
1 ¹⁄3 cups water – to assist in blending
For Tempering:
2 shallots, sliced thinly
1 Tbsp curry leaves
1 Tbsp coconut oil
Method:
First, pour the hot water over the ball of tamarind pulp in a small cup or bowl and set aside for 30 minutes.
Meanwhile, clean the fish steaks. Rub with some salt gently. Rinse thoroughly. Pat dry. Apply the vinegar and salt for marinating and set aside the fish.
Next, make the  scented coconut milk extraction:
Add the fresh grated coconut milk, coriander seeds, shallots & dried chillies to a strong blender.
Add the cumin and fenugreek to a small pan and 'dry roast' till very aromatic on medium heat. Add this to the blender too.
Add water (1 ¹⁄3 cups) and blend for 10 to 15 minutes, with occasional breaks in between to rest your blender.

You want the coconut ground well.

Use a long cloth 'tea strainer' or a fine mesh sieve to squeeze out all the milk from the ground coconut. Squeeze till you can not extract any more liquid.
Add some warm water (½-¾ cups) to the empty blender to wash out the residue. Pour this into the tea strainer and squeeze again.
On to the curry:
By this time our tamarind should have soaked enough to sueeze out the pulp and retain a thick tamarind solution. Discard the pulp.
Heat an earthen pot. Add coconut oil.
Add the ginger, green chillies and curry leaves.
Saute till the ginger is soft and extremely aromatic. Do not allow to go brown.
 To this, add the scented coconut milk extraction as well as the tamarind solution.
Bring to a boil. Then simmer for a few minutes, to allow the raw smell of spices to dissipate. At this point you can add some Kashmiri Chilli powder if you would like more color and richness to the curry. (optional)
Add the fish and bring back to a simmer. Add salt now.
Simmer on low heat for 10 minutes, uncovered.
To temper:
Heat coconut oil in a small pan. Add the shallots and curry leaves. Stir and fry till golden and crispy.
Pour the contents of the pan

(including the oil)

over the curry. Do not stir.
Cover the pot and allow to rest.

( I would rest the curry for 3 hours before serving.)

Serve with Hot Rice!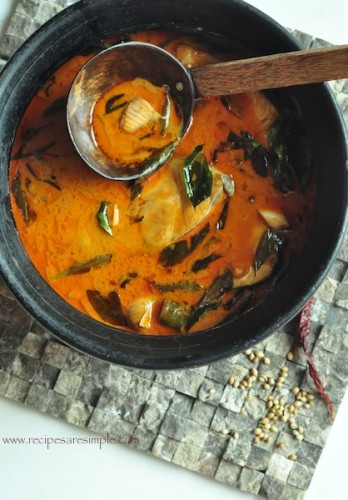 North Malabar Fish Curry – with Spiced Coconut Milk Extraction
Try it and let us know – North Malabar Fish Curry – with Spiced Coconut Milk Extraction .
 This curry tastes even better the next day.
The taste of ginger and coriander is predominant. It is essential that you use the best, freshest ginger.
The color will deepen after it has rested a while.
Although not a great amount of oil is used, natural oils from this type of fish will cause a layer of oil to form on top of the curry after it has rested for a while. You can use a skimmer to remove some of this oil if desired.