22 April, 2016
Nadan Varal Curry | Bral Fish Curry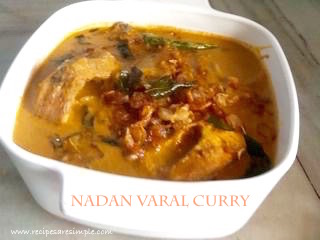 Nadan Varal Curry | Bral Fish Curry
This is the Nadan Varal Curry – The country style Bral Fish Curry which is much sought after by so many. Feelings of nostalgia, certainly take over when those who love this fish are served this curry. An authentic method of preparation that has been followed for decades. Varal fish is also known by the names of 'banded snake head fish or dragon head fish' .. It is also popular in Thailand and Indonesia.
Nadan Varal Curry | Bral Fish Curry
You are here: Home > Fish > Nadan Varal Curry | Bral Fish Curry
 

Recipe Name: Nadan Varal Curry | Bral Fish Curry

Recipe Type: Kerala Recipes / Fish & Seafood

Author: Shana  Recipes 'R' Simple
Ingredients: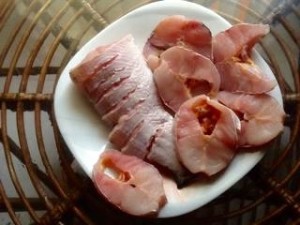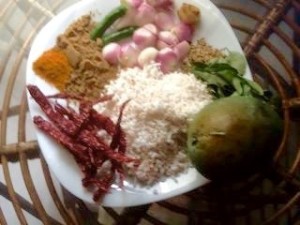 1 kg  Varal Fish
1 tsp  kashmiri chilli powder
1 Tbsp coconut oil
2 cups grated coconut
1 tsp fennel seeds
2 cloves
2 tsp  coriander seeds or coriander powder
1 tsp turmeric powder
10 kashmiri dried red chilliies, cut up
1 shallot
1 green mango, cut into thick cubes
Tempering:
¾ cup shalots, sliced round
2-3 green chilies slit
a handful of curry leaves
8 fenugreek seeds
3 Tbsp coconut oil




Method:
Clean and scrub the fish with salt. Rinse thoroughly. Drain.
Marinate fish with chili powder.
Heat coconut oil in wok.
Add fennel seeds and when they pop, add the cloves.
Reduce the heat to LOW and add the dried chillies. Wait till the chilil becomes crisp without burning.
Add the coriander powder powder now and stir just a few seconds. ( If using coriander seeds, add along with the dried chili.
Next, add the grated coconut and 1 shallot, sliced.
Fry on medium heat, stirring constantly…till golden brown. (low heat)
Add this golden coconut-spice mixture to your blender with about ¾ cup water  and grind till smooth.
Squeeze to extract the flavored coconut milk only.
Heat an earthen pot and add this coconut milk to it.
Also add fish and allow to come to boil.
Add mango pieces and allow to boil again.
 Now add salt. (You must add the salt now, as Varal fish takes time to take on the seasoning).
Allow the curry to come to a strong boil. Then lower the heat and allow to cookfor 15 min- 20 minutes. (Partially covered).
Once done, allow the curry to cool down  for a while BEFORE adding the tempered oil.
For tempering:
Heat the in a small pan. Add the fenugreek seeds and when they turn golden add the sliced shallots, green chili and curry leaves.
Pour over the curry that has been resting briefly.
Do not stir. Cover the earthen pot with a lid and serve after some time.
To be served with rice.
Nadan Varal Curry | Bral Fish Curry
Key Ingredients: Fish, Coconut, Mango, Spices, Shallots, Coconut oil.
Leave a comment if you tried – Nadan Varal Curry | Bral Fish Curry.