26 August, 2013
Grey Mullet Fish Curry – Nadan Thirutha Curry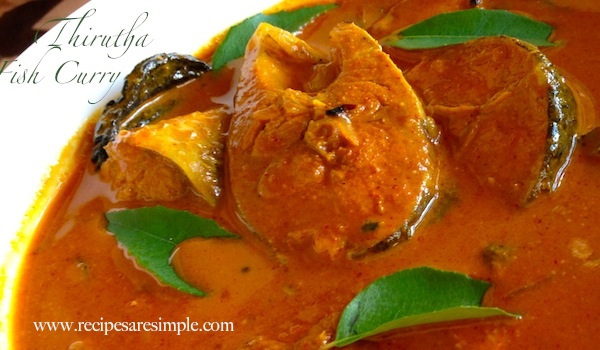 Grey Mullet Fish Curry – Nadan Thirutha Curry 
  This is a 'Thani Nadan' Fish curry. A kerala fish curry that is, with the delicate and rich flavor of the grey mullet fish. Called the 'Grandparents Special', it is devoured by 'Thirutha' Lovers! Please  use the best quality chilli powder for this recipe as it makes all the difference.

Grey Mullet Fish Curry – Nadan Thirutha Curry 
Recipe Type: Fish / Seafood / Curry

Author: Recipes 'R' Simple

Prep time: 20

Cook time: 20

Total time: 40

Serves: 6
Ingredients:
1 kg Grey Mullet fish washed and cleaned well –  

(see notes)

, cut into pieces
3-4 Tbsp coconut oil
¼ tsp Mustard seeds
a pinch of fenugreek seeds
8- 10 shallots, sliced  into rounds
1 long green chilly, sliced
a few tiny shreds of dry chilly
5 Tbsp Chilly powder (Kasmiri)

– of moderate heat and good aroma

½ Tbsp Turmeric
4 strips of Fish Tamarind/ Gambooge (Kudampuli) (Read about it here)
Grated Coconut, fresh or frozen
 1-2 tsp salt
curry leaves




Method:
Clean the fish very well 

(see notes)

 and leave in a bowl of water till ready to add to the curry.
Blend the grated coconut with about  1 ½ cups water till finely blended. Strain using a fine cloth or sieve to extract the milk. → Set aside.
Add the chilly powder and turmeric to a small bowl. Add about ½ cup water to make a nice thick paste.→ Set aside.
Heat coconut oil in an Earthen / Clay pot
Add the mustard seeds and allow to splutter. Next, add the fenugreek seeds and allow to turn golden.
Add some curry leaves, followed by the shallots, green chilly and saute till soft.
Add a few shreds of dry chilly and sauté till the shallots are translucent.
Add the spice paste and stir well on low heat till aromatic, adding a little water as necessary so that the spices don't burn.
Add 2 cups of water or enough for the amount of fish to be submerged in it.
Add about 2 tsp  salt and bring to boil.
Add the fish tamarind, some more curry leaves  and then add the fish.
Simmer on low heat for about 10 minutes.
Add the coconut milk and simmer again, another 8-10 minutes till nicely thickened.
Remove the pieces of fish tamarind, so that the curry does not turn too sour as it is left to rest.
Allow to sit for at least half an hour before serving.
Serve with Rice / Kerala brown Rice.
Grey Mullet Fish Curry – Nadan Thirutha Curry 
Try it and let us know – Grey Mullet Fish Curry – Nadan Thirutha Curry  .
Grey Mullet is a fish that is rich in  healthy omega 3 fatty acids.
You can see the white pieces of fat whilst cleaning the inner part.
Since it has a very strong flavor, we recommend trying removing these white colored fatty bits before preparing this dish. Some prefer to keep the strong taste intact. The choice is yours.
I find that the key to this curry is choosing the right chilli powder. Use a Kashmiri chilli powder that smells good and does not burn when you place it on the tip of your tongue. Kashmiri chilli powder is deep red and mild in heat. But some brands may be labeled Kashmiri Chilli Powder, but actually be a mixture of hot and mild chillies.
No garlic or ginger is required to make this curry. It is not an error in the recipe – for skeptics.
You May Also Like: