2 September, 2015
Nadan Parippu Curry – Moong Dal Curry for Kerala Sadhya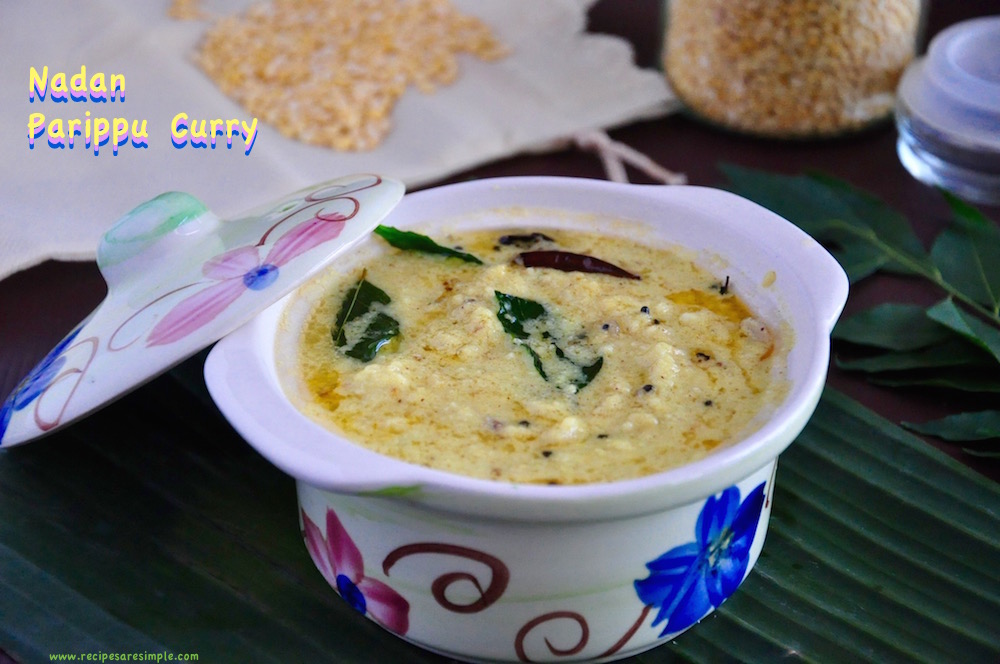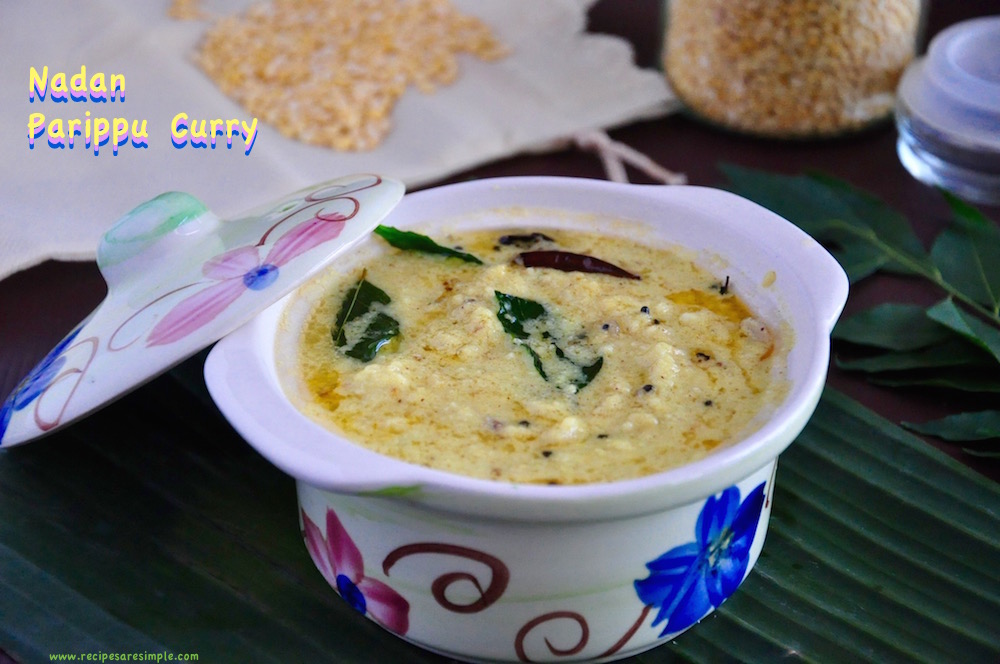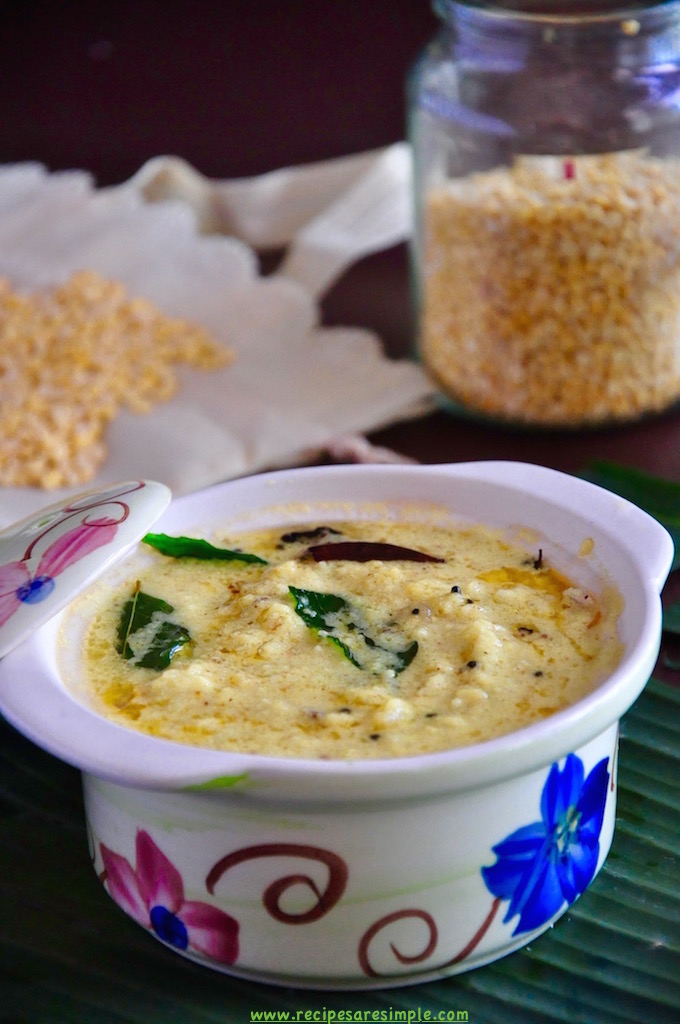 Nadan Parippu Curry – Dal Curry for Kerala Sadhya
This is the traditional method of preparing delicious Nadan Parippu Curry. I absolutely love this with some fresh ghee drizzled on top of the hot dal curry. Husked Moong dal is used for this dish.  Give me a plate of rice, some of this awesome parippu curry, ghee, some papad and – that's all I need!
This is the type of dal that is made for traditional Sadhyas and Feasts. Loosen the texture further by adding more water.
Nadan Parippu Curry
You are here: Home > Kerala/ Malabar  > Nadan Parippu Curry
Recipe Name:  Nadan Parippu Curry
Cuisine: Kerala / Onam
Author: Shana c/o Recipes 'R' Simple
Prep time: 5
Cook time:
Total time: 
Yield: (6 servings)
Ingredients:
1 cup husked green beans / Mung beans / Moong Dal
3 cups water – or according to desired looseness of the curry
¾ tsp salt or to taste
To be ground to a paste:
4 cloves garlic (small sized)
¾ tsp cumin seeds
½ tsp turmeric
1 cup fresh grated coconut, tightly packed
For seasoning/ tempering:
4 tsp refined oil / vegetable oil

 3 tsp ghee

½  tsp black mustard seeds
2 shallots, sliced  thinly
a few curry leaves
1 ½ Tbsp dried chillies, cut into quarters

(I use the milder variety)
Method:
Dry roast the dal in a heavy bottoms skillet or wok on low heat. Keep stirring till  heated through and slightly nutty or glossy- no change in color should occur.
Put the dal in a pressure cooker and cooke for 2-3 steam whistles,
Alternatively, cook uncovered in a pan on medium heat till the dal is tender, somewhat mash-able.
 Meanwhile add the coconut, garlic cumin and turmeric to a small mixer/grinder. Add just enough water

(very little)

to grind to a smooth paste.

(As smooth as possible).

Once the dal is cooked tender, add the paste and salt.
Bring to a boil and remove from heat.
Heat the oil and ghee mixture in a small pan. Add the seasoning ingredients and allow to splutter.  

(Make sure there is no blackening of the dried chilli).

Add over the curry.
Serve hot.
Nadan Parippu Curry 
The dal can thicken on resting. Loosen by adding very thin coconut milk or water and heating to a simmer.
Key Ingredients: Moong dal, Coconut, Turmeric, Cumin, Shallots, Dried chillies, Curry leaves, Mustard seeds, Ghee, Oil, Salt,
Let us know if you tried it – Nadan Parippu Curry . Comments from you provide motivation to keep up the driving force behind this blog, bringing you more delicious and perfected recipes regularly. Please do leave a comment. We love to hear from you.