1 September, 2013
South Indian Chicken Curry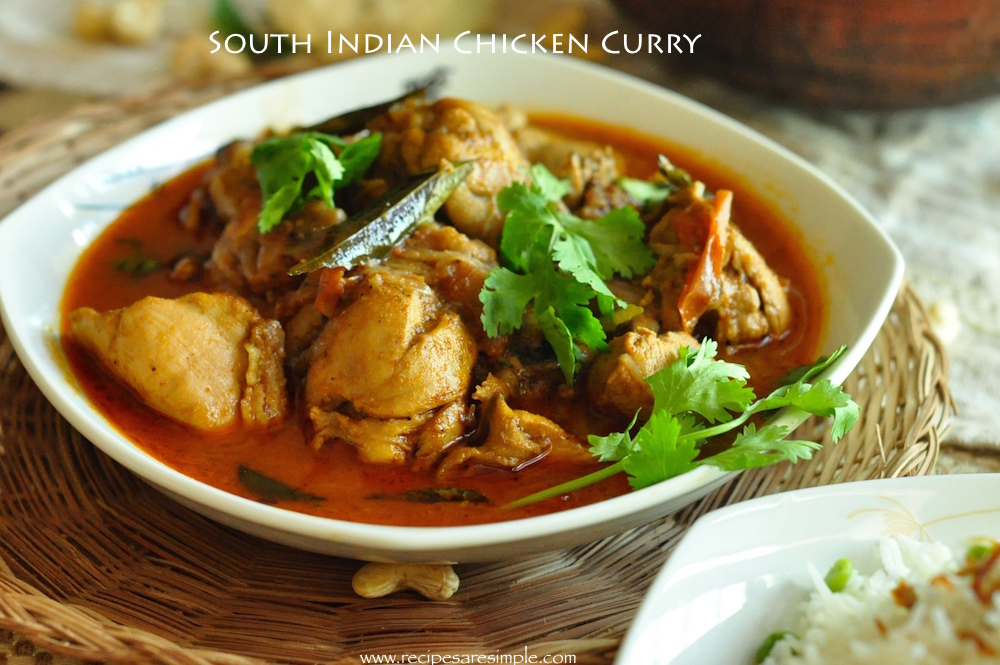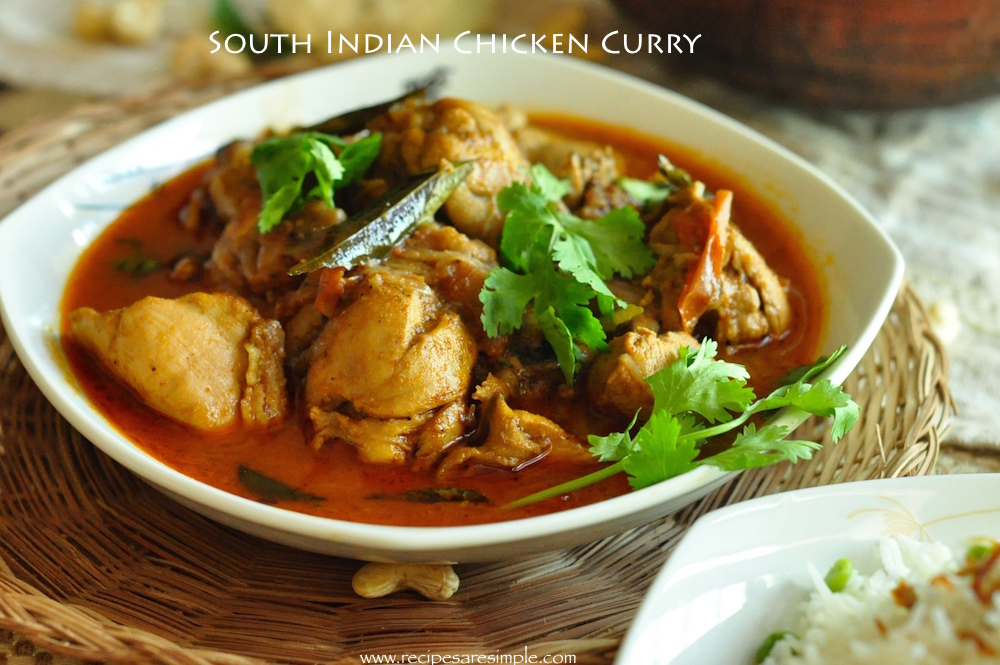 South Indian Chicken Curry
Another one of our favorite authentic recipes for South Indian Chicken Curry (Kerala Style). The marination in roasted spices prior to cooking adds a burst of aromatic flavor to this dish. Also see our other Nadan Chicken Curry recipe.

South Indian Chicken Curry
Author:
Prep time:
Cook time:
Total time:
Ingredients:
1 kg Chicken, cleaned and cut into medium sized pieces
2 Tbsp Kashmir chilly powder
1 Tbsp Coriander powder
1⁄8 tsp turmeric powder
½ cup shallots, sliced
¼ cup garlic, crushed
¼ cup ginger, crushed
1 Tbsp Whole Spices ((3 cloves, 4 cardamom pods, 2 " long(very small piece) sticks of cinnamon, 1 tsp Fennel/Aniseed)
¼  tsp mustard seeds
2 handfulls – curry leaves
3 -5 Tbsp Coconut oil
salt to taste




Method:
Heat 2 Tbsp of coconut oil in a wok.
Add the powder spices and stir till aromatic on low flame. About 2 minutes.
Add the cleaned and drained chicken to this and stir to coat well.
Cover and allow to marinate in this spice coat for 15 minutes.
Meanwhile, prepare other ingredients and roast the whole spices in a pan till they start to crackle.
Grind this to a powder. About 1 Tbsp.
In a heavy bottomed pot or pressure cooker, heat the remaining coconut oil.
Add mustard seeds and allow to splutter. Next add curry leaves, followed by garlic then ginger and then the shallots.
Saute well on medium low heat till light brown in color.
To this, add the marinated chicken and stir to coat well and fry for a bit.
Add half of the Powdered whole-spice and enough water as per liking. Cover and bring to boil.
Open, add salt and remaining powdered whole-spice and cook covered on low till chicken is tender OR pressure cook for 3 steams on medium low.(allow to sit before opening).
Let the curry sit for at least half an hour before serving.
Great with Rice!
South Indian Chicken Curry 
Did you enjoy our South Indian Chicken Curry ? Please let us know.
Notes:
Adjust the amount of water to you desired gravy consistency.
The curry will deepen in color as it rests.
You May Also Like: