30 September, 2017
Mutton Kabsa | Arabian Rice with Mutton/Lamb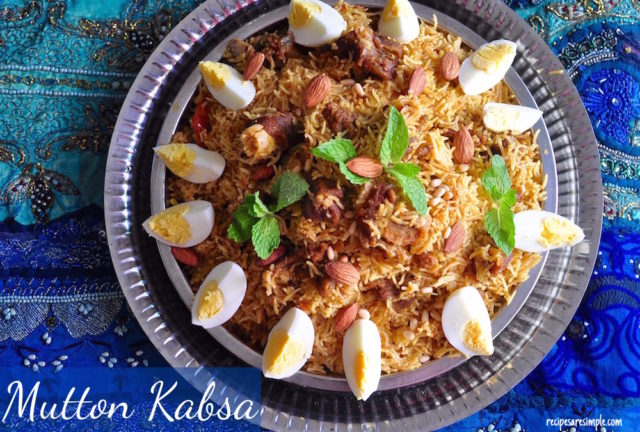 Mutton Kabsa and Memories
I love the recipes with a good sprinkling of nostalgia associated with them. This Mutton Kabsa for instance… It's aroma, its unique flavor, it always takes me back to my beautiful life in Saudi Arabia. My birthplace. Kabsa is a Saudi staple and is made with Mutton, Chicken or even Prawns.  The simple and humble dish is prepared quite easily, with all the Saudi homes having their own trademark spice-blend to enhance that irresistible, comforting aroma and flavor.  Here, I am sharing an authentic preparation of Mutton Kabsa. Prime Indian Mutton (Goat meat) is best for Kabsa.
My mom made this Kabsa so perfectly!! I would be so thrilled when I walked in the door after school and got that distinct whiff of Kabsa Spice!!
Kabsa with Lamb or Mutton can be made in a crockpot, but in Saudi, a pressure cooker is more commonly used and I believe it gives delicious results! Kabsa is often comparable and confused with Mandi, another Middle Eastern Rice preparation, the difference mainly that Kabsa spice is usually a bit stronger whereas Mandi is smokier and in the traditional 'under the ground' cooking method, it is more often made without any oil at all.
I also have here: my favorite recipe for Chicken Kabsa, albeit – a bit more work than the everyday Kabsa, but well worth the effort!  And here is my Simple Kabsa Recipe, which is the method that most homes use to make it very easily (The one-pot method). I also have a delicious Shrimp Kabsa Recipe here.
Even today, when I want to feel like a child again, with no worries in the world, in the cool shade and guidance of my dear parents, I will always cook something from my childhood… to give myself and my family that feeling of being wrapped with unconditional love.
It's a fact that many people see Saudi Arabia as a controversial country. However, having lived there half my life and having met people from every single country on earth, living there in harmony, I have only beauteous memories. Check out my Video for Mutton Kabsa below.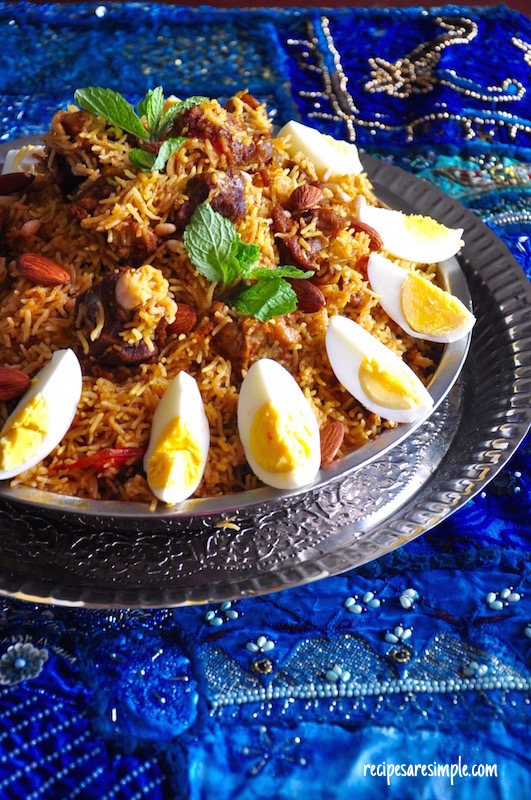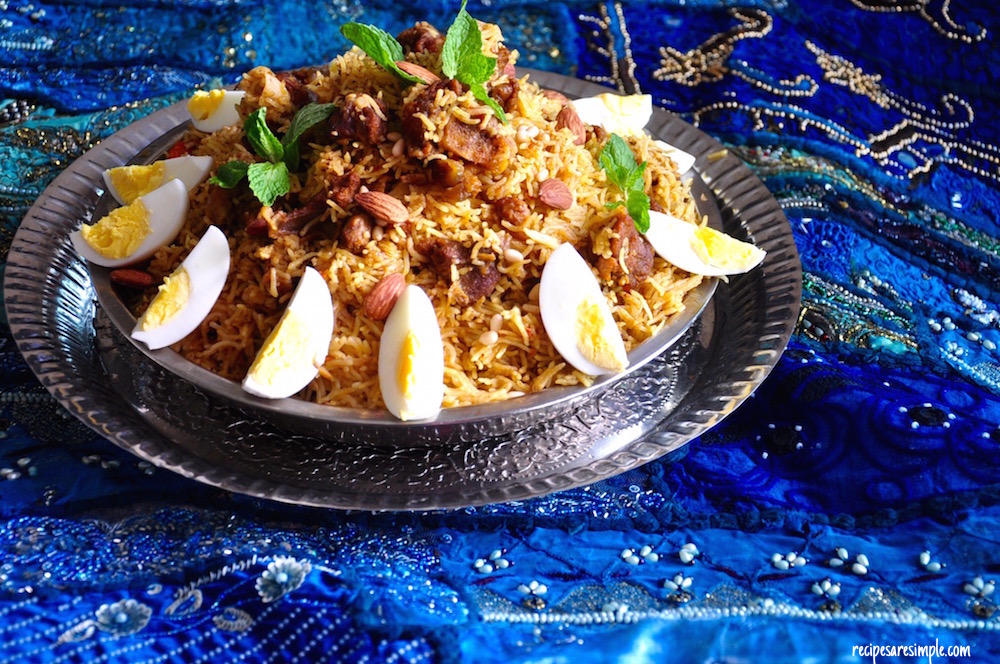 Mutton Kabsa | Arabian Rice with Mutton/Lamb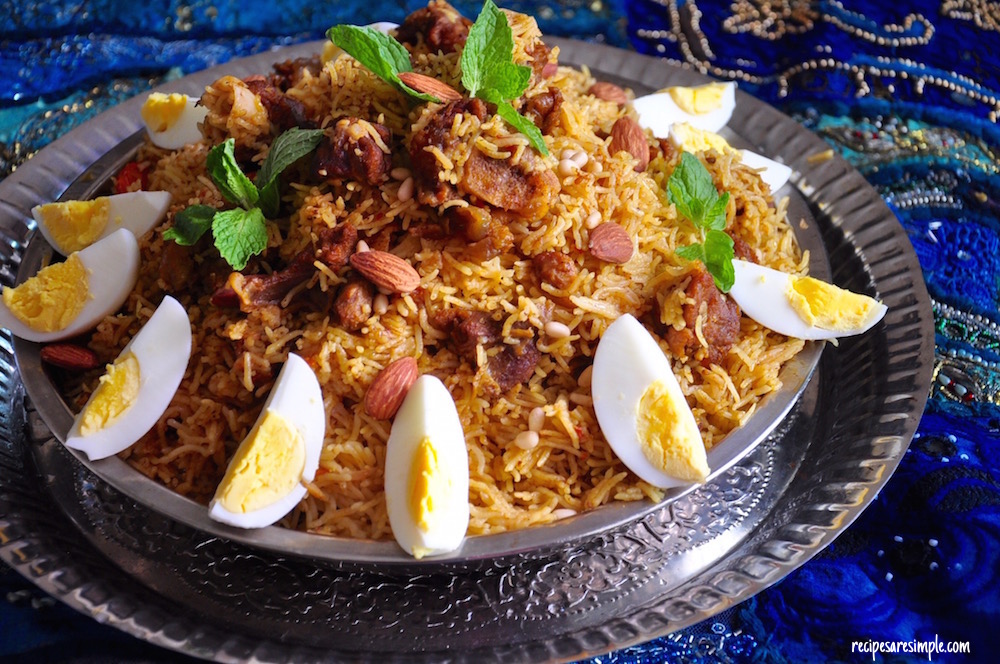 You are here: Quick Browse > Rice Dishes > Mutton Kabsa | Arabian Rice with Mutton/Lamb
 

Recipe Name: Mutton Kabsa | Arabian Rice with Mutton/Lamb

Author: Shana c/o Recipes 'R' Simple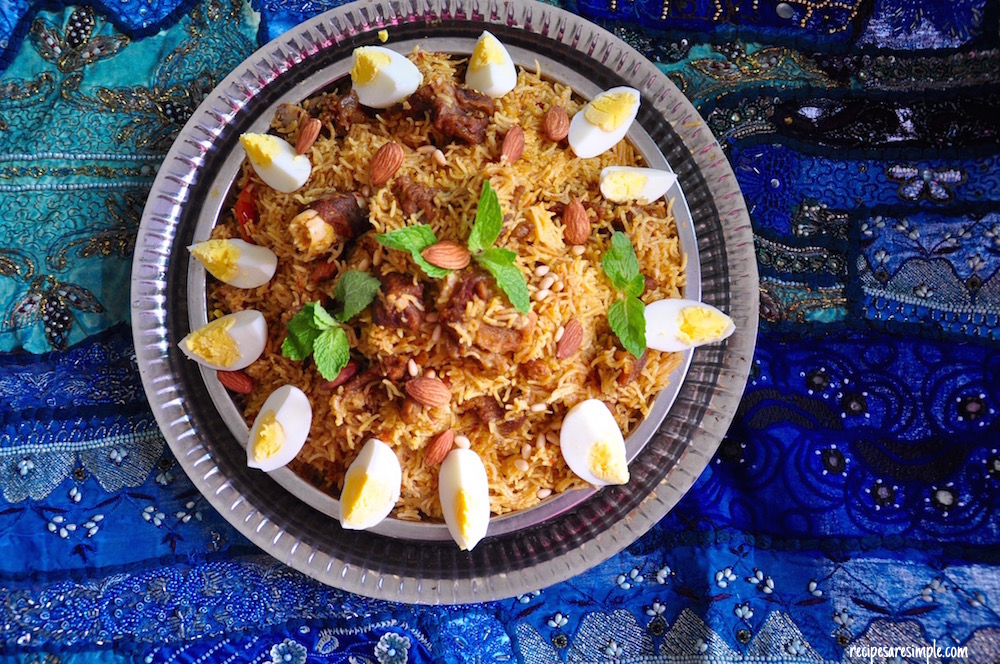 The recipe in brief with step by step photos for MUTTON KABSA:
Par-cook the mutton with turmeric and salt.
Fry the long slices of garlic in oil till golden and remove.
Saute onions in same oil used for frying garlic.
Add the chopped ginger and saute until fragrant and lightly golden.
Add fresh tomato and canned tomato.
Stir in the tomato paste ( concentrate) as well.
Cook till tomatoes are mashed.
Return the fried garlic flakes, reserving some for the final garnish.
Add the Kabsa Spices ( powdered) and stir till aromatic.
Add the fresh mint leaves and stir till wilted.
Also add the dried limes (Loomi) now. I have made a cut in the limes to help release more scent and flavoring.
Tip in the par-cooked mutton.
Toss thoroughly but gently to coat.
Heat clarified butter and crack spices in another pan.
Fry the drained rice gently till coated in butter and light gold in color.
Add the fried rice on top of the mutton in the pressure cooker.
Add water and salt as specified in the recipe.
Stir once or twice. Don't overmix.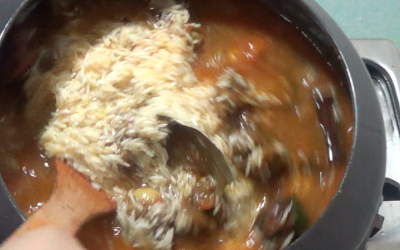 Add the lime juice and close the pressure cooker. Cook as specified. Allow to cool.
Open, and gently fluff up the rice.
Serve, garnished as desired with pine nuts, almonds, and the reserved garlic flakes.
Key Ingredients: Mutton/Lamb, Rice, Onion, Garlic, Ginger, Tomato, Lime, Dried Lime, Oil, Clarified butter, Spices, Mint.
Read more about Saudi Arabian Cuisine.
EAT AND TELL!!!
Let us know if you tried –  Mutton Kabsa | Arabian Rice with Mutton/Lamb



Back to Quick Browse. Thanks for visiting www.recipesaresimple.com