4 October, 2015
Mutton Haleem – Mutton Stewed with Wheat and Dal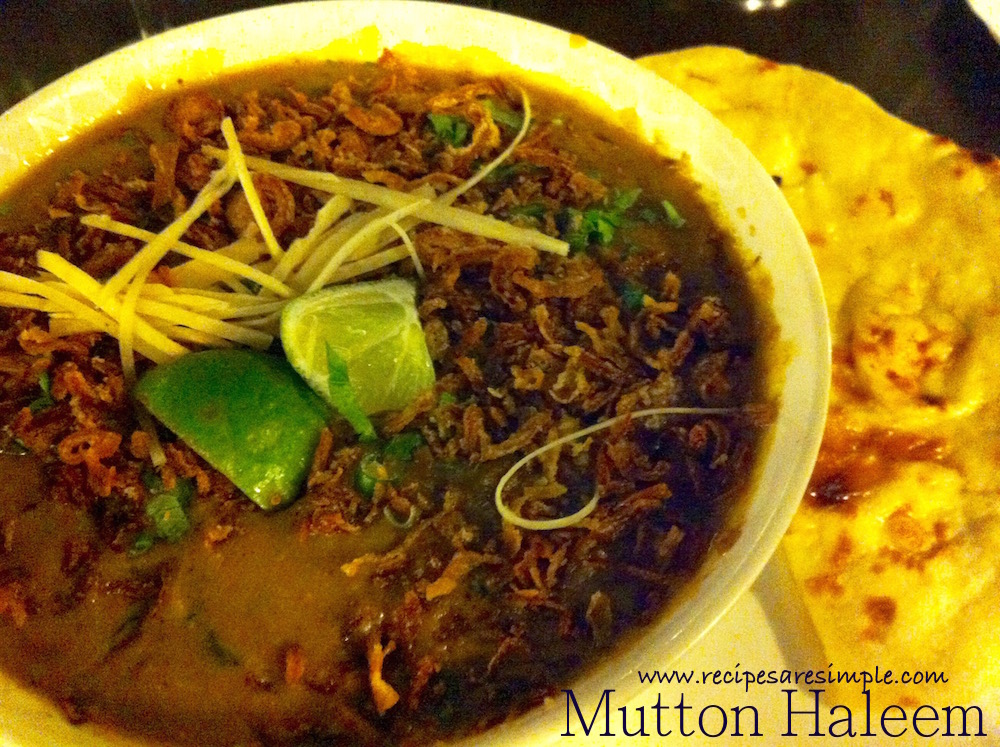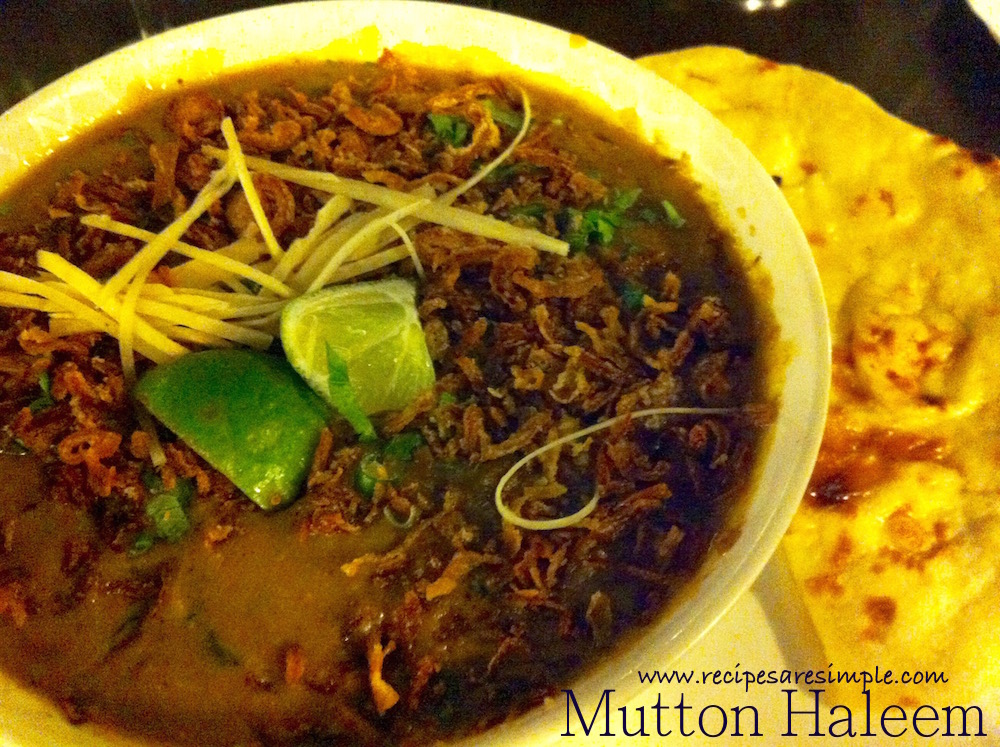 Mutton Haleem
Haleem is very popular in the Middle East, Central and Southern Asia. This delicious Haleem recipe, is a comforting dish of meat cooked with wheat and a variety of dals. This is how I make Mutton Haleem. Beef Haleem can be made in the same way.
Absolutely delicious, served with Hot Naans, this dish is quite simple although  you need to plan to soak the wheat and barley… and the time to cook the meat till absolutely tender. Tender enough to mash to shreds
Mutton Haleem
You are here: Home > Beef and Mutton  > Mutton Haleem
 

Recipe Name: Mutton Haleem

Author: Shana c/o Recipes 'R' Simple

Soaking time: 8 hours or overnight
Ingredients:
1 ½ kg prime mutton – boneless, without fat – you can use beef too
1 ½ cups wheat / gehun /گیہوں (I use cracked wheat / broken wheat often)
½ cup barely / jau / جو
pinch of baking soda
 

1 cup chana dal

¼ cup masoor dal
¼ cup moong dal (yellow)
¼ cup split urudh dal / mash dal  (white)
3 onions, sliced very finely
2 Tbsp ginger garlic paste
¾ – 1 cup ghee or oil for frying
2 Tbsp kashmiri chili powder – reduce to taste
2 Tbsp coriander powder
1 ½ tsp turmeric
2 bay leaves whole
salt to taste
Spices to be ground:
1 tsp shahi jeera / black cumin / سیاہ زیر
1 tsp black pepper corns
½ tsp nutmeg / jaiphal /جائفل
½ tsp mace / javaitri /جاوتری
½ tsp cumin /  زیر
½ tsp cardamom
½ tsp cloves
For garnish:
Ginger julienned
Sliced green chilli
Fresh mint
Fresh coriander
Lime wedges
Chat masala
Method:
Rinse the barley and wheat together.
Soak in cool water overnight.
Next day:
Soak all the dals in water together for 1 hour.
Dispose the soaking water from the wheat and barley. Add plenty of fresh water and a pinch of baking soda.
Cook the wheat-barley till mash-able. Pressure cook  to reduce cooking time.
No salt is added.
Cook the dals together separately in Plenty of water till mash-able as well. (No salt is added). Strain the dals and reserve the stock.
Mix the cooked dals with the wheat – barley mixture. There should be ample  liquid in the wheat mixture. It should be pourable and not too thick.
Add all the spices to be ground to a dry mixer/grinder, and grind to a powder.
Cook the Mutton in water till absolutely tender as well. It should be tender enough to shred. You can cook the mutton like this on its own Or you can add to the Qorma and cook till done along with the spices. Do not shred now.
Thinly slice all the onion. Use about 2 cups of this for frying.
Heat the ghee and fry the onion, in batches if necessary till golden brown and crisp.
Drain on kitchen towel.
Make the Qorma:
Take 3-4 Tbsp of the ghee/ oil used to fry the onions.
Add to a large / deep pot.
Add the remaining onion and sauté till light golden.
Add the ginger garlic paste and cook till it no longer smells raw.
Now add the chili powder, coriander powder and turmeric and bay leaves.
When aromatic, sprinkle some water so that the spices do not get scorched.
Add the cooked meat and toss in the korma masala.
Add salt to taste and just enough water to cover the meat.
Bring to a boil. Lower heat and start to mash the cooked meat with a wooden ladle. The tender meat should get mashed very easily to shreds.
Now pour in the dal and wheat mixture.
Add more salt if needed.
Bring to a boil. Lower heat and cook 15 minutes.
To get an extremely smooth haleem, use a hand blender to puree the lentils and meat thoroughly.
Place all the garnish items and the fried onions in a serving platter and scatter some over the hale prior to serving. Don't add all the fried onion together. Add as needed. Or individuals can help themselves.
Mutton Haleem
Hand Held Blender – Buy it on Amazon.
Sometimes, I like to use shallots for frying in place of the onion. Adds more flavor, but takes longer to peel and slice thinly.
Add only a tiny amount of baking soda. It helps to mash the wheat well. Adding too much will ruin flavor.
Key Ingredients: Mutton, Dals, Wheat, Barley, Spices, Onion, Ginger, Garlic, Herbs (Coriander & Mint), Lime, Green chilli, Ghee, Salt.
Leave a comment if you tried Mutton Haleem. Comments from you provide motivation to keep up the driving force behind this blog, bringing you more delicious and perfected recipes regularly. Love to hear from you.