10 January, 2015
Mushroom Momo Recipe – Tibetan མོག་མོག Dumplings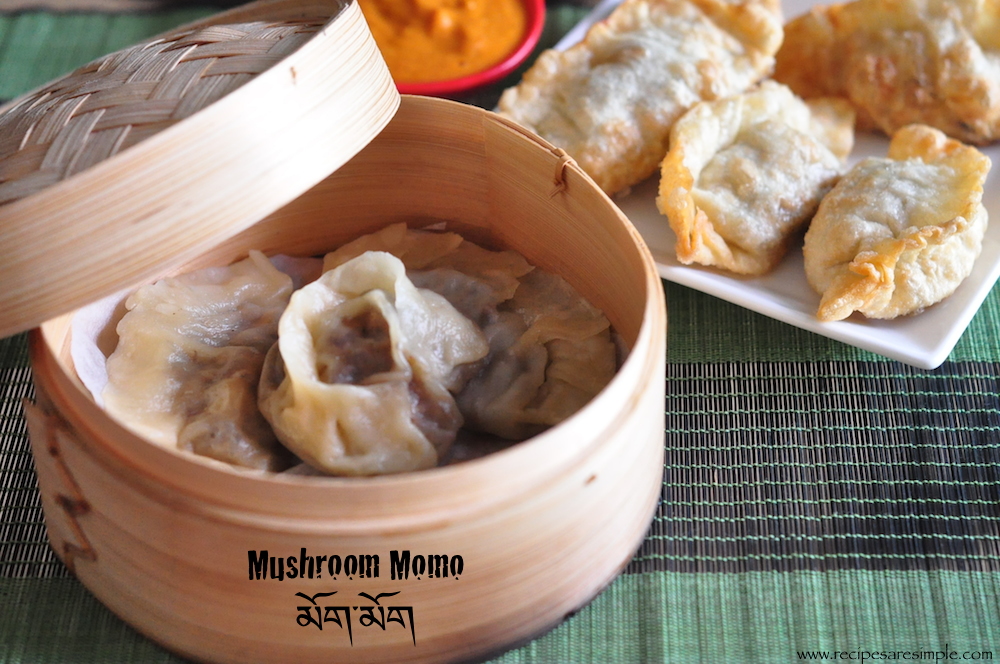 Mushroom Momo Recipe – Tibetan མོག་མོག Dumplings
  Momo is a  a type of dumpling native to Tibet and Nepal. It can be served steamed ( The healthier option ) or fried after steaming. Both are quite tasty. It is traditionally served with a tomato and garlic based sauce. This Mushroom Momo recipe is very simple and makes for a great snack with tea.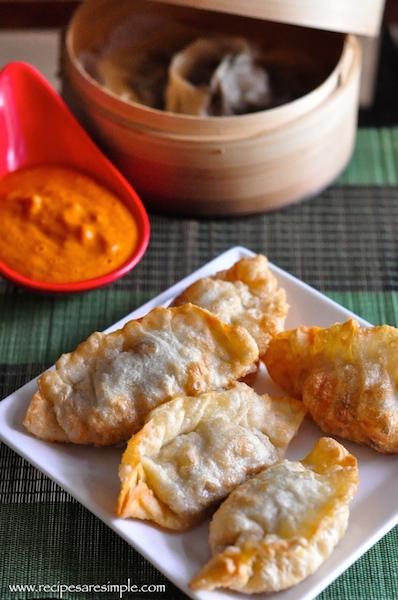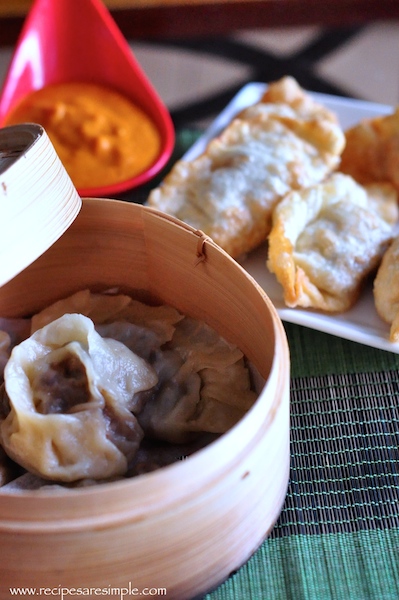 Mushroom Momo Recipe – Tibetan མོག་མོག Dumplings (Steamed or Fried)
You are here: Home > Snack Recipes  > Mushroom Momo
Recipe Name: Mushroom Momo

Description : Tibetan Dumplings, steamed or fried

Recipe Type: Snack

Author: Recipes 'R' Simple

Prep time: 10

Cook time: 30

Total time: 40

Serves: 4
Ingredients:
¾ cup flour
¹⁄8 tsp salt
¹⁄3 tsp baking soda
150 gms mushroom – use wild, swiss brown or button mushrooms
2 medium onions, diced finely
½ tsp garlic, minced
½ tsp ginger, minced
½ tsp green chili sauce
½ tsp light soya sauce
½ chicken or vegetable bouillon (stock) cube
¹⁄8 tsp garam masala
¹⁄8 tsp coriander powder
salt if needed
3 Tbsp sunflower oil plus more if deep frying
Method:
Scrub the mushrooms, thoroughly with a small brush. Remove the stem. Rinse well and then squeeze out the water
Dice the mushroom finely.
Heat oil in a heavy based wok or pan.
Add the ginger and garlic and allow to soften.
Add finely diced onion and saute. Add salt to help release the moisture. Sauté till light golden.
Add the mushroom and continue cooking for a minute or two till the mushroom is tender.
Add the garam masala and coriander powders. Mix well.
Add the  bouillon cube , green chili and soy sauces.
 Stir well and cook thoroughly. Taste and add salt only if needed.
Allow to cool slightly.
The dumpling wrapper:
While the onions are cooking, add flour and salt to a bowl along with baking powder.
Mix in just enough water to knead to a smooth dough that is not sticky. Set aside for 10 minutes while you finish cooking the filling.
Pinch into tiny pieces and roll into smooth balls the size of a cherry.
Sprinkle surface with flour and roll into circular shapes, as thinly as possible.
Make the Momos:
Add a Rounded Tbsp of filling in the centre of the rolled out circle.
Fold over and pleat the edges with fingers while pressing to seal.
You can also pinch towards the top to make a garlic like shape.
Place a piece of parchment paper in which a number of holes have been cut out on the steaming rack. (This ensures the momos do not stick to the rack) .
Steam over boiling water, covered for 20 minutes.
Serve steamed or remove the steamed momos when slightly cool and continue to fry in hot oil to a light golden color. Drain.
Serve with Tomato Garlic Sauce (Optional) .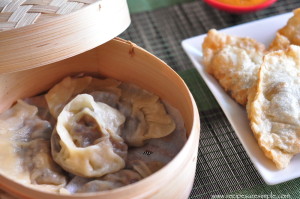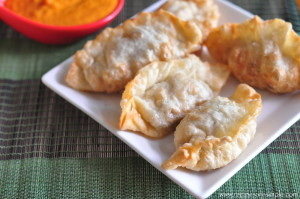 For the Tomato Garlic Sauce:
Heat 1 tsp of sesame oil. Add 1 tsp garlic and 1 dried red chilli. Fry till golden. Add 1 chopped tomato and cook on low heat till the tomatoes are soft and pulpy. Blend to a sauce in a small grinder.
Mushroom Momo Recipe – Tibetan མོག་མོག Dumplings
Notes:
To make the prepare for fried Momos ahead of time, you can steam them and keep them chilled. Bring to room temperate and fry when needed.
Key Ingredients: Mushroom, Onion, Plain Flour. Garlic, Ginger, Oil, Soy Sauce, Green Chilli Sauce, Veg or Chicken Bouillon cube.
Let us know if you tried it – Mushroom Momo Recipe – Tibetan མོག་མོག Dumplings
Comments from you provide motivation to keep up the driving force behind this blog and keep getting you sought after and perfected recipes. Please do leave a comment. We love to hear from you.