6 September, 2013
Mushroom Fry – Hot and Crispy Treat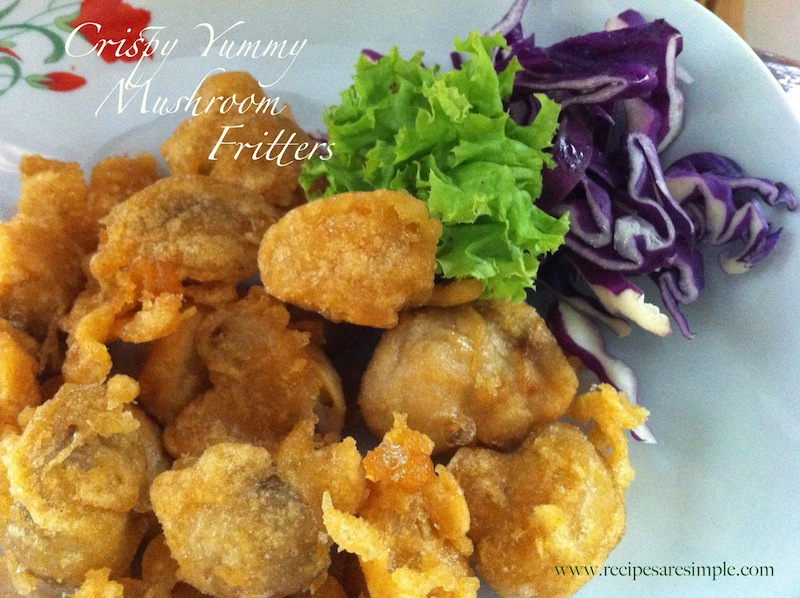 Mushroom Fry
Hot and Crispy Mushroom Fritters are super for a quick tea time treat. Use your favorite variety of mushroom and whip this up for  guests in a jiffy. Very tasty Mushroom Fry!

Mushroom Fry
Ingredients:
2 cups mushrooms – any variety
½ cup flour
¼ cup corn flour
¼ tsp red chilly powder or pepper
salt to taste
½ cup chopped herbs : spring onion/parsley or both
1 egg, beaten
1 Tbsp Olive oil
1 tsp garlic, minced

mushroom seasoning powder -optional

oil for frying
For the garlic chilly mayo:
1 clove garlic
½ cup mayonaise
2 Tbsp ketchup or chilly sauce
chopped herbs – optional




Method:
Wash and clean the mushrooms well. Pat dry.
In a bowl, comibine the flour, corn flour, salt and chilly /pepper powders, herbs and egg. Add enough water to make a pourable thick batter – like that of pancake batter.
Heat Olive oil in a wide frying pan and add the garlic. Allow to soften.
Add the mushrooms and saute till moisture evaporates.
Heat oil for deep frying.
Add the  sauted mushrooms to the prepared batter.
Drop a little at a time into the hot oil, seperating as you do so to ensure they dont stick to eachother.
Fry till golden. Drain on paper towels.
Serve hot and crisp with chilly sauce or garlic chilly mayo.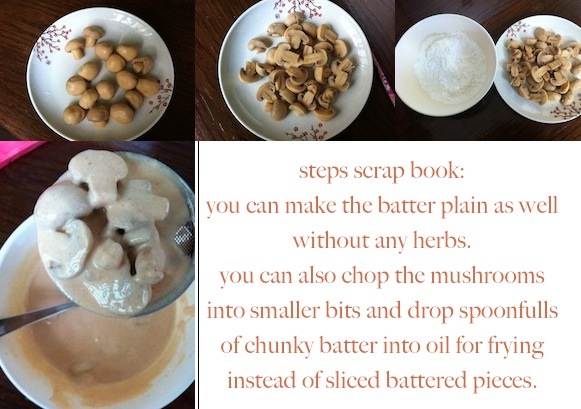 For garlic chilly mayo:
In a small mixer or food processor combine ingredients and blend well till smooth. Add chopped herbs if desired.
Mushroom Fry
Did you enjoy our Mushroom Fry ? Leave a comment.
Notes:
To prepare for guests : You can prepare the sauce, batter and saute the mushrooms ahead of time. Just dip in batter and fry when ready to serve.
You May Also Like: