3 July, 2014
MUSAKHAN – Palestinian Sumac Chicken with Caramelized Onion and Taboon Bread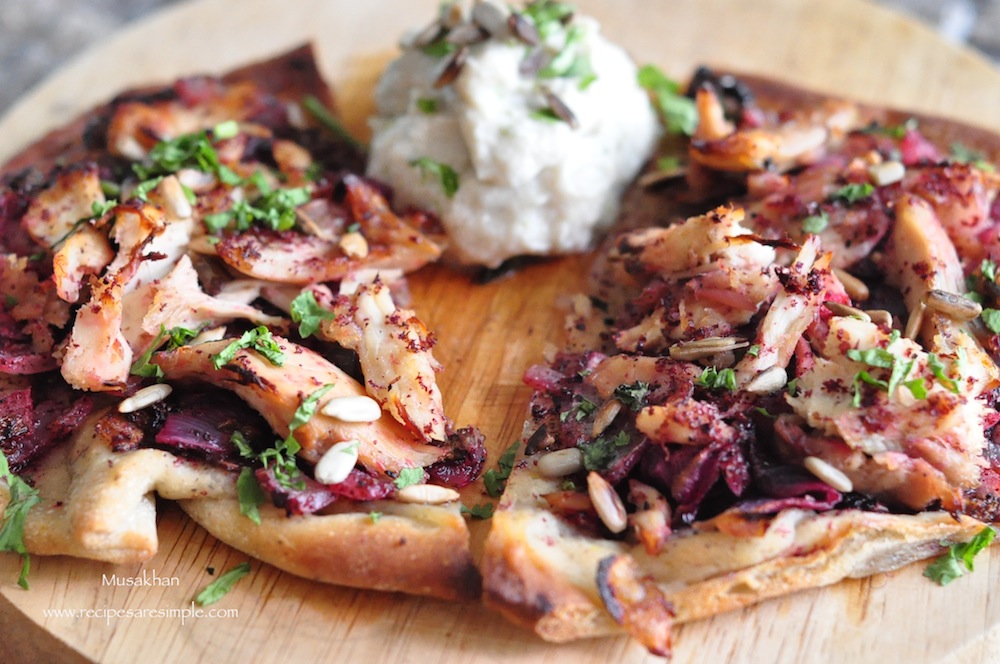 Musakhan – Try something totally different and delicious!
Sumac is a deep red colored fruit, ground to a fine powder and often used in Arabian cooking. It has a nice tart , lemony flavor. This dish  is primarily flavored with Sumac and Caramelized Onions. The chicken and bread is combined as one dish and served with  and Eggplant dip  (Baba Ganoush), The dish can be assembled is various ways. It can be arranged like a pizza  or baked in layers or rolls. A very tasty dish. Great for Ramadan. Here, we cook the whole chicken, cut into 2 pieces with skin and bones intact in a simple stock till tender. Onions are slowly caramelized in olive oil and flavored with sumac till very tender A little stock from the Chicken is added to the onions and cooked to a sauce.  The cooked chicken is removed from the stock and briefly cooked in the caramelized onion sauce before it is roasted in the oven till the skin is nice and golden.
The chicken can be served as is, with the Taboon bread which is also baked with a layer of the onion sauce OR it the skin and bones can be removed and the chicken hand shredded to pieces and baked along with the Bread topped with the sauce like a pizza OR  baked in layers of bread, sauce and chicken, alternately till a casserole is full. This can be cut and served in portions.  The Taboon or 'Laffa' Bread is a popular Arabian Bread. Here it is infused with 'Zaatar' – and Arabian Spice Blend. I like to soak the Bread in the remaining chicken stock before brushing with the caramelized onion sauce and then baked as desired. (SCROLL DOWN FOR RECIPE PICTORIAL VIDEO)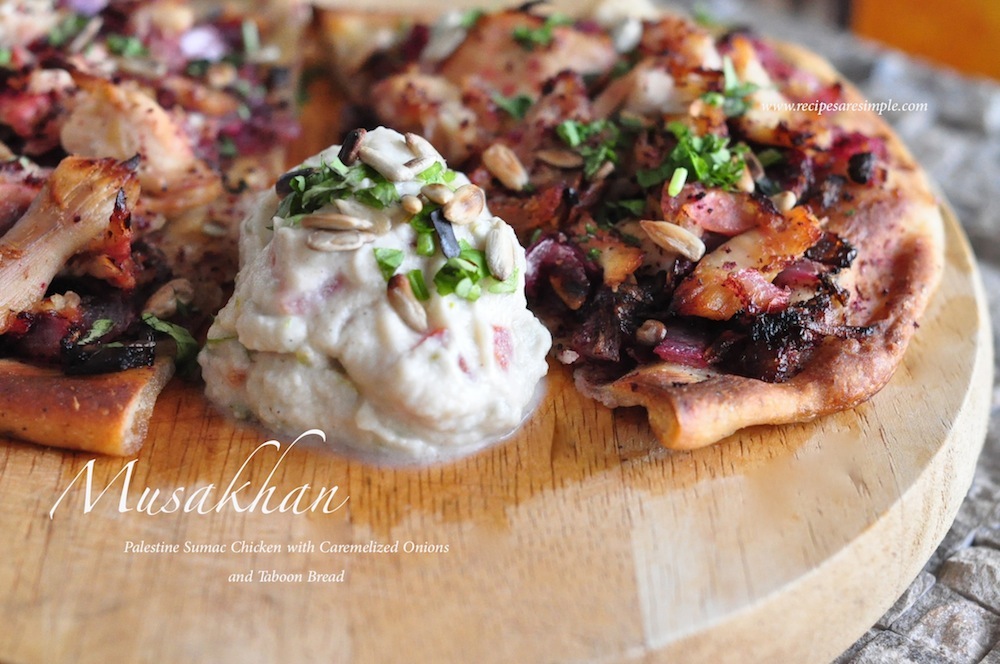 MUSAKHAN

– Palestinian Sumac Chicken with Caramelized Onion and Taboon Bread


You are here: Quick Browse > Breads | Chicken > MUSAKHAN - Palestinian Sumac Chicken with Caramelized Onion and Taboon Bread
 

Recipe Name: MUSAKHAN – Palestinian Sumac Chicken with Caramelized Onion and Taboon Bread

Author: Shana c/o Recipes 'R' Simple

Author: Recipes 'R' Simple

Prep time: 

Cook time: 1 hour

Total time: 1 hour 30

Serves: 6
Step By Step in brief with pictures:
For the Taboon Bread:
( Do not open the oven too often, The temperature will drop. Take the bread to the oven along with the cloth on which it is placed. Carefully  flip over and fold the cloth in from both sides to peel it off easily. Then flip onto the hot stone. Slide out the oven rack on which the stone is placed if your oven is smaller and close the oven quickly ).
For the Roasted Chicken:
For the Caremelized Onion Sauce:
To Assemble: Choose whichever method you prefer.
Instead of layers, you can roll each bread with topping, like a burrito and placed them side by side in a rectangular dish. (Like Enchiladas). If baking in casserole dish, bake upto 20 minutes, till the bread looks golden from the sides.
Serve with Baba Ganoush Or Toom (Arabian Garlic Sauce).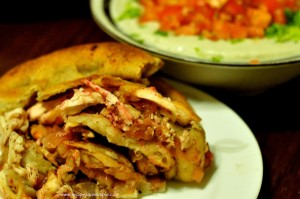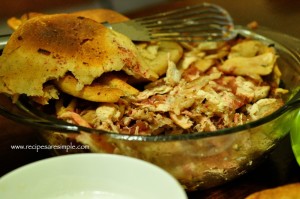 Key Ingredients: Chicken, Spice, Olive Oil, Onion, Sumac, Flour, Sugar, Yeast, Salt, Za'atar, Pine Nuts.
EAT AND TELL!!!
Let us know if you tried –  MUSAKHAN – Palestinian Sumac Chicken with Caramelized Onion and Taboon Bread

Back to Quick Browse. Thanks for visiting www.recipesaresimple.com