4 May, 2015
Murtabak Recipe with Chicken
Murtabak Recipe with Chicken
Murtabak is a pan fried folded flat bread that can be plain or stuffed with Mutton, Chicken or Egg. It is  said to have originated in Yemen, influenced by the large Indian Expatriate Community there. It is very common is Saudi Arabia too.
It is said to have been originally named "Muttabar" by the Chefs from Kerala, India – 'Mutta' meaning "Egg" and 'bar' short for "Barotta"which is a derivative of the Hindi word 'Paratta' (Flatbread). The name is thought to have mutated to "Muttabag" which means "Folded" in Arabic. Eventually the common name in Arab Countries became "Muttabak", and in Asian Countries like Malaysia and Singapore, it is called "Murtabak". In these countries it is mainly made by Indian Muslim Hawkers.
Here is a great Murtabak Recipe with Chicken to make at home. Scroll down for video on how the murtabak is assembled and fried.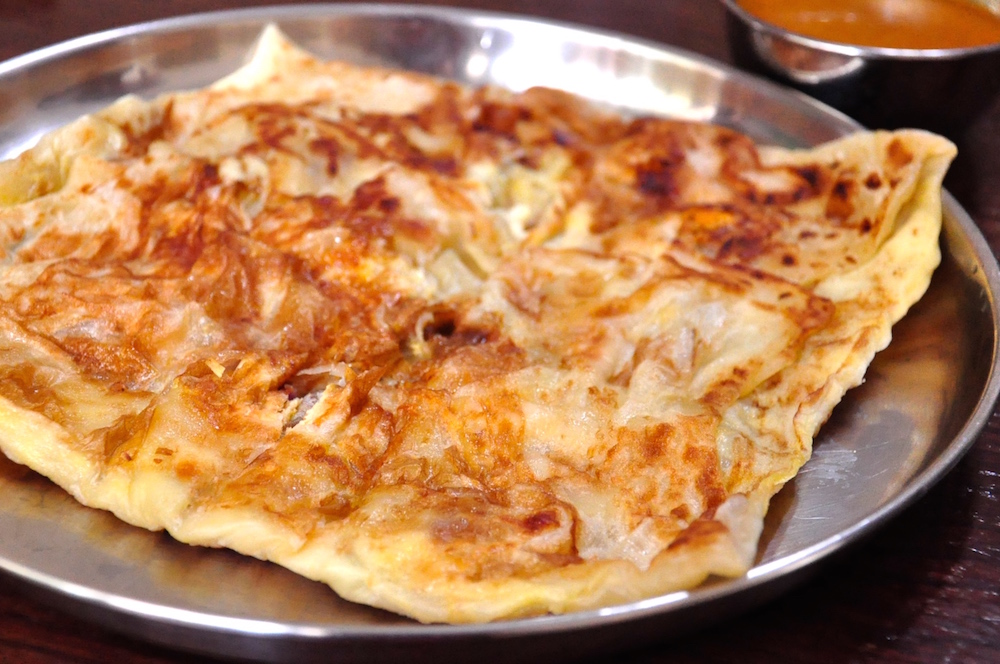 You are here: Home > Bread and Breakfast  > Murtabak Recipe with Chicken
 

Recipe Name: Murtabak Recipe with Chicken

Recipe Type: Bread & Breakfast

Author: Shana c/o Recipes 'R' Simple

Resting Time : 2- 8 hours
Murtabak Recipe with Chicken
Ingredients:
For the Dough
2 ½ cups plain flour
1 tsp salt
1 Tbsp ghee
½ cup evaporated milk
Warm water – as needed
½ cup oil
1 small egg, lightly beaten
For filling:
350 gms chicken breast or thigh.
2 tsp ginger paste
2 tsp garlic paste
½ tsp turmeric powder
½ tsp mild chilli powder
1 tsp garam masala – see my recipe for garam masala
¾ – 1 tsp salt
2 Tbsp oil
For assembling:
Method:
To make the Dough for Murtabak
Sift flour and salt into a bowl.
Add ghee and rub into the flour till you get an evenly distributed – nice buttery texture.
Put the egg and milk into a measuring cup, and add enough water so that the mixture comes up to the 200 ml point. Stir with a fork.
Make a well in the centre of the flour and pour in the egg and milk mixture.
Stir with a wooden spoon till the dough starts to hold together.
Knead to a soft dough.
Transfer to an oiled work surface and knead well for 10 minutes, till smooth and elastic.

(Add just a little flour if it is too sticky – not too much). You can add this to a food processor with a plastic blade too. Process on low speed for 3 minutes.)

Divide the dough into 8 portions and roll into balls.
Pour the oil into a wide bowl.
Dip the balls into the oil. Turn to coat completely. Leave the balls in the bowl of oil – in a single layer and cover with cling wrap.
Leave in a warm place for 1-2 hours or overnight.
(Prepare the filling before you proceed with the next step).
Once the dough balls have rested, take one at a time and place  oiled surface.

(From now on what ever oil you need for pouring /greasing should be used from the oil last in this bowl).

Press with oiled hands into an oval disk. Roll this up lengthwise and then use your hands instead of a rolling pin to roll the rolled up dough further into a long rope – about 30 cm long.
Coil the rope into the shape of a ball and pat around the ball to make it slightly smooth once again.
Leave in a greased tray. Repeat with remaining balls.
Cover the tray with cling wrap and leave for at least 30 minute and upto several hours.
(Note that 2 balls will be used for 1 murtabak). Preheat your flat cast iron pan or  'tawa' – get it nice and hot)
Just before cooking, lift one ball and squeeze it through the palm of your hand into a ball. '
Again, using oiled surface and hands, spread the ball into round disk.
Lift gently and using both hands flip the disk with a turning motion of the wrists onto the work surface. Slap the dough against the oiled surface to help it stretch and spread out into a thin medium sized sheet.

(Refer Video)

.
Add a little oil onto the hot tawa  and slide the sheet onto it.
Meanwhile repeat the process with the second ball of dough, but this time flip and slap onto surface till you get the sheet as large and thin as possible.
Flip the first sheet after just a brief cooking  and it is just changing color on both sides, but remaining translucent. Set aside.
Place this translucent sheet over the second larger sheet, right in the centre.
Break an egg onto the surface of the centre sheet only. Spread over with finger tips.
Sprinkle the surface of the egg layer with diced onion  followed by cooked chicken shreds.
Fold in the Murtabak from opposite sides towards mid centre to form a squarish envelope shape.

(Refer Video).

Add a tiny bit of oil on the hot pan again and slide on the murtabak.  Also add a little oil on top.
Cook the underside for about 2 minutes, till golden on medium heat.
Turn and cook the other side.
Serve hot with a loose Chicken or Mutton Gravy
For the filling:
Marinate the chicken with ginger, garlic, spice powders and salt.  Leave to marinate for 30 minutes in fridge.
Remove from fridge and leave at room temperature for 10 minutes.
Add some oil to a deep pan with lid and heat.
Place the chicken in the pan and sear one side till golden. FLIP and cover the pan. Reduce heat to low and allow to cook till done. Do not over cook the chicken.
Shred the chicken to pieces using hands. Set aside.
Murtabak Recipe with Chicken
You can use mutton or even tuna to make Murtabak. You can also make it with egg only.
Another variation is adding  shredded cheese slice to the chicken filling.
Add chopped spring onion or chinese parsley (cilantro) to the filling for a touch of freshness.
Make sure you add the filling only over the smaller sheet. This ensures none of the filling will cut through the delicate Outer sheet.
Key Ingredients: Flour, Oil, Chicken, Onion, Egg, Ginger, Garlic, Spices
Let us know if you tried it – Murtabak Recipe with Chicken . Comments from you provide motivation to keep up the driving force behind this blog, bringing you more delicious and perfected recipes regularly. Please do leave a comment. We love to hear from you.