23 March, 2016
Murgh Makhani – Moti Mahal Style – Delhi Butter Chicken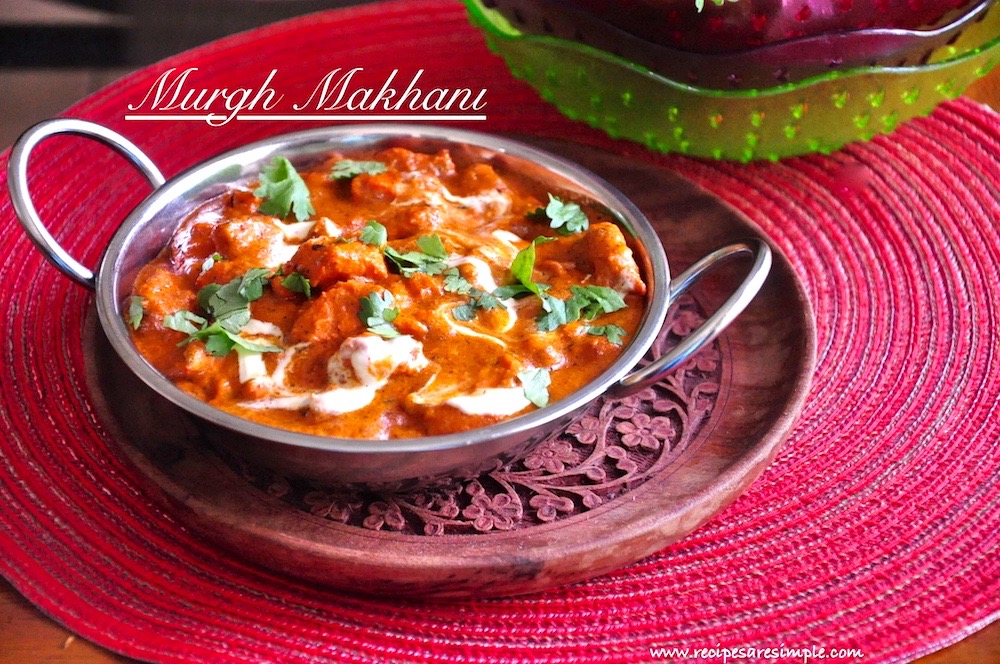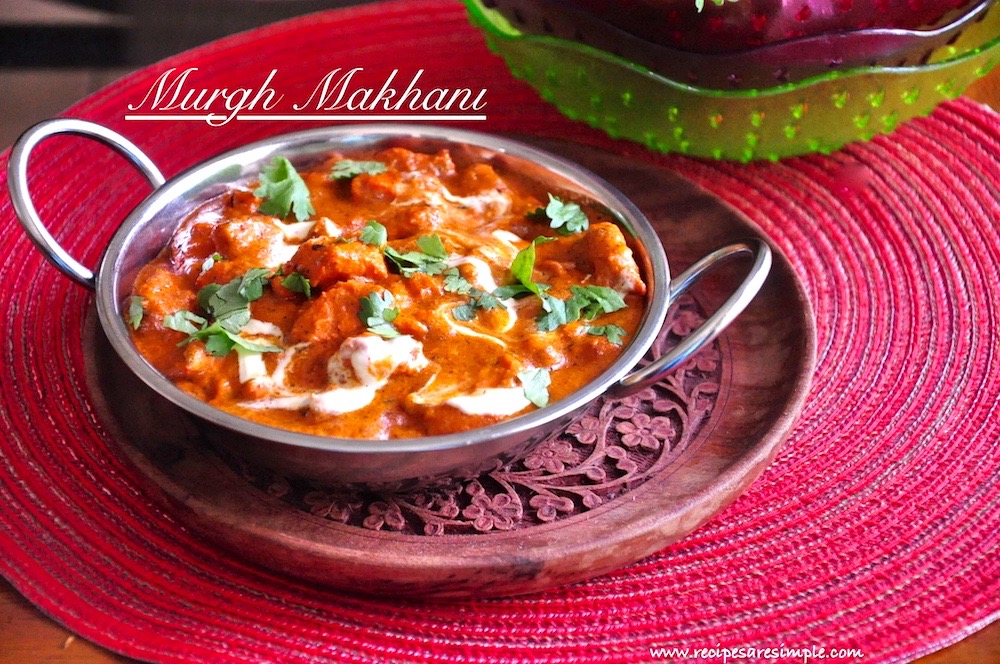 Murgh Makhani – Moti Mahal Style – Delhi Butter Chicken
Murgh Makhani or Butter Chicken is  one of Indian Cuisines  Star Creations.  The original was made at Moti Mahal Restaurant and still remains one of the best out there. This recipe gives you a truly Restaurant quality dish that tastes so much like the famous recipe. You must try this! I have another version of Butter Chicken here. It is slightly more tangy than this one, and provides a detailed garam masala recipe along with it. And then theres the super Easy Butter Chicken Recipe using canned nestle cream. Yupp, I have tried all sorts of recipes. These are the ones with the best, yummiest results! Try them all! 🙂
Scroll down for Video.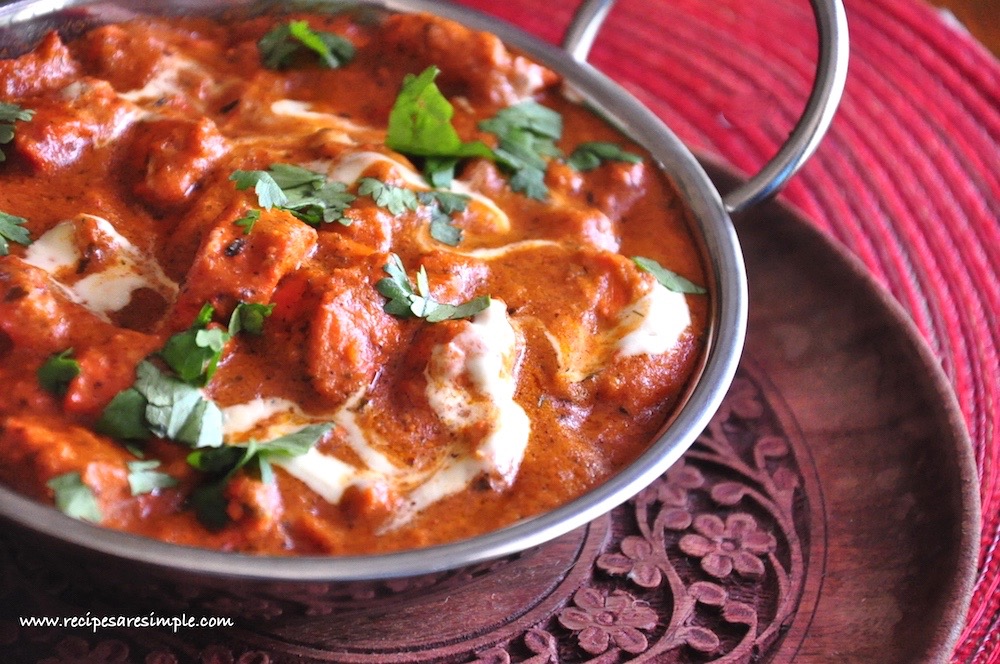 Murgh Makhani – Moti Mahal Style – Delhi Butter Chicken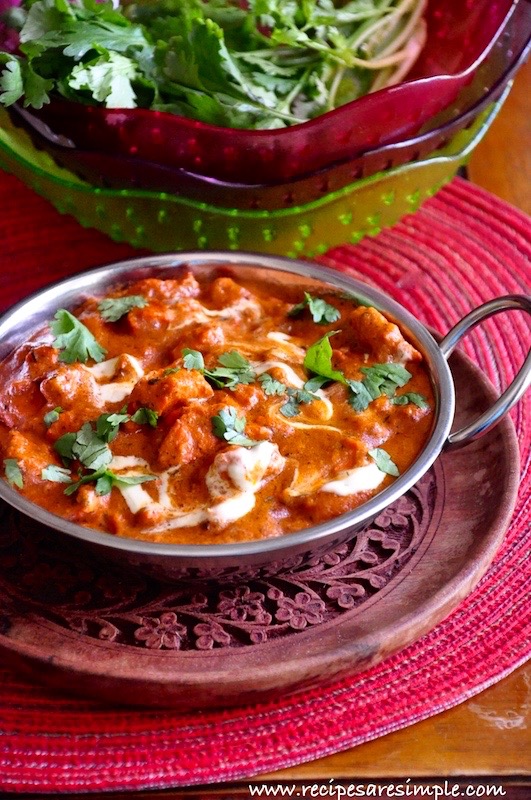 You are here: Home > Chicken Recipes  > Murgh Makhani (Delhi)
 

Recipe Name: Murgh Makhani – Moti Mahal Style – Delhi Butter Chicken

Recipe Type:  Chicken Recipes

Author: Shana c/o Recipes 'R' Simple

Resting / Marinating time: 1 hour – or overnight
Ingredients:
3 chicken breasts (900 gms total)
4 Tbsp cashew nuts
2 tsp ginger garlic paste (equal amounts of ginger and garlic paste)
1 tsp kashmiri chilli powder
2 Tbsp Butter, softened
½ tsp garam masala  (check out the garam masala recipe in this post)
½ tsp tandoori masala powder or kebab masala OR just double the garam masala used
1 Tbsp kasuri methi (dried fenugreek leaves)
1 tsp salt
¼ tsp sugar
¼ cup pouring cream
6 plus 4 Tbsp oil, divided
coriander/ cilantro for garnish
For the Marinade:
For the special Tomato Sauce:
6 large, ripe tomatoes
10 small cloves (Indian) garlic, crushed
1 small knob of ginger, crushed
2 small green chillies, slit – or to taste
spices : 6 cloves , 5 green cardamom, bruised to expose the seeds
1½ tsp kashmiri chilli powder
2 cups water
Method:
Marinate the Chicken:
To make the hung yoghurt : Add the yoghurt to a cheesloth/ muslin cloth and allow to hang over a sieve for 30 minutes. This removes the whey and gives us  ' hung yogurt ' .
Rinse and Cut the chicken breasts into small bite sized pieces.
Pat dry with kitchen towels – this is essential , no liquid should remain.
Add all the ingredients for the Marinade and rub well into the chicken.
Cover and set aside to marinate in the fridge, ATLEAST 30 minutes and up-to overnight.
Prepare Tomato Sauce for Makhani:
Rinse the tomatoes and add with all remaining ingredients for the special tomato sauce.
Bring to a boil in  a suitable sized sauce pan.
Cover, lower heat and cook for 15 minutes.
Remove from heat and allow to cool COMPLETELY.
Once cooled, use a hand blender OR add to a blender and blend to a puree.
Pour through a metal strainer and allow the liquid to collect on the bottom. Discard the remaining pulp and seeds.
For the Gravy:
Soak the cashew nuts in ¼ cup of warm water for 15 minutes.
Add to a mixer/ grinder along with the soaking liquid and grind to a

smooth

paste. Set aside.
 Heat 6 Tbsp of the oil in a wide non stick wok/ pan.
Add the marinated chicken and toss immediately so that the chicken doesn't stick to the pan.
Cook continuously on medium high heat, stirring throughout.
Liquid will be released from the chicken, allow it to be absorbed, with occasional stirring.
Once the liquid has evaporated toss continuously till the chicken pieces are slightly crisp along the edges, still tender and completely cooked.
Remove this chicken to a plate.
Wipe down the pan and add the remaining 4 Tbsp oiL.
When the oil is hot, add the ginger garlic paste.
Cook briefly till softened.
Add the kashmiri chilly powder and allow a nice deep color to develop.
Stir and add the prepared tomato sauce.
Bring to boil and then simmer for 7 minutes.
To a small dry pan, add the kasuri methi and roast till fragrant. Crush this to a powder.
When the sauce has thickened, Add the  prepared cashew paste, butter, garam masala and tandoori masala if using, dry roasted kasuri methi powder, salt and sugar.
Now add the fried chicken to this gravy and cook for a couple of minutes.
When the gravy is quite thick, add the cream. Stir through and remove from heat.
To serve add a tiny drizzle of cream over the top and garnish with fresh coriander leaves (cilantro).
Murgh Makhani – Moti Mahal Style – Delhi Butter Chicken
Kala Namak (Black Salt) is an Indian Condiment, a pinkish salt with an eggy smell. This gives us the authentic taste of the Moti Mahal Butter Chicken.
Kasuri Methi is also very essential in this dish. There is no substitute. Use the dried leaves only.
PLEASE do not blend the tomatoes while still hot. This can be quite a hazard! I learned the hard way.
I often marinate the chicken and prepare the sauce the night before. Makes it easy to whip this up later.
Red color is often added to this dish. When made at home we can choose to omit this.
Key Ingredients: chicken,cashew nuts, tomoto, ginger, garlic,butter, kasuri methi (dried fenugreek leaves), black salt(kala namak), salt, sugar, cream, yoghurt, oil, coriander leaves, spices
Leave a comment if you tried – Murgh Makhani – Moti Mahal Style – Delhi Butter Chicken. Comments from you provides motivation to keep up the driving force behind this blog, bringing you more delicious and perfected recipes regularly.  Help us to Keep On Keepin' On (: !