12 May, 2015
Murabba – Irumban Puli / Bilimbi Murabba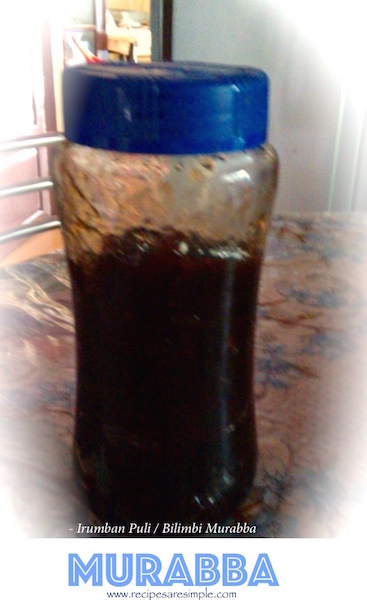 Murabba  – Irumban Puli / Bilimbi Murabba
By  Dr. Vaheeda Nawas
"Murabba" is an Arab word which refers to a sweet and sour jam or pickle in Arab Countries as well as the Indian Sub Continent. Here is an easy recipe for a delicious Bilimbi Fruit / Irumaban Puli Murabba.
You can also use this Murabba to make  Sweet & Sour Pickle  and Vilimbi – Dates Pulincurry. Recipes included.
You are here: Home > Kerala /Malabar  > Murabba  - Irumban Puli / Bilimbi Murabba
 

Author: Recipes 'R' Simple

Prep time Inactive: 15 hours
IRUMBAN PULI / BILIMBI MURABBA
Ingredients;
 1 Kg Bilimbi

(Vilimbi / Irumban Puli / Averrhoa bilibi /Belimbing  Sayyur /Assam)

 1 pinch Lime (Calcium carbonate)
Water
300 gm Sugar
Method:
Take fresh, firm vilimbi. Clean removing the dried calyx and with a fork prick the fruit all over.
Dissolve lime (calcium carbonate) in 1 liter of water, set aside for half an hour for the lime to settle and decant the water. Discard the settled lime.
Immerse the vilimbi in this water for 12- to 15 hours.
Wash the vilimbi thoroughly several times.
Add sugar and the vilimbi to an earthen pot and cook on slow fire, stirring occasionally with a wooden spatula.
The sugar will slowly melt. Continue stirring occasionally till a one – string consistency is achieved.

( When a drop pulled apart, between your thumb and index finger, forms a single string).

Take care to maintain a low temperature, for the sugar may caramalise suddenly, giving the murabba a bitter taste.
Also keep in mind that the earthen pot will  cause the mixture to boil even after removed from heat  – so extra care is necessary to see that the sugar is not burnt.
This Murabba can be made into –

Sweet & Sour pickle
By seasoning it with
2 Tbsp Oil
1 tsp Mustard seeds
 1 tsp Fenugreek
1 Tbsp Thinly sliced Garlic
1 TbspThinly sliced Ginger
1 Tbsp Chilli podwer-1tbsp
¼ Tbsp turmeric powder
Asafoetida powder-1 tsp
Salt
Vilimbi – Dates Pulincurry 
Ingredients:
5 Tbsp Vilimbi Murabba
15 Dates,  deseeded
2 Tbsp Cashewnuts, broken
 2 Tbsp Raisins
 2 Dry Red chillies
3 thinly chopped Green chillies
1 tsp Mustard seeds
1 Tbsp Garlic, thinly sliced
 1Tbsp Ginger, thinly sliced
1 tsp Fenugreek powder
1 tsp Chilly powder
 ¼ tsp Turmeric powder
 2 Tbsp Tamarind pulp
a few curry leaves
 2 Tbsp Oil
1 Tbsp Ghee
Method:
Heat oil in a pan, splutter mustard seeds.
Add broken dried red chili and curry leaves followed by cashew nuts.
When  cashew nuts turn brown, add raisins, garlic, ginger, green chilly  and dates.
Sauté for some time till all ingredients are softened a slightly changing color.
Add chilly powder, turmeric powder, salt  to taste and finally add  the Vilimbi Murabba and tamarind pulp boil for few minutes till the gravy thickens.
This can be used as a delicious side dish for ghee rice, biriyani etc.
Murabba  – Irumban Puli / Bilimbi Murabba
Key Ingredients: Bilimbi, Sugar, Water,
Let us know if you tried it – Murabba  – Irumban Puli / Bilimbi Murabba . Comments from you provide motivation to keep up the driving force behind this blog, bringing you more delicious and perfected recipes regularly. Please do leave a comment. We love to hear from you.