14 May, 2015
Mu Shu Chicken & Chinese Pancakes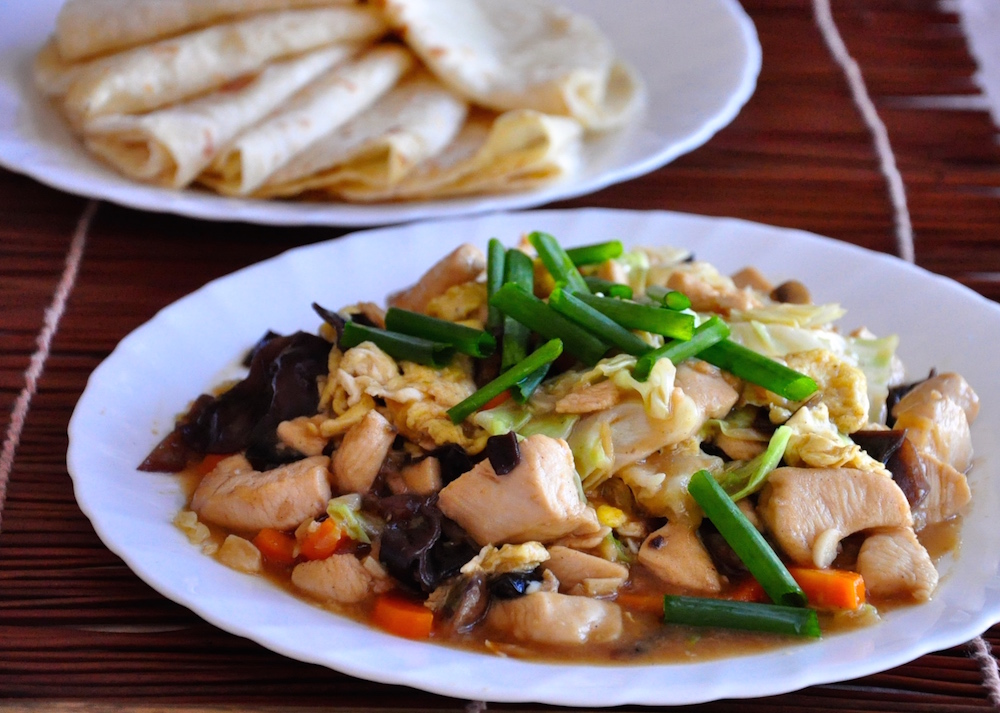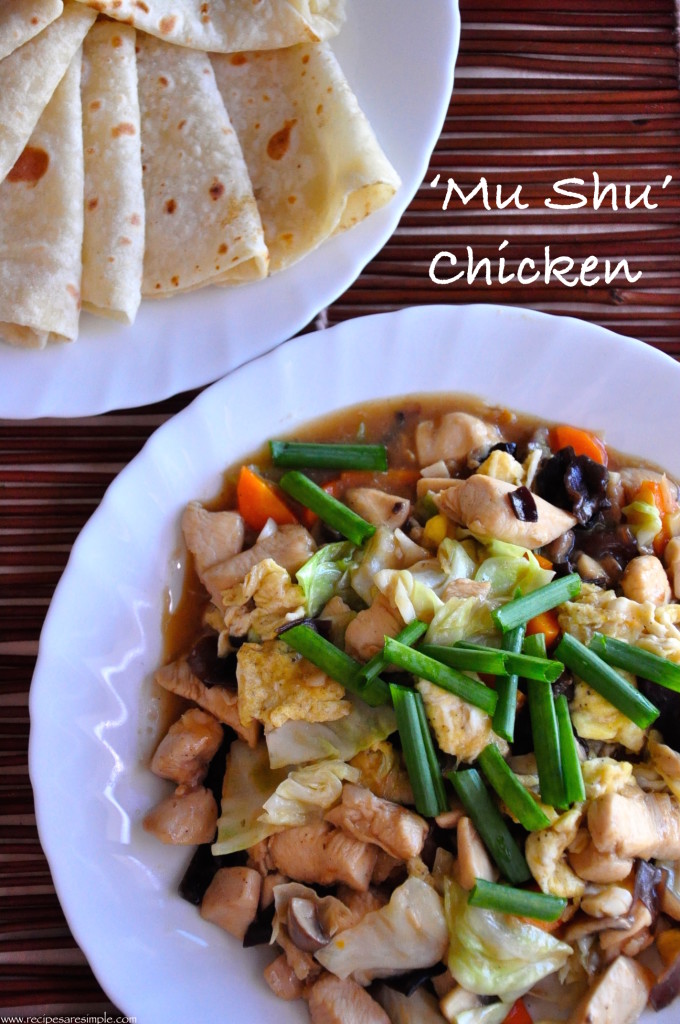 Mu Shu Chicken & Chinese Pancakes
Mu Shu Meat dishes are one of the staples of American Chinese Cuisine. This Mu Shu Chicken recipe  has chicken stir fried with mushroom, wood ear mushroom (black fungus), cabbage and carrot. You can also use lily buds and bamboo shoots in the stir fry. Traditionally, the stir fried meat and veg mixture is wrapped in the Simple Tortilla style, Chinese pancakes. However, you can also wrap in long lettuce leaves and serve as an appetizer.
This dish is extremely simple to prepare. Both the pancakes and the filling can be made in the same pan – less clean up. Mu Shu dishes gained popularity in the United States in the early 60's and still remain a popular  Chinese American take out item.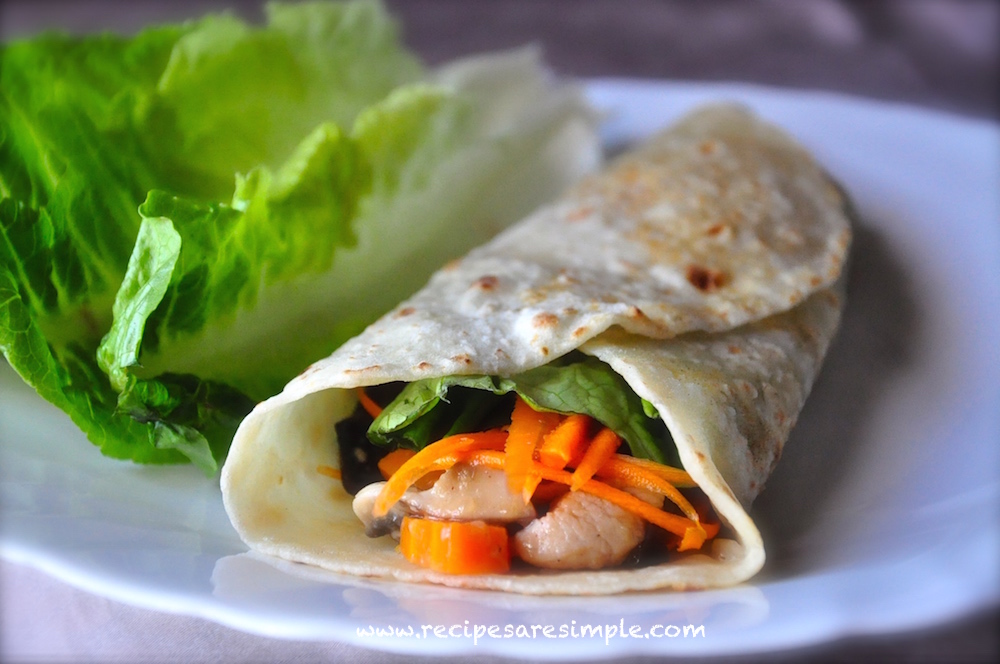 You are here: Home > Chicken Dishes  > Mu Shu Chicken & Chinese Pancakes
 

Recipe Name: Mu Shu Chicken & Chinese Pancakes

Recipe Type: American Chinese / Chicken

Author: Shana c/o Recipes 'R' Simple
Mu Shu Chicken & Chinese Pancakes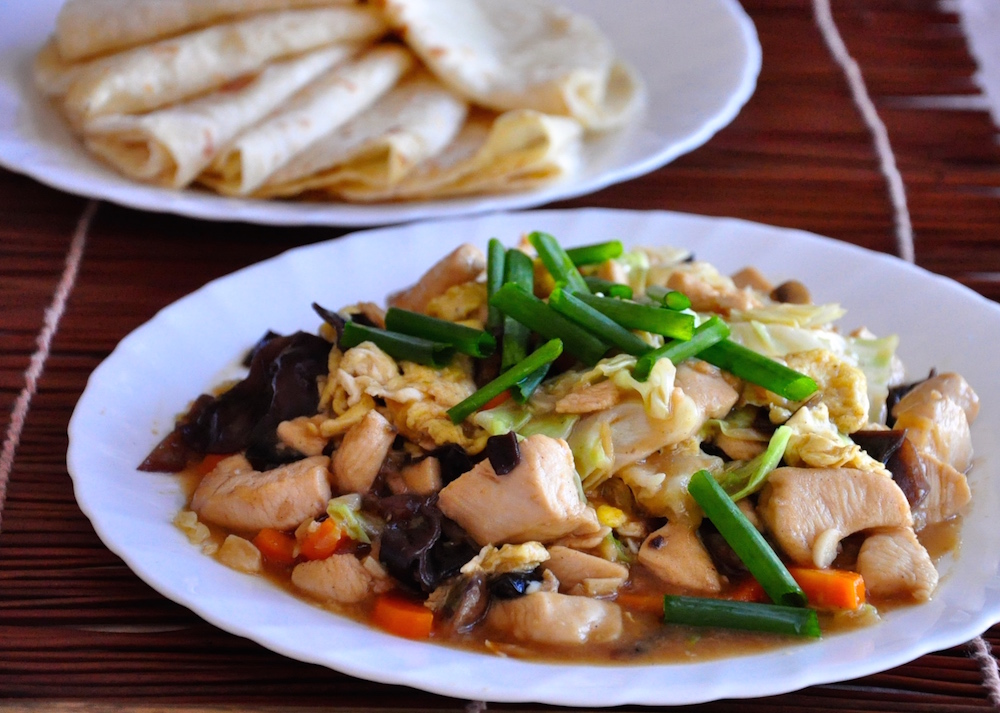 Ingredients:
For the Pancakes
2 cups all purpose flour
½ cup boiled water
¼ – ½ cup cold water
pinch of salt
3 – 4 Tbsp asian sesame oil – for brushing
For the Filling:
For Marinating Chicken:
1 chicken breast, sliced into thin strips
½ tsp White pepper powder
1 Tbsp cornflour
2 Tbsp light soy sauce
¾ cup FRESH wood ear mushroom also known as black fungus Plus ½ cup DRIED wood ear mushroom, rehydrated 

(You can use a combination of fresh and dried black fungus Or you can use  one type only)
3 shitake or swiss brown mushrooms, stemp removed and sliced
2 cups chinese cabbage / nappa cabbage
1 medium carrot chopped into semi circles
1 small carrot, grated
a head of long lettuce
2 Tbsp  garlic, chopped
2 Tbsp ginger, chopped
2 Tbsp scallion (Spring Onion) white part, chopped
2 eggs, beaten
3-4 Tbsp oil (peanut oil)
Pepper to taste
For Sauce:
½ Tbsp hoisin sauce
2 Tbsp oyster sauce
2 Tbsp light soy sauce
½ tsp sugar
1 Tbsp water

1 Tbsp chinese rice wine – this is optional
Method:
First Prepare the dough for the Pancakes.
Add the flour and salt to a bowl.
Add the boiled water first and stir with a wooden spoon till, evenly dampened.
Then pour the cold water into the moistened flour ( first use 1/4 cup) and add just enough to  hold the dough together. It should not be a wet dough.
Knead for 5 minutes to get a smooth and elastic dough.
Cover the bowl with cling wrap and set aside for 20 minutes to rest.
Meanwhile prepare ingredients for filling.
Marinate the chicken with the soy sauce, white pepper and cornflour.
If using dried wood ear mushroom (black fungus), you need to rehydrate by boiling in water till tender, about 10 minutes.
Chop all the ingredients, required for the filling. Also beat the eggs with a little pepper.
Make the pancakes(wraps) first.
Roll the dough into a cylinder shape. Cut to divide into 8 – 10  portions, depending on what size you want them.
Work with two  balls at a time, press into discs, with hands.
Lightly brush the surface of ONE disc with asian sesame oil.
Place the second disk on top of the greased disk.
Roll gently into a pancake. Don't press too hard so that the edges get sealed .

Heat a non stick pan / skillet with a lid. Lightly grease with oil. (Just a drop of oil brushed on with kitchen towel)

Place one rolled out pair of pancakes on to the hot pan.
Cover with a lid, so that steam develops and assists cooking.
In about 20-30 seconds, you will see bubbles over the surface. The bottom will have golden spots all over.
Flip and cook the second side the same way.
Remove the pancakes from the pan.
While still hot, pull apart the 2 pancakes, without tearing. Use your spatula to assist.
Fold the pancakes.
 Repeat with all other pairs of discs, prepare pancakes, fold and place in a casserole dish to keep warm.
Prepare the Filling:
Mix together the ingredients for the sauce and set aside.
In the same pan, used for making the pancakes, add some oil and pour in the eggs. Allow to set along the edges. Keep folding in from the edges so that the uncooked egg moves to the edged. Lightly scramble in this way and set aside the scrambled egg.

Heat remaining peanut oil.
Add the ginger, garlic and scallion. Sauté till softened.
Add the marinated chicken and stir- fry till the chicken turns opaque.
Add the sliced carrot first. Stir fry briefly.
Add  the mixed mushrooms first. Cook briefly. Allow to soften.
Cover and cook  on low for 5-6 minutes, till the chicken is tender.
Add the cabbage. Cook briefly. Allow to remain crunchy.
Pour the sauce into the pan. Add water if needed and cook till  the sauce coats the vegetables and chicken well. Toss well on HIGH.
Return the scrambled eggs and some spring onion greens. Mix through and remove from heat.
 Sprinkle black pepper to taste.
There should be just enough sauce to keep the mixture moist without being runny
Add the warm filling to the uncooked side of the pancakes and add some fresh lettuce and grated carrot. Wrap and Serve Immediately.
Serve with Sweet chili sauce if desired. Wrap the filling using long lettuce leaves.
Mu Shu Chicken & Chinese Pancakes.
Do not wrap roll the pancakes too thin, they will be hard to wrap and hold.
Key Ingredients: Chicken, Mushrooms, Cabbage, Carrot, Flour, Soy Sauce, Oyster Sauce, Hoisin Sauce, Scallions, Ginger, Garlic, Egg, Oil Salt, Pepper
Let us know if you tried it – Mu Shu Chicken & Chinese Pancakes. Comments from you provide motivation to keep up the driving force behind this blog, bringing you more delicious and perfected recipes regularly. Please do leave a comment. We love to hear from you.