12 January, 2014
Moist Chocolate Cake with Chocolate Whipped Cream Frosting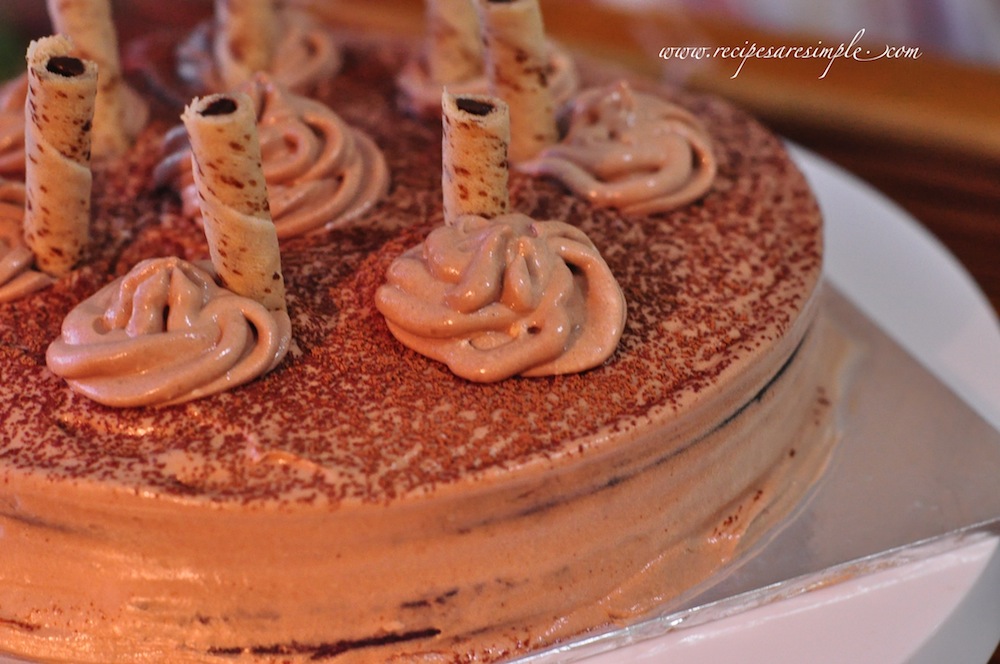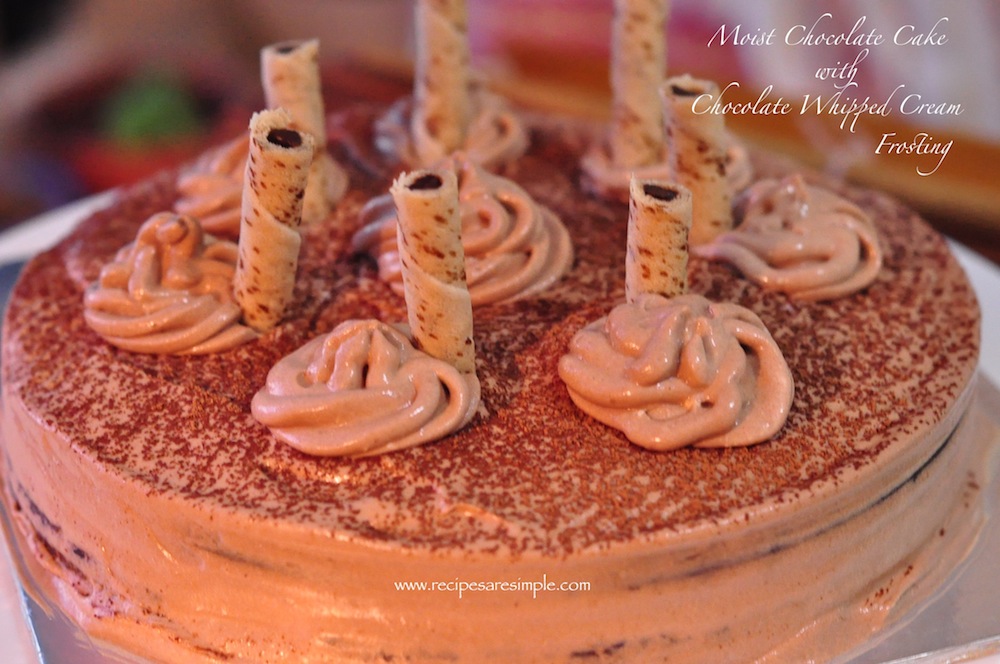 Moist Chocolate Cake with Chocolate Whipped Cream Frosting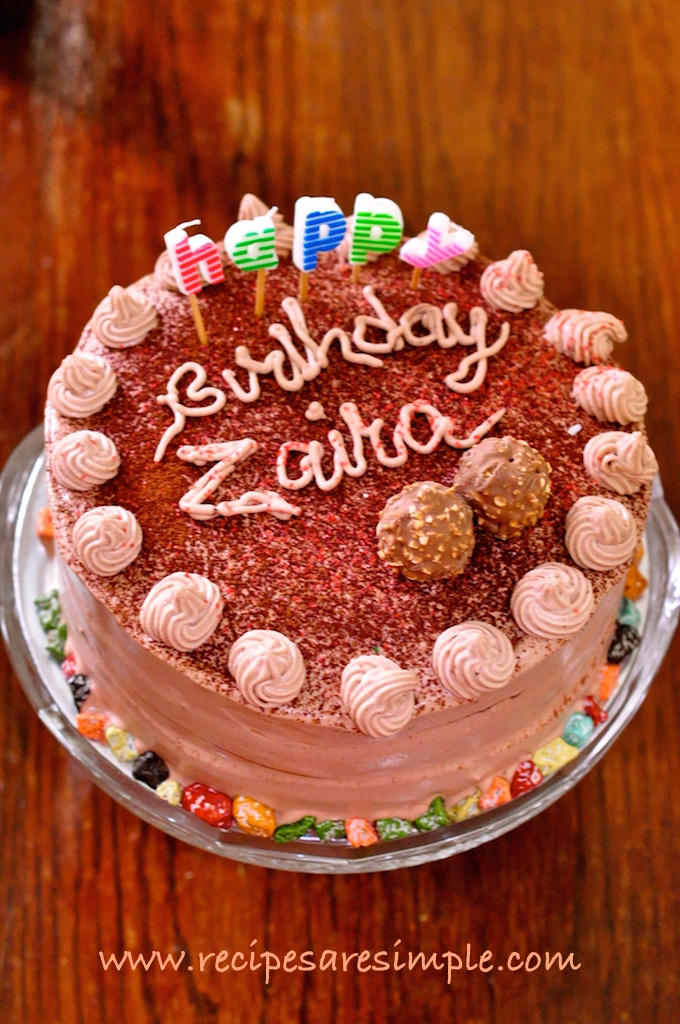 This  Moist Chocolate Cake with Chocolate Whipped Cream!  It's the cake I made for my Husbands Birthday, for my kids back to school surprise, my daughter birthday and for friends as Gifts. Yupp! I make it regularly because it's a big hit with everyone. There's some waiting involved: Making the whipped cream the day before for best results, waiting for the cake to cool, waiting for the crumb coat to set and then waiting for the final setting for 1-2 hours. But the putting together is quite simple. It helps immensely if you live in a cooler climate to make the whipped cream. If your surroundings are more humid, you can whip the cream in a bowl of ice and keep the cream chilled. Also frost the cake in an air conditioned room if possible to make your job easier. Whip cream can also be stabilized so that it lasts longer out of the fridge. I will post on that another day.
I have played around with this recipe for a while now, sometimes making it with wheat flour for a healthier version. Many hours have gone into perfecting this recipe. Hope you will enjoy it. It's my Daughter Zaira's favorite. 🙂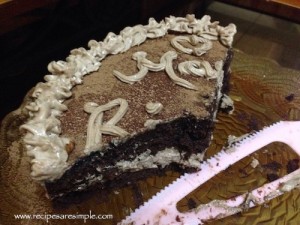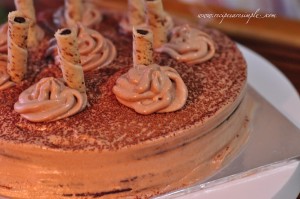 Moist Chocolate Cake with Chocolate Whipped Cream Frosting
Ingredients:
For the Cake:
1 cup All Purpose flour
¾cup sugar (I used light brown sugar)
1 tsp vanilla extract
4 Tbsp Dark Cocoa Powder – please only use dark cocoa powder for the best results
2 eggs
1 cup milk
½ tsp baking soda
½ tsp baking powder
¾ tsp salt
3 Tbsp Margarine + 1 Tbsp Vegetable oil
170 50 min- 1 hour.
For the Chocolate Whipped Cream – Simple
300 – 400 ml Whipping Cream
1 ½ – 2 Tbsp Cocoa Powder
½ tsp Vanilla Powder
8-9 tsp Icing Sugar
 Method:
Prepare the chocolate whipped cream the day before for best results:
Chill the bowl and wire whisk for whipping the cream in freezer for 30 min.
Also chill the cream.
Place te bowl in an ice bath/bed, add the cream.
Whisk till soft peaks. Add the cocoa powder, vanilla powder. Whisk briefly.
Add icing sugar and continue to whisk till stiff. At this point stop whisking or you'll end up making butter. Cover the bowl of whipped cream with saran wrap and place in the fridge overnight.
For the Cake:
Next day: Preheat oven to 170ºc/358 ºF.
Soak your eggs in warm water for 5 minutes-

 this leads to better aeration and thus a higher cake.

Prepare your 15 cm/6″ cake tin by greasing bottom and sides lightly with margarine and then dustng lightly with flour
Sift the flour.
Process the sugar to get a fine grain.
Add the sifted flour and mix well.
Add all other ingredients and Whisk for 30 seconds on low.
Whisk for another 2 minutes on high, scraping the bowl as needed.
Pour into prepared cake pan and bake in preheated oven for 50 minutes- 1 hour, depending on oven.
A toothpick inserted in the centre should come out dry and the cake should be firm and springy to the tough.
Leave in the cake pan for 10 minutes. Then transfer to wire rack to cool completely. About one hour.

(The cake should be completely cool or our whipped cream will melt on impact)

Frost the cake with one layer of whipped cream .

You can choose to frost just the top or all around the sides as well. 

Place cake in fridge to set the crumb coat for 30 minutes. This helps to get  smoother final finish for the frosting.
Add dollops more of the whipped cream and smooth on to the sides first and then finish the top. Decorate as desired.

(Always place your whipped cream in the fridge when not in use and place in an ice bath while frosting. Air-conditioned rooms are recommended if you are in humid/warm surroundings.)

Dust the top of the cake with a thin layer of cocoa powder. Use a small sieve to shake the powder over the cake.
Pipe Whipped cream rosettes or desired deco and garnish with chocolate shavings, wafers, fruits etc.
Chill for 1 – 2 hours till completely set.
Take out of the fridge 5 minutes before serving and place back left overs back into the fridge within 40 minutes.
Moist Chocolate Cake with Chocolate Whipped Cream Frosting
Try and let us know – Moist Chocolate Cake with Chocolate Whipped Cream Frosting
Notes: 
This is a luscious ,soft  dark chocolate cake bound to entice any choco lover.
You can also try this recipe with White wheat flour which is available in most stores these days.
The texture is slightly denser but still soft and rich and tastes great.
You can also use melted semi sweet chocolate to the whipped cream. : Melt the chocolate in a double boiler. Cool. Add the chilled cream and then whisk till soft peaks, add vanilla powder and icing sugar and whisk till stiff peaks are achieved.