8 June, 2014
Moist Dark Chocolate Cake with QUICK Decoration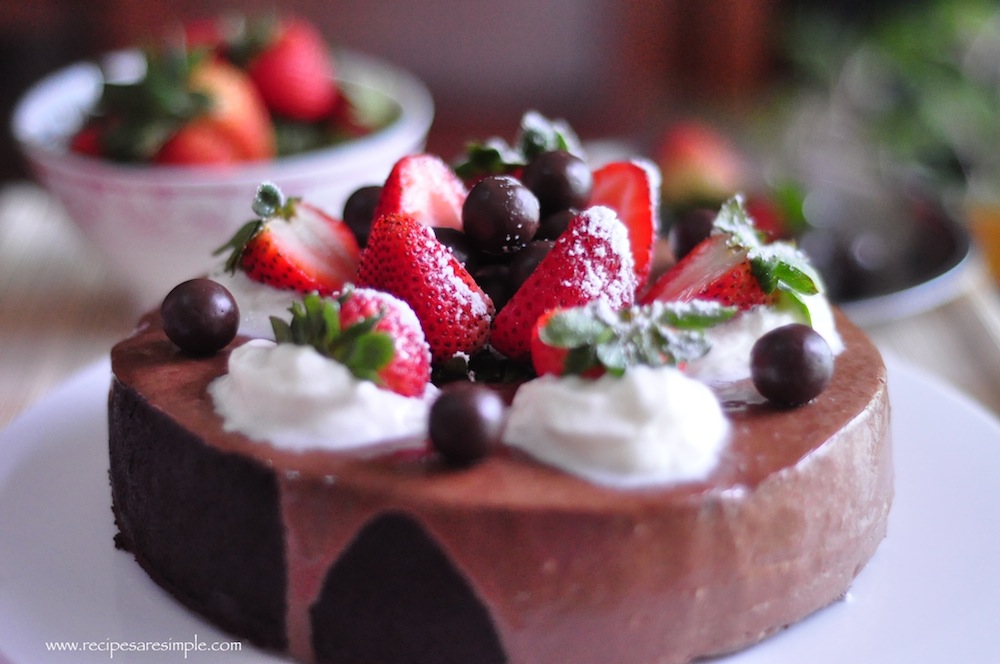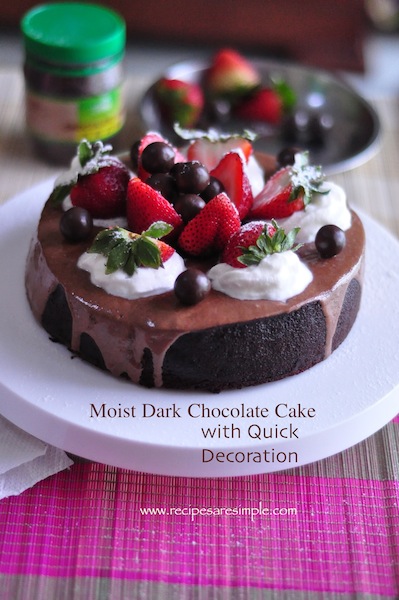 Moist Dark Chocolate Cake with QUICK Decoration
  Zaira and Naureen are enjoying their Holidays. About time for another post in our Kids Section :'Nunu's Kitchen Fun'. They helped me to make the batter for this 'Dee – licious' Rich, Moist and Dark Chocolate Cake. I helped them with the simple and quick decorations. You can use dark chocolate or milk chocolate for this recipe – according to personal taste. Whipped Ganache tops the cake and then a little whipped cream, strawberries, maltesers , and snow (icing) powder are used to create a very quick and pretty decoration.  The cake needs to be baked at a lower temperature for a longer time and the ganache needs to set before decorating.
If you are not up for the decorating, the cake is super served merely with the ganache at room temperature with vanilla ice cream on the side!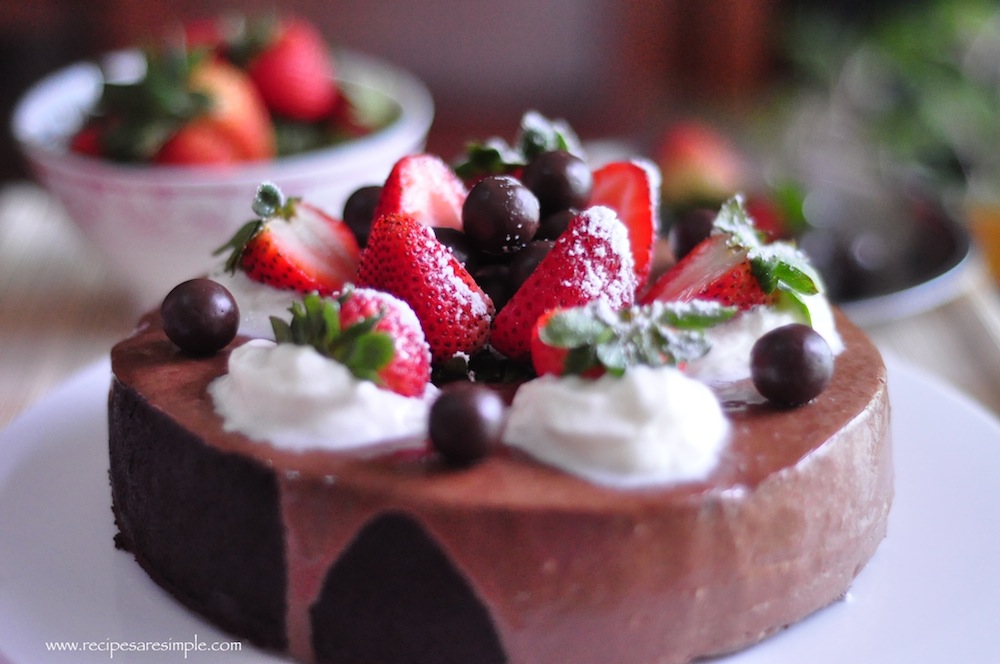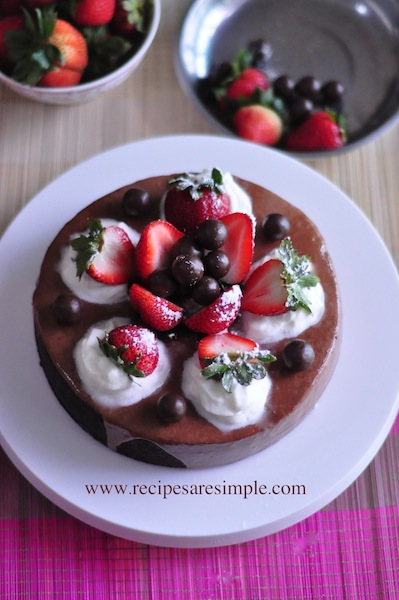 Moist Dark Chocolate Cake with QUICK Decoration
Recipe Type: Cake

Author: Recipes 'R' Simple

Prep time: 10

Cook time: 1 hour 15

Chill time + decoration:   30 mins + 10 minutes

Total time: 2 hours 5

Serves: 8
Ingredients:
For the Cake:
1 cup self raising flour
¼ cup plain flour
¹⁄3 cup good quality cocoa powder (Valrhona)
¼ tsp baking SODA
125 gms butter
1 cup brown sugar
100 gms dark chocolate, melted.

(We used Hershey's)

¾ cup milk
3 eggs
Pinch of salt
For the Chocolate Ganache:
100 gms  milk chocolate
½ cup thickened cream or whipping cream
For Decoration:
6 strawberries, a packet of maltesers, whipped cream and chocolate rice – optional
Method:
Preheat oven to 140ºc / 284 F.
Prepare an 18 cm cake tin by lining the bottom and sides with grease proof paper.
Melt the dark chocolate, broken to pieces and microwaved for 30 seconds or so, JUST till melted – "not longer".
Sift the flours, baking soda, salt and cocoa powder into a bowl.
In another bowl, whisk the sugar with the butter till fluffy.
Then add the eggs 1 at a time, while whisking till incorporated.
Add the egg mixture to the bowl of flour and fold in.
Add the milk and melted chocolate and fold in till well incorporated.

Pour the batter into prepared cake tin.

Bake on lower rack for 1 hour 15 minutes till the top has set. (This may vary from oven to oven – Check once after 50 minutes. The top should still be moist but set when done).
While the cake is baking, make the Ganache:
Add the chocolate and cream to a small sauce pan and heat  on LOW, stirring with a wooden spoon till all the chocolate is melted thoroughly.
Place in the fridge till just beginning to set.
Take out and whisk till stiff or desired consitency. Place back in the fridge till time to top the cake.
Once the cake is baked:
Leave the cake in the tin for 15 minutes after the oven has been switched off.
Remove on to a wire rack and allow to cool completely.
Pour the Ganache over the cake and spread gently, allowing to drip over the edges naturally. Do not spread over sides with spatula.
(You can do so with the cake on a cake round placed on a wire rack with a tray below to catch any chocolate ganache that drip off)
Place the cake round in the fridge covered till the ganache sets.
Then proceed to decorate with some whipped cream swirls, halved strawberries, maltesers etc.. Chill till served.
  Moist Dark Chocolate Cake with QUICK Decoration
Try it and let us know –  Moist Dark Chocolate Cake with QUICK Decoration .