4 November, 2013
Middle Eastern Pizza – With Mince and Baharat Spice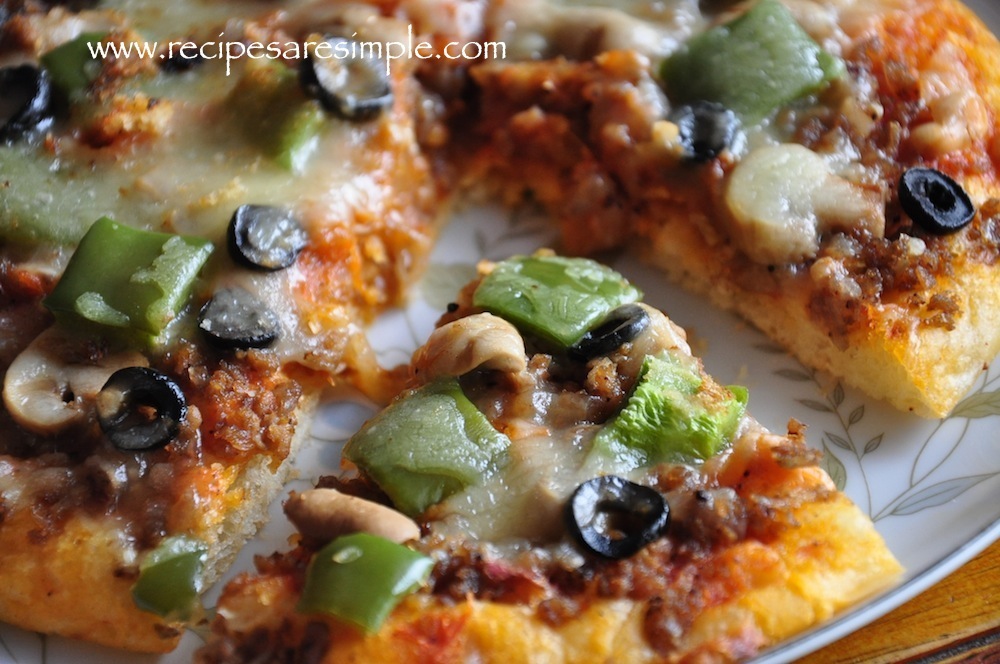 Middle Eastern Pizza – With Mince and Baharat Spice – Vegetarian Version Included

My Middle Eastern Pizza – is different. It is 'Middle East' inspired and uses 'Baharat' Spice. I usually make it using minced meat but I use  only vegetables when I'm going vegetarian. So you can take your pick. It's an awesome recipe that I am sharing today.

Middle Eastern Pizza – With Mince and Baharat Spice
Recipe Type
: 
Pizza / Middle Eastern
Author:
Prep time:
Cook time:
Total time:
Ingredients:  for 1 large or 2 medium pizzas
For the Pizza Base:
½ Tbsp fast acting yeast
½Tbsp Castor sugar
½ cup lukewarm water
1 ½ cups flour
¼ tsp salt
2 Tbsp Olive oil
For the Home made Pizza Sauce:
1 large onions, diced finely
2 Cloves garlic or to taste -, miced finely
3 large Tomatoes
For the minced toppings:
1 ½ cups ground beef, rinsed well, drained
2 onions, minced finely
3 cloves garlic minced
1 tsp ground mixed spices ( a combination of white and black pepper, paprika, nutmeg, cloves, cinnamon)
Other toppings:
½ a can of mushrooms, sliced ( or use fresh button mushrooms)
1 large green bell pepper, cut into squares
½ cup of black olives, sliced
1½ cup of grated Mozzarella Cheese
Olive Oil, flour for dusting
Dried Oregano for sprinkling
Method: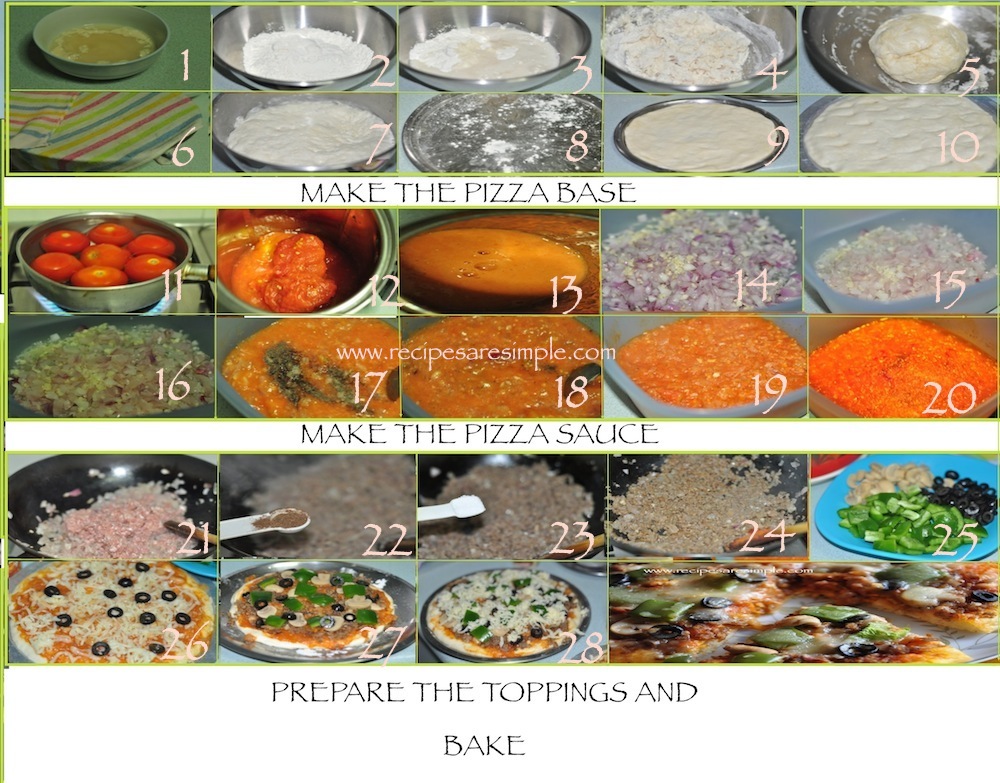 Prepare the Crust:
Mix the yeast in sugar in exactly ½ cup of LUKEWARM water and set aside till frothy.
To a bowl, add the flour, salt and mix.
Add the frothy yeast solution as well as the olive oil.
Mix with a fork till the dough clumps together.
Then knead with hands till you get a nice smooth, elastic dough.
Form into a ball, rub a little olive oil on the surface.
Cover the bowl with a damp cloth and set aside for ½ hour
After half and hour, knock down genlty and spread into your pizza pan, that has been lightly oiled and sprinkled with flour. Spread to reach the edges of the pan.
Make little gashes in the pizza base with a table knife.
Allow to sit while you are chopping up the vegetable toppings.
Make the sauce and mince.
For the Pizza Sauce:
Boil the Tomatoes till pulpy and soft. Peel off the skin. Blend to a puree without water.
Add the onion and garlic to a pan with some olive oil and saute.
When golden, add the tomato puree, salt and pepper and cook down till you get a nice thickened sauce.
If using a microwave:
Add the onion, garlic and ½ Tbsp olive oil to a microwave safe bowl. Stir once..
Microwave on High, covered for 2 minutes.
Stir

(careful while opening – hot steam).

Add the tomato puree ( do not add water), salt and pepper to taste and microwave covered on High for 5 minutes.
Open. Stir. Cover. Microwave on Medium for 7 minutes.

Check to see if thickened. Or cook a bit longer.
For the Pizza with Mince : Minced topping:
(For vegetarian version add the spice powder straight into the tomato sauce. )
Heat some olive oil.
Saute the onion and garlic till softened.
Add the mince. Saute and fry .
Add the spice powder and salt. Cook till done. Set Aside.
Assemble:
Preheat oven to 195ºc /383 ºF ( place pizza stone in oven if using)
Spread an even layer of sauce all over the base, I like to get it over the edges too.
Next, spread and even layer of mince all over – OMIT this for vegetarian pizza.
Place the sliced, mushroom, olives and bell pepper aesthetically over the pizza.
Sprinkle cheese over all the toppings. And sprinkle oregano last.  Sprinkle. Not too much.
Move the pan into the oven or slide onto the Pizza stone.
Bake for 10- 15 minutes( this varies from oven to oven , check to make sure the crust is cooked, I check with a fork) and don't allow the bottom of the crust to go too dark, it should be a golden color.
Slide the pizza out of the oven and use a pizza cutter to slice.
Enjoy and let me know how it turned out for you. 🙂
Middle Eastern Pizza – With Mince and Baharat Spice
Did you enjoy our Middle Eastern Pizza – With Mince and Baharat Spice?
Use a pizza stone, for better results.
Use non stick pizza pan, for easier lifting.