6 March, 2014
Meen Pollichathu – Fish Roasted in Banana Leaf with Gravy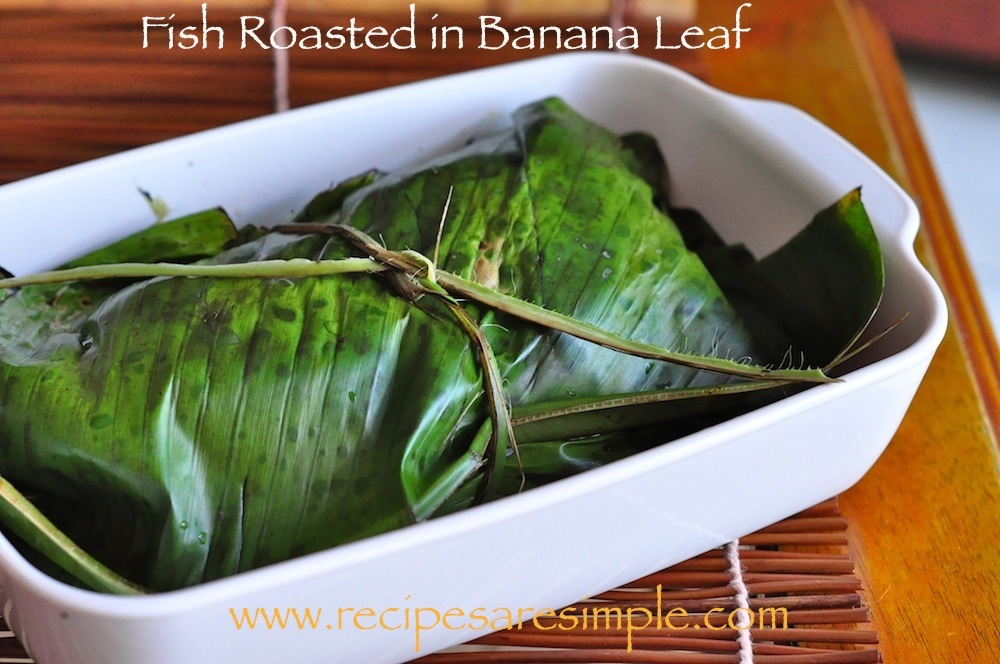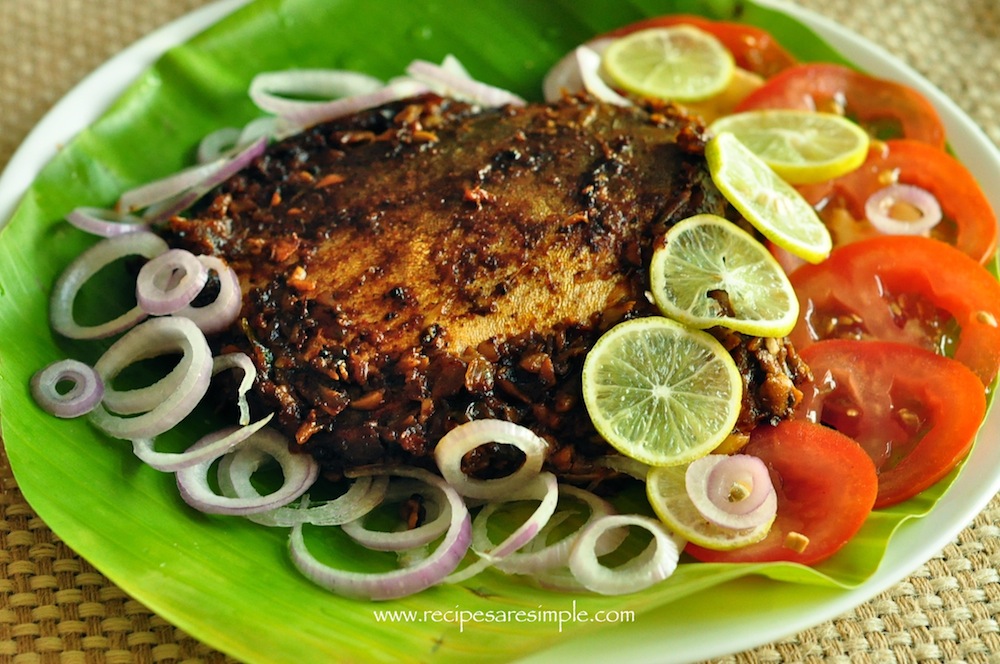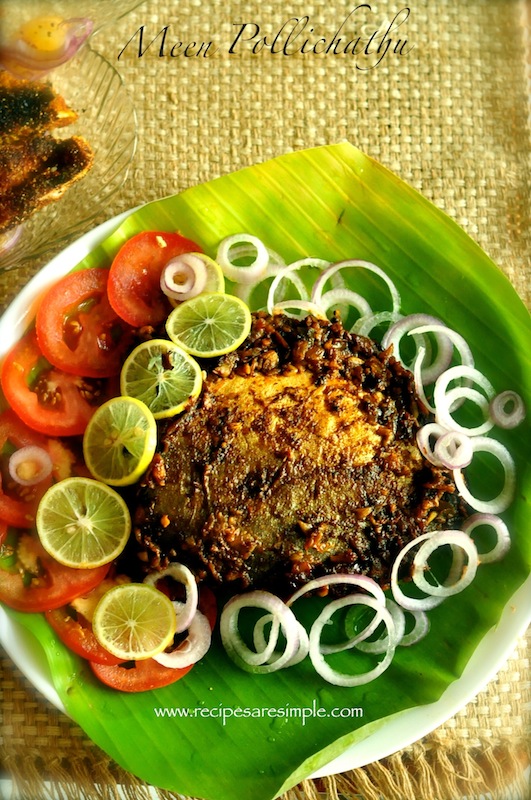 Meen Pollichathu – Fish Roasted in Banana Leaf with Gravy
A great centre piece for your dinner party.'Meen Pollicathu' –  A  piece of work, this one! I make this quite often and it's pretty simple actually. They key is in baking it to perfection and making sure the skin stays intact.
The luscious tangy gravy that coats to tender but slightly crisped fish is sure to please fish lovers!
I love making this with white snapper, but I sometimes make it with pearl spot or golden pomfret as well. (I stay far away from black pomfret though-I do not like the smell)

Fish Pollichathu – Fish Roasted in Banana Leaves with Gravy
Recipe Type: Seafood, Entree

Author: Recipes 'R' Simple

Prep time: 

Cook time: 

Total time: 1 hour 35

Serves: 4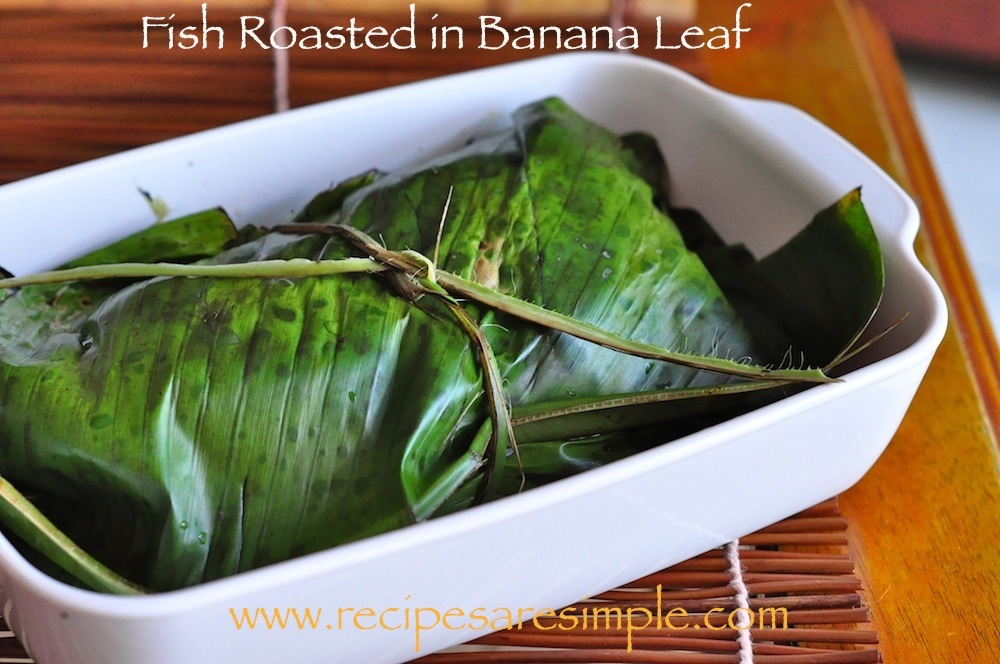 Ingredients:
1 large fish – about 1 kg (White Snapper , Pearlspot, Golden Pomfret) – I discard the head and tail portions
1 tsp mustard seeds
1 cup shallots, chopped finely
12 large cloves garlic, chopped finely
2 green chillies or to taste, chopped finely
1 handfull of curry leaves
½ cup thick coconut milk
¼- ½ cup water
3 Tbsp oil (sunflower/ vegetable or of choice)
For marinating the fish:
1 tsp black pepper powder
¾ tsp turmeric powder
1 tsp salt
To be ground:
3 tsp kashmir chilli powder
2 tsp coriander powder
¼ tsp turmeric
2 tsp tamarind pulp
Method:
Clean the fish thoroughly. Rub with salt. Rinse. If the fish is fairly thick, prick over the skin with a sharp fork without tearing the skin.

I do not recommend making gashes in the skin, as it makes it harder to keep the skin intact. Skin is essential in keeping the fish tender with just enough crispiness on the skin

.
Marinate the fish with the salt, turmeric and pepper. Set aside while you prepare the other ingredients.
Add all the ingredients to be ground to a small mixer jar and grind to a wet powder or a paste – according to preference. Set aside.

(You can choose to use fresh lemon juice instead of the tamarind pulp, however, in this case do no add to the ingredients to be ground, Instead add to the fish while marinating).

Heat 1 Tbsp oil in a nonstick deep pan with a lid. Splutter the mustard seeds.
Add the garlic, shallots, green chilli and curry leaves and saute well, till softened.
Add the ground spice mixture and stir- cook till spices are aromatic and cooked, sprinkling water if necessary to prevent any burning.
Remove this masala to a plate. In the same pan add the remaining oil.
Before the pan gets too hot, add the marinated fish and shake the pan to prevent the skin from sticking to the bottom.
Fry lightly on a low- medium heat on both sides. Avoid high heat as this might cause the skin to peel off the fish.
Once the skin is evenly golden, return the masala to the pan and coat the fish gently all over with it.
Add the coconut milk and enough water to moisten the fish well.
Bring to a simmer and then cover and cook, stirring occasianlly.
Cook till a thick gravy coats the fish.
Wash the plantain leaves thoroughly. Wilt over an open flame.
Place on baking dish   the fish and its masala over the centre.
Tie up the banana leaf into a neat parcel, either by tying the parcel securely with strings made from the banana leaf OR securing with toothpicks.

(Make sure the fish is wrapped completely from all sides, without gaps, so that a good steam develops within the parcel. If your banana leaf has torn a bit, use double layers).

Bake in a preheated 200ºc /392ºf oven for 30-40 minutes.
Take a peek to see if the skin has gone a little crispy. and bake for upto 1 hour to get the desired doneness.

This will depend on thickness of the fish.

Leave in the oven wrapped till time to serve and reheat for 10-15 minutes in the oven again if needed.
I love to serve this straight from the oven. The unwrapping and unveiling of the fish is actually quite appetizing!
Serve with Rice with a salad of some sort and vegetables side dish.
Meen Pollichathu – Fish Roasted in Banana Leaf with Gravy
Try it and let us know – Meen Pollichathu – Fish Roasted in Banana Leaf with Gravy.
This fish can be cooked in a thicker parcel on the barbeque as well. If you don't have an oven it can be cooked in a heavy bottomed cast iron pan that has been lightly greased. Cover and cook, turning occasionally till the fish is cooked.