14 February, 2013
Meen Curry – Simple Home Style Fish Curry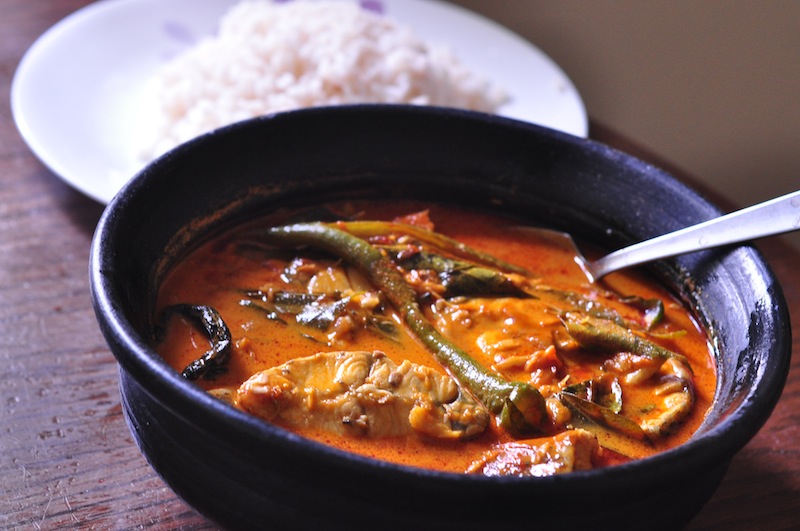 Meen Curry and a Story
This Kerala Style Fish curry or ' Meen curry ' is absolutely divine! Coconut milk and gambooge (fish tamarind), are the essential ingredients to make this homestyle, simple and authentic curry. A basic and dependable recipe, passed down from mother to daughter. This curry, once mastered can be diversified to meet  the cooks needs.
Let me tell you a story of my childhood. I was not much a fan of Kerala food. My mother cooked almost every cuisine, so I always had lots of yummy, mouth watering dishes from a rather early age. My parents lived in Mumbai, soon after they were married and then they lived for the entire rest of their lives together in Saudi, where I was born a decade after my siblings.  Being the youngest, I guess I was pampered a bit. My siblings were in boarding school and I stayed with my parents because the International schooling system, had changed so much when it was time for me to go to school.
I hardly liked rice when I was young, but my parents would still insist I had some rice now and then. As I grew older, and started learning how to cook from my mom, I started to develop a palette for the truly delicious foods of Kerala and Malabar. My mother would tell me stories of her childhood and each dish had a story attached to it.
I only visited Kerala for every other summer vacation, but I remember it was fun. My aunts made some spectacular food too! The couple of years that I had a chance to live there, it was a sad time.. We moved there after my father passed away.. and it took a lot of getting used to. New place, new home, new neighbors, new everything.
However, it is during this time that I learnt that I truly had a passion for cooking.  As I helped my mom more now that it was just 'us'  it was a way of coping. This curry is one of the 'native' dishes that I learned first. I even made it for relatives and remember the feeling of contentment when one of my uncles proclaimed, " You take after your mom and have that special touch ".  I will never forget how happy I felt. To this day, nothing makes me more happy than to feed loved ones and friends with food made with care and love.

Meen Curry
You are here: Quick Browse > Fish & Seafood > Meen Curry - Simple Home Style Fish Curry
 

Recipe Name: Kerala Fish Curry (Meen Curry) – with Coconut Milk

Recipe Type: Curry / Fish 

Author: Recipes 'R' Simple

Resting time: 30 min

Total time: 40 min plus resting
Meen Curry
Key Ingredients: Fish, Coconut milk, Gambooge, spices , salt
Let us know if you tried –  Meen Curry – Simple Home Style Fish Curry




Back to Quick Browse. Thanks for visiting www.recipesaresimple.com