4 September, 2014
Mee Rebus | Curried Noodles in Sweet Potato Based Gravy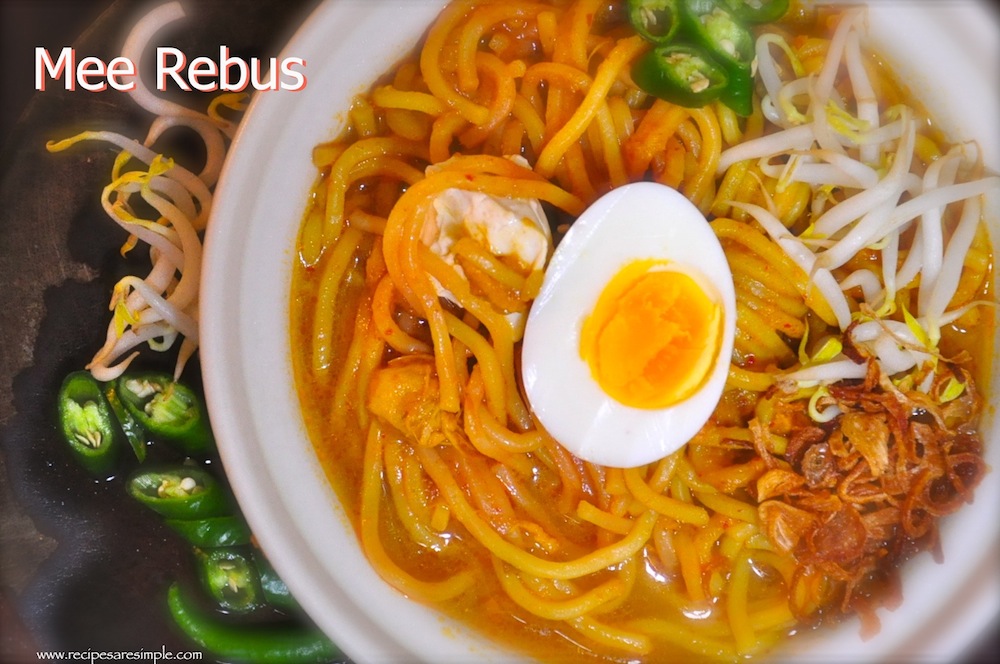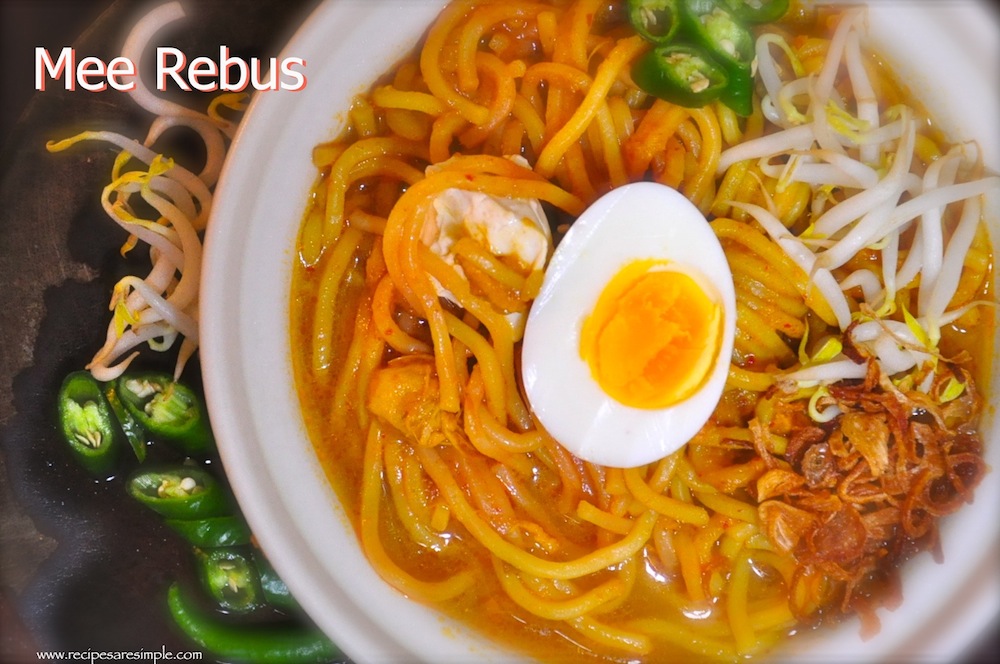 Mee Rebus | Curried Noodles in Sweet Potato Based Gravy
  Mee Rebus  translates as 'Boiled Noodles'  and is very common in Malaysia and Singapore. A hawkers regular. Many versions contain cooked beef, chicken or shrimp which is cooked in a seasoned broth and then thickened further with mashed / pureed potatoes. I personally prefer the vegetarian version, although it does have egg as a topping. It's made very quickly and the kids like it too. Try my recipe if you like the vegetarian version.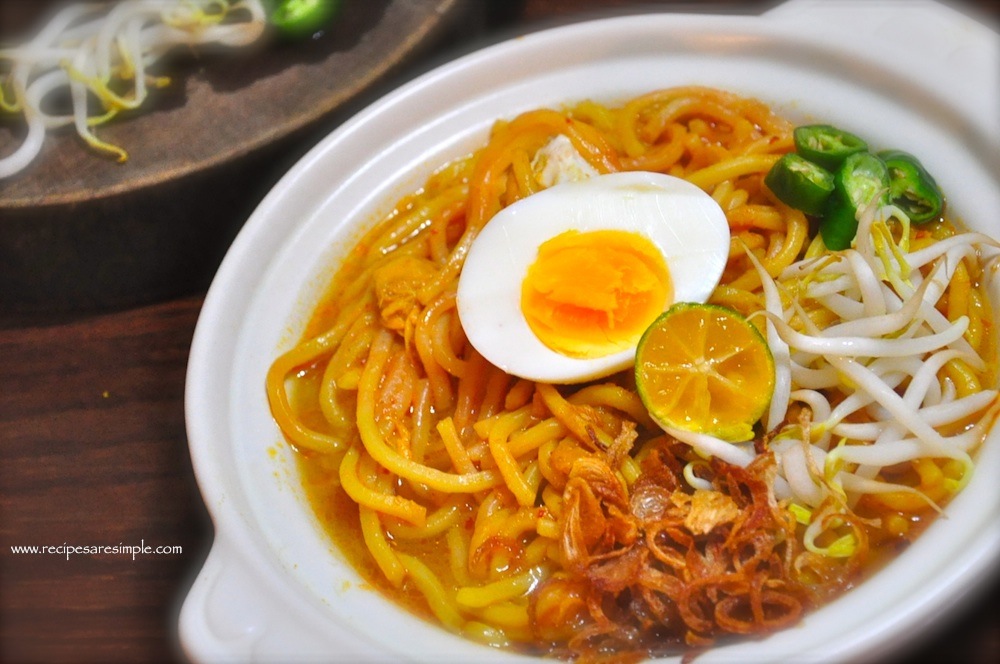 Mee Rebus | Curried Noodles in Sweet Potato Based Gravy
Recipe Name: Mee Rebus

Recipe Type: Pasta / Noodles

Author: Recipes 'R' Simple

Prep time: 10 

Cook time: 15

Total time: 25

Serves: 3 – 4
Ingredients:
500 gms Yellow Noodles – good quality or use spaghetti
1 large sweet potato, peeled
1 small potato, peeled
2-3 eggs
1 ½ – 2 Tbsp meat curry powder – I like Babas Meat Curry Powder

½ Tbsp coriander powder

¹/8 tsp turmeric powder

2 tsp or more Soya Bean Paste (Tau Cheo) –

I like the one with red chillies mixed in

1 tsp sugar
½ cup oil for frying
 For the spice paste (Rempah):
5 shallots
5 dried red chillies (mild variety) – soaked in hot water
2 cloves garlic
2 tsp fresh ginger
1 tsp galangal (optional)
For the garnish:
1 cup fried tofu puff slices
2 long green chillies, sliced
¾ cup fresh bean sprouts
5 shallots, thinly sliced for frying
2 calamansi limes, cut in half, seeds removed
Method:
Add eggs to cold water in a saucepan, just enough to cover and bring to a rolling boil. Cover and turn off the heat. After 10 minutes, remove the water. Shake the pan to lightly crack the eggs and cover with cool water. Peel when ready to garnish.
Peel the potato and sweet potato. Rinse and cut into large pieces. In a pressure cooker or pot, cook in water till tender. Drain and immediately press through a medium mesh sieve into a bowl. Set aside.
While the potatoes are cooking, bring another saucepan of water to boil. Add the yellow noodles

( sold precooked)

and blanch till tender about 5 minutes. In the same water, blanch the rinsed bean sprouts for 30 seconds and drain as well. Set aside.
Cut the fried tofu puff in half diagonally or make your own at home.
Also fry the thinly sliced shallots (use a mandoline slicer) till crispy and golden. Sprinkle salt and set aside in a small spider strainer.
Add the ingredients for the  rempah, into a small blender and grind to a paste using a little water.
To a wide mouthed, non stick wok – add about ¼ cup of the oil used for frying the shallots and / or tofu.
When hot, add the ground paste. Stir continuously to cook the paste. Wash out the mixer and add a little at a time to the paste till it is thickened and reduced and oil is separated.
At this point add the spice powders ( meat powder, coriander powder and turmeric powder). Stir and cook, adding a dash of water so that the spices don't burn. Cook till the spices no longer smell raw.
Add the mashed/ pureed potatoes and stir well till smoothly incorporated.
Add 2 tsp or more tau cheo (Soya Bean Paste)
Now add 2 cups of water and bring to simmer.
Taste  and add sugar and more soya bean paste or salt to taste.
Add ½ cup of boiled water at the end and remove from heat.

(This is so the water doesn't go completely dry)

Gently toss in the cooked and drained noodles and coat thoroughly and evenly in the gravy.
To each bowl, add desire amount of noodles and gravy

(add a little boiled water to loosen if desired)

Top with the fried shallots, sliced green chillies, blanched bean sprouts, lime wedge, chopped spring onion and half a boiled egg.

(Only assemble each bowl, when it is time to eat)

Serve warm.
Mee Rebus | Curried Noodles in Sweet Potato Based Gravy
Try it and let us know – Mee Rebus | Curried Noodles in Sweet Potato Based Gravy.
If you can not find the pre cooked yellow noodles, you can use spaghetti, cooked as per packet directions. You can also use dry egg noodles, cooked  accordingly.
Instead of boiled egg, you can fry eggs and add the sunny side up eggs over the noodles.
Add ½ cup coconut milk to the gravy if you like a creamier taste.