13 October, 2013
Kofta Meatballs with Heavenly Sweet and Sour Cherry Sauce – MUST TRY!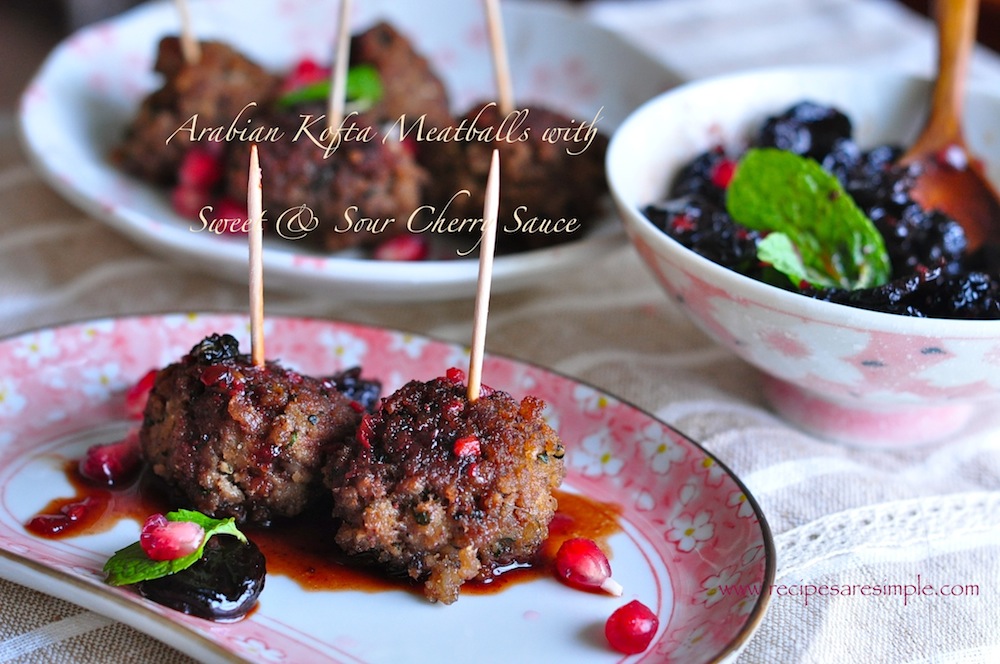 Kofta Meatballs with Heavenly Sweet and Sour Cherry Sauce

I saw this recipe in the book, Modern Flavors of Arabia and was already sold! It not only did not disappoint I am telling you they are to die for! Both my kids loved them as well which is the ultimate test.
The delectable meatballs can be made with lamb or beef. Don't even think of skipping the sauce! It is sensational.

The gentle tempering of the sweet and sour sauce  ensures that its not too 'sweet & syrupy'. The mint, provides the perfect essential freshness. Go ahead – Indulge yourself in a bit of heaven.
Kofta Meatballs with Heavenly Sweet and Sour Cherry Sauce



Ingredients:
Author:
Prep time:
Cook time:
Total time:
You can cut this recipe in half
For the Cherry Sauce:
2 cups fresh pitted cherries or dried sweet cherries (I used dried)
¼ cup honey
juice of one yellow lemon ( I used turkish lemon, the size of a pingpong ball) – taste as you go use as much juice as needed
½ cup water or more if needed
1  shallot, chopped finely
1 large clove garlic, chopped finely
½ cup FRESH mint leaves
For the meatballs:
1 lb/ ½ kg minced lamb or beef
½ cup sparkling water or club soda –

I used Schweppes Soda Water

4 large cloves garlic
¼ cup FRESH cilantro/coriander leaves
½ tsp cloves
½ tsp cinnamon
½ tsp cumin
½ tsp all spice / Baharat Spice
salt   to taste, ½ tsp pepper
3 Tbsp Olive oil
Toasted Pine Nuts, Pomegranate Seeds  & Fresh Mint Leaves to garnish
Method:
Rinse the minced meat with a little vinegar to remove any odor. Leave to drain.
Make the Cherry Sauce:
To a small sauce pan, add the cherries, honey, lemon juice, water and cinamon and bring to boil. Lower heat and simmer for 5 minutes. Set aside.
In another small non stick pan, heat olive oil.
Saute the garlic and shallots till just golden. Add the hot cherry mixture to this and bring to simmer again till slightly thickened and tender. You may add a little water and adjust some ingredients as desired.
Add salt and pepper to taste and laslty add the fresh mint. Set aside.
Make the meatballs:
Add the drained minced meat to a bowl.
In a small grinder, powder all the spices together.
Remove. Add the coriander/cilantro and garlic to the grinder/processor and mince together.
Add this, the spice powder with salt and pepper and the sparkling water/soda to the minced meat.
Gently mould into tight balls.
Heat olive oil in a skillet/non-stick and place the meatballs evenly spaced in the pan.
Leave undisturbed till the bottom is golden. Now turn over gently and allow other side to turn golden.
Turn from side to side till evenly golden all over.
Drain from oil and place on serving platter. Pour the cherry sauce in a small bowl.
Spoon over the hot meatballs and serve! YUM!
Meatballs with Heavenly Sweet and Sour Cherry Sauce
Did you enjoy our Meatballs with Heavenly Sweet and Sour Cherry Sauce?
The meatballs should not have too much liquid in them or they will not hold together.