15 February, 2015
Masala Fish Fry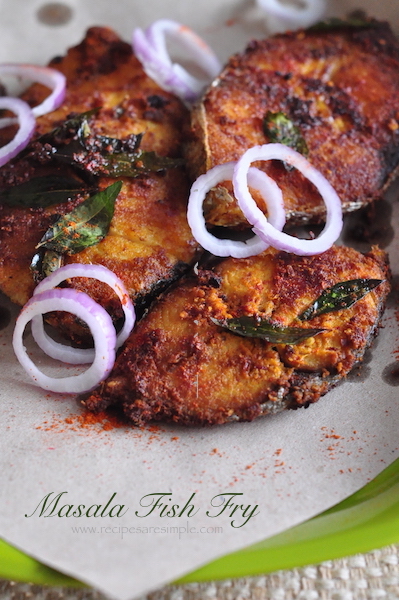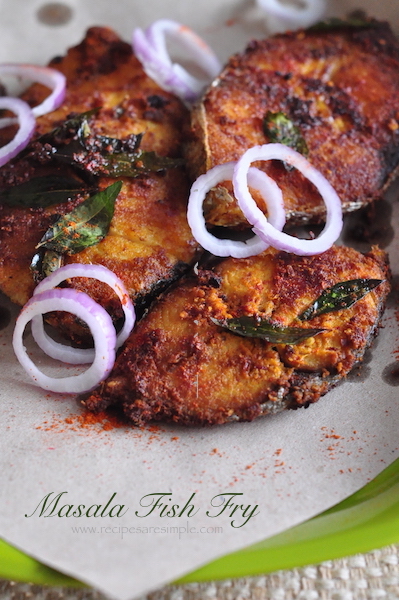 Masala Fish Fry
A dish is only as good as its ingredients. This holds especially true in the case of fish dishes. I have loads of great recipes for fish  and I am heartbroken at the outcome sometimes because the fish just wasn't cutting it. When ever I get the freshest fish, I love to make a simple fish fry – Like this Masala Fish Fry. It's a little different and Yummy. Try it.



You are here: Home > Fish & Seafood > Masala Fish Fry
 

Recipe Name: Masala Fish Fry

Recipe Type: Fish / Seafood

Author: Shana c/o Recipes 'R' Simple

Yield: 1 9″ pie (8 servings)
Masala Fish Fry
Ingredients:
500 gms Fresh fish Steaks
10 dried red chillies (milder ones) – to be soaked
2 tsp ginger paste, divided
2 Tbsp Lime Juice – freshly squeezed.

I prefer Indian Limes for this.

1 Tbsp fresh grated coconut
2 tsp fish masala powder of choice
½ tsp garam masala. See my garam masala recipe
¼ tsp turmeric powder
2 Tbsp curry leaves
sprinkling of chili powder and lime juice at serving time
salt
oil for shallow frying (¼ cup)
Method:
Before you prep the fish, boil the dried chillies. Add to a saucepan of water and boil the chillies well for 10 minutes. Keep covered in a bowl for about 30 minutes.
Meanwhile, clean and  rinse the fish well. Rub salt into the pieces and rinse again.
To the fish, add HALF the ginger paste, ¾ -1 tsp salt and lime juice. Keep this fish to Marinate for 15 minutes.
Meanwhile, remove the  soaked dried chillies from the water. Add to a small mixer grinder along with coconut. Grind to a smooth paste.
After the fish has marinated for the first 15 minutes, add the ground chill coconut paste, fish masala powder, garam masala powder, turmeric powder as well as the remaining ginger paste and curry leaves.
Marinate for another 15 minutes up-to 1 hour.
Heat oil a a flat pan. Before it get smoking, add the fish. Lower the heat and fry unditrubed till first side is golden.
Flip over gently and fry the other side the same. The crust should be slightly crisped without drying out the fish on the inside.
Sprinkle a little chilly powder and lime juice of fish before serving.
Serve hot.
Masala Fish Fry
If you do not have dried red chillies of milder heat, you can use Kashmiri Red Chilli Powder which is nice and red and not so hot.
I love coconut oil for this recipe.
Key Ingredients: Fish, Spices, Coconut, Curry Leaves, Ginger, Salt, Oil.
Let us know if you tried it – Masala Fish Fry . Comments from you provide motivation to keep up the driving force behind this blog, bringing you more delicious and perfected recipes regularly. Please do leave a comment. We love to hear from you.