28 March, 2017
Masala Chicken Roast | Get Yummified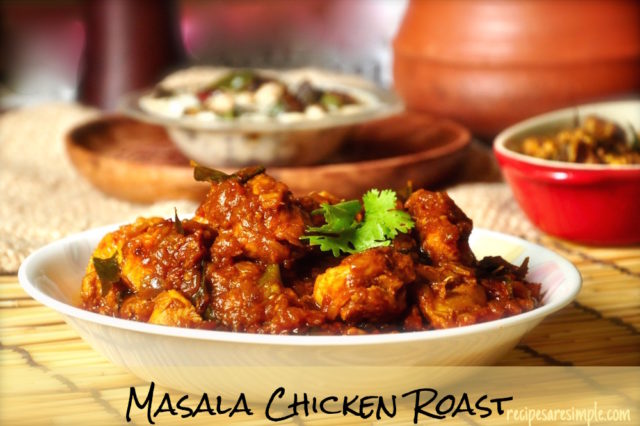 Masala Chicken Roast. Get Ready to be Yummified, once again!
It is common for chicken, seafood or lamb dishes that are stir-fried to be termed as 'ROASTS' in India. These roasts, consist of smaller sized pieces of protein, covered in a dry – semi dry gravy. Try this simple, lip smacking preparation of chicken in a tomato based – spice masala.
This Masala Chicken Roast, will steal the show! Great, served with rice and other sides. It is also a good side along with Roti's or other flatbreads.
Masala Chicken Roast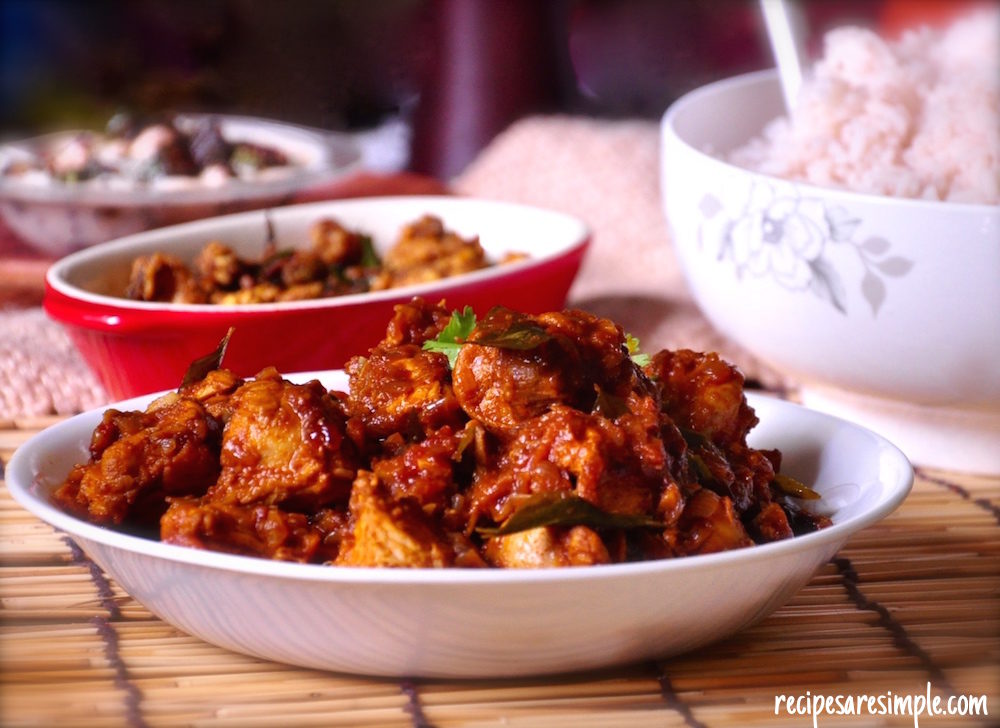 Yet another dish where I use my trusted pressure cooker to help tenderize the chicken prior to roasting. The pieces are cooked with some spices, very quickly on high heat in the pressure cooker. They are then removed from the liquids, that are released from the chicken – and fried very briefly to develop a light golden crust.  Next, an onion and tomato based gravy is  cooked down, adding the reserved liquids from cooking the chicken. The fried pieces are then tossed in this 'Masala' till they are coated to perfect deliciousness.
So essentially, the chicken is cooked 3 times. The method of cooking chicken at different stages is not that uncommon really. And trust me, with the short cooking times in each stage, the chicken is actually so succulent in the finished dish!
White pepper powder is a key ingredient in this dish. White Peppercorns are the fruit of the pepper plant, just like Black Peppercorns. It is the method in which, they are processed that is different. The peppercorns are picked when almost ripe and then sundried, till the outer skin turns black. That is how you get a black peppercorn. In the case of the white pepper corn, the outermost layer is removed either before or after the drying process.
I feel that the fruity aroma is stronger in the white pepper while the more complex flavor comes from black pepper corn.  White pepper corns are used in dishes where a light color is desired – for aesthetic purposes. White Pepper is very common in Asian cooking. It changes the flavor quite a bit, so do not substitute with black pepper in this recipe.
Another dish of mine, where white peppercorn has a vital role in the dish – Creamy Kadai Chicken.
You are here: Quick Browse > Chicken Dishes > Masala Chicken Roast  (Introduction)
 

Recipe Name: Masala Chicken Roast 

Recipe Type:  Indian / Chicken

Author: Shana c/o Recipes 'R' Simple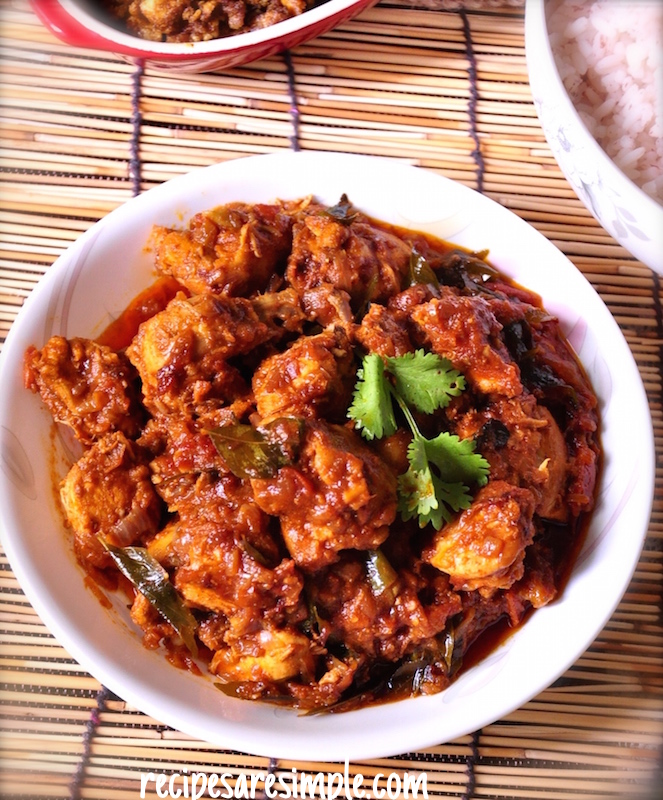 Key Ingredients: Chicken, Onion, Ginger, Garlic, Tomato, Spices, Oil, Curry Leaves, Salt.
Let us know if you tried –  Masala Chicken Roast  .


Back to Quick Browse. Thanks for visiting www.recipesaresimple.com