18 July, 2013
Marshmallow Snack – 5 minute Snack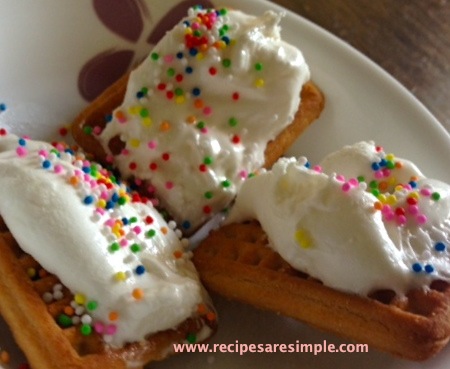 Marshmallow Snack – 5 minute Snack

No time to spare but still want your kids to have a treat thats special? Nothing to it.

Marshmallow Snack: Kids Have fun Making Them Too
Marshmallow Snack – 5 minute Snack



Ingredients:
4 Tiger Biscuits or similar variety (Plain)
1 ½ tsp softened butter
4  Marshmallows
Spinkles to Decorate.




Method: 
Preheat oven to 180°c/350° F
Place biscuits on a tray lined with wax paper. Brush very lightly with butter.
Place remaining butter in a small microwave dish. Top with the marshmallows and microwave for a few(not more than 5) seconds only.
Stir once. The marshmallows should be buttery and still soft.
Scoop equal quantities onto each biscuit. Place in the oven for 1 minute.Decorate with

S

prinkle

s.

Serve!
Marshmallow Snack – 5 minute Snack
Try and let us know – Marshmallow Snack .