3 February, 2014
Marshmallow Fluff / Marshmallow Cream – How to make it.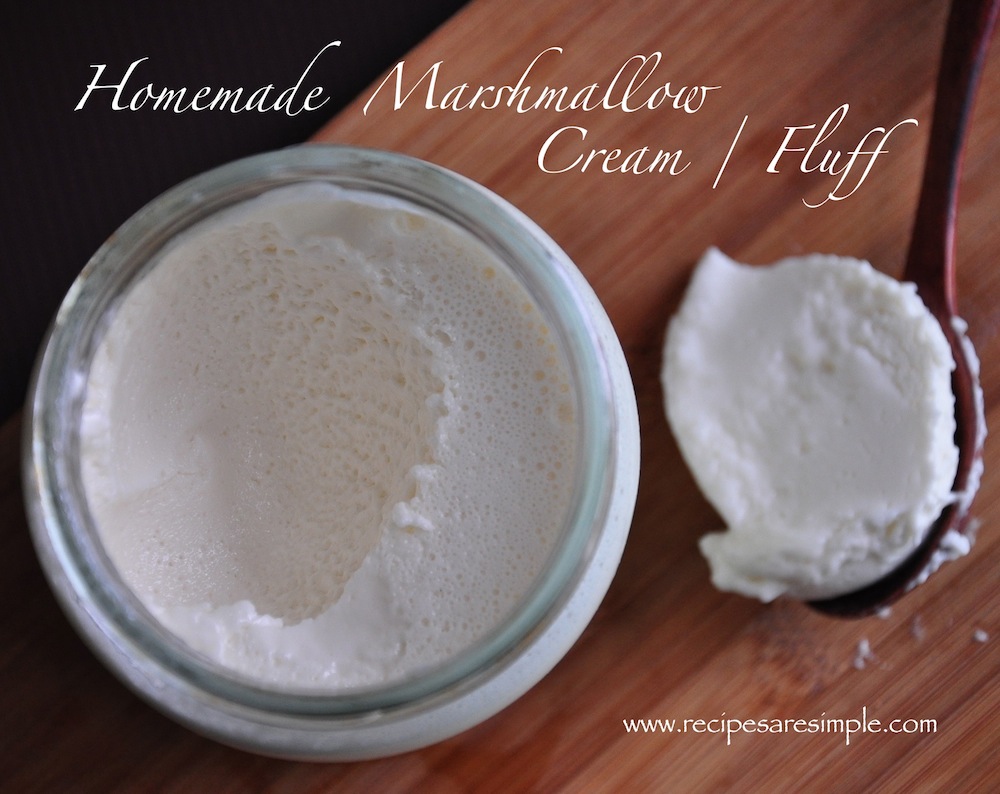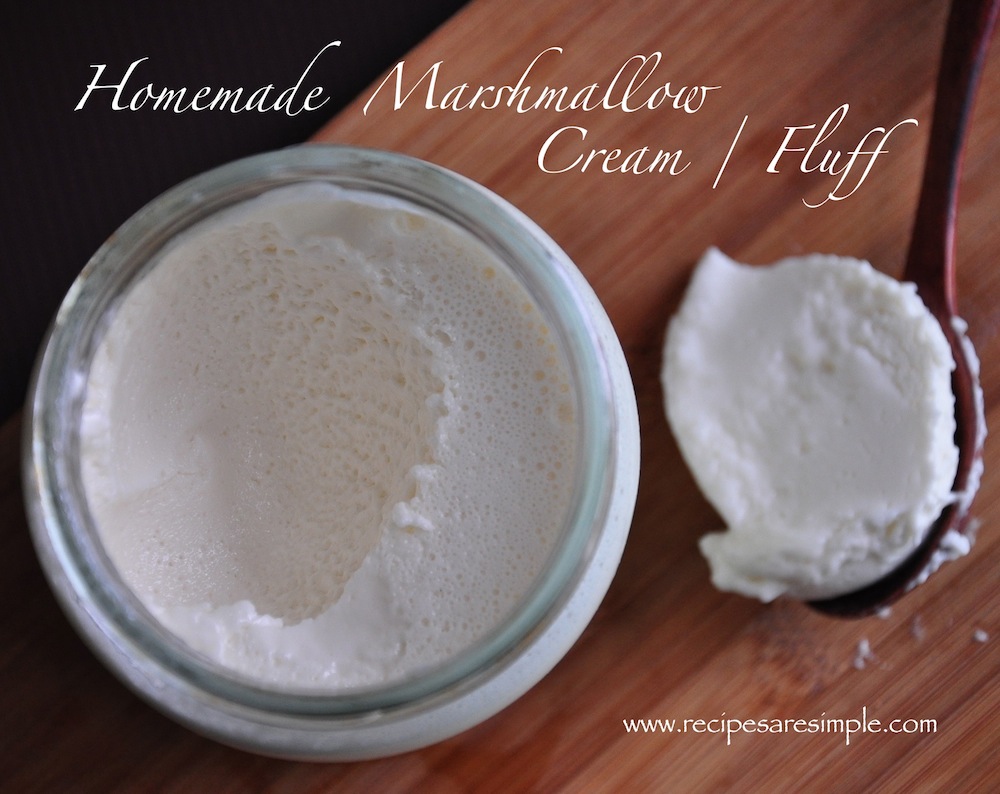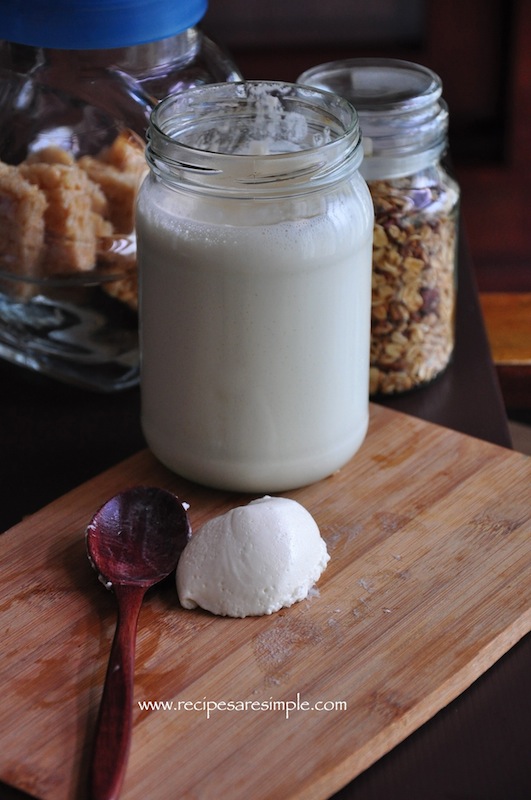 Marshmallow Fluff / Marshmallow Cream
Marshmallow cream is pretty simple to make. You can use it to make treats or as a sandwich spread with Peanut butter  ( A fluffernutter sandwich) or nutella. You can dollop it on Chocolate icecream, make truffles, make fancy milk shakes or whatever you like! Watch video on how to make Marshmallow Fluff / Marshmallow Cream.
Marshmallow Fluff / Marshmallow Cream

Ingredients:
1 Tbsp Unflavored Gelatin
1 ½ tsp corn starch
½ cup half and half ( light cream)
¼ tsp cream of tartar
¹⁄ 8 tsp salt
2 Large Egg Whites
¾ cup sugar
½ cup LIGHT Corn Syrup
½ cup water
You will need a small sauce pan, a medium sauce pan and a bowl for whisking the egg whites.
Method:
In a small sauce pan: add the  gelatin, cornstarch and light cream. Mix well and let stand for 15 minutes.
Heat the mixture on medium low heat till the gelatin is dissolved. Keep warm.
Next add the egg whites, salt and cream of tartar to a whisking bowl (copper bowl is best) and whisk the eggs whites till soft peaks are formed. Stop whisking while you perform the next step.
In the medium sized saucepan: add sugar, corn syrup and water an bring to boil over medium heat. Continue boiling, brushing any sugar crytals off the side of the pan with a pastry brushed dipped in water.
Use a candy thermometer and boil to 115ºc/  240ºf – or till you reach the SOFT BALL stage. (see video)
Resume the whisking of the egg whites at this stage.
Pour the hot syrup in a

THREAD LIKE

 thin stream till it is finished.
Next add the

warm

gelatin mixture also in a thin stream.
Coninue whisking till the mixture is cooled.
Add vanilla extract and whisk well again.
Pour into Glass jar and refrigerate at least 2 hours.
Keep refrigerated ( recommended to be used within 2 weeks)
Marshmallow Fluff / Marshmallow Cream
Try it and let us know –  Marshmallow Fluff / Marshmallow Cream
Adding the Boiling Syrup into the whisking egg whites in a thin stream ensures that the egg whites do not get scrambled, also the eggs are considered cooked when this is added.
Here are some quick recipes using Marshmallow fluff/Cream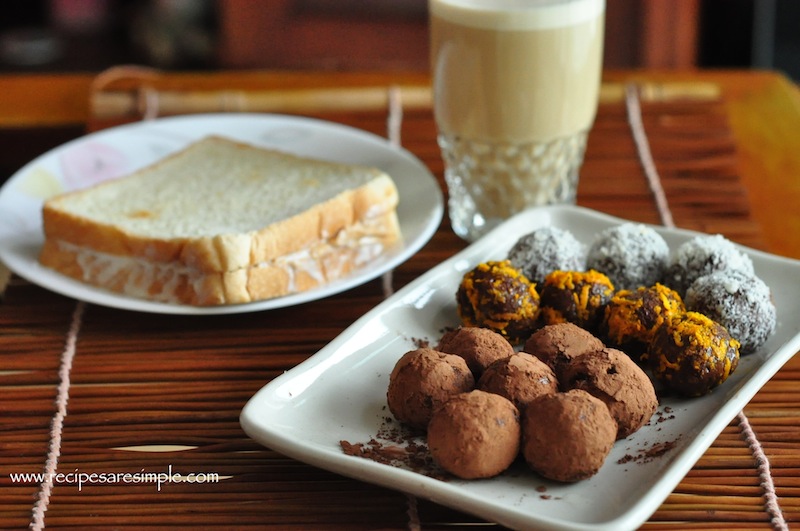 Spread Creamy Peanut butter on one side of sandwich and Marshmallow Fluff on the other  (Microwave 1 – 2 Tbsp Marshamallow Cream for  10 seconds to make it nice and spreadable.
An All American Sandwich  – Play ground and After School Staple.
Add 1 cup ice cold milk, 1 ¼ tsp instant coffee, ½ tsp vanilla extract and 2 large Tbsp of Marshmallow Cream  to a blender. Blend till nice and frothy.  Serve immediately.
Melt 1 cup semisweet or dark chocolate over a double boiler. Add ½ cup marshmallow cream and stir till blended in.Place in freezer till somewhat set. Roll into balls and lightly dust with sprinkles, chocolate rice, cocoa powder, desiccated coconut, orange zest etc.