6 January, 2015
Marble Cake Pudding – Quick Dessert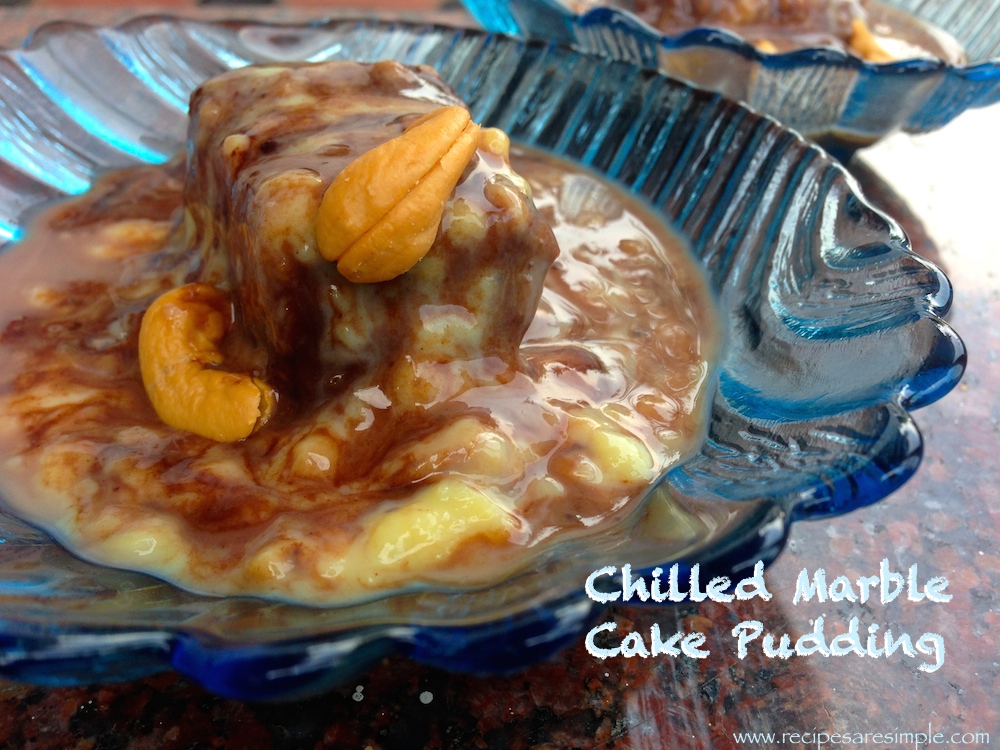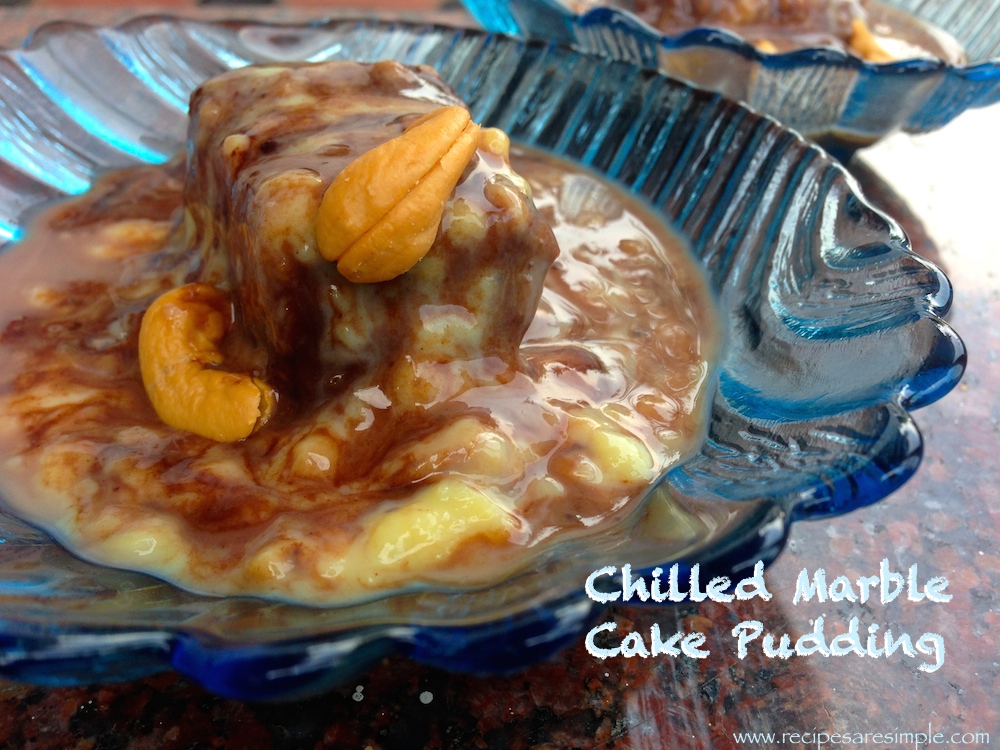 Marble Cake Pudding – Quick Dessert
  My sister loves fast cooking! This is a dessert she prepares that we all enjoy so much. We love the fact that it is so easy to make! You can make it with left over marble cake. I like it so much, however that I buy some just to make this quick, yummy dessert. I will be posting a home made marble cake recipe later.
Marble Cake Pudding – Quick Dessert
Recipe Type: Dessert

Author: Recipes 'R' Simple

Prep time: 2

Cook time:10

Chill time:  30 mins

Total time:  

Serves: 8
Ingredients:
500 gms Marble cake, cut into large slices
4 cups Milk
4 ½ Tbsp Custard powder, original flavor
½ cup Sweetened condensed milk
½ cup Water
½ cup Sugar
2 rounded Tbsp Cocoa powder
Nuts, chopped or left whole for topping
Method:
Cut marble cake into large slices.
Add 3 Tbsp of the milk to the custard powder in a cup and stir till smooth.
Heat the remaining milk in a saucepan.
Add the custard solution into the hot milk and bring to boil, stirring.
Lower heat and stir till thickened. Remove from heat and allow to cool.
Meanwhile make the chocolate syrup: Heat the water in saucepan. Add the sugar and dissolve. Add cocoa powder and stir till slightly thickened on low heat. Set aside to cool.
Stir the condensed milk into the chilled custard.
Place the slices of cake in a serving dish. (In one layer).
Pour over a single layer of the prepared sweetened custard.
Wait a few minutes for the cake to soak up the initial custard.
Then pour over the remaining prepared custard evenly.
Chill again of desired, before drizzling the chocolate syrup over the top.
Chill till served. This tastes better the longer it has been chilled and absorbed the custard.
Enjoy!
Marble Cake Pudding – Quick Dessert
Try it and let us know – Marble Cake Pudding – Quick Dessert .
Marble cake is sweet. If you want to reduce the sugar in the dish, reduce the condensed milk. The sugar is required to thicken the chocolate syrup so reducing too much might cause the  syrup to be runny.
I suggest serving in small mouthed cups or bowls, so that the custard doesn't spread out much.