5 October, 2014
Mango Cheesecake with Sponge Base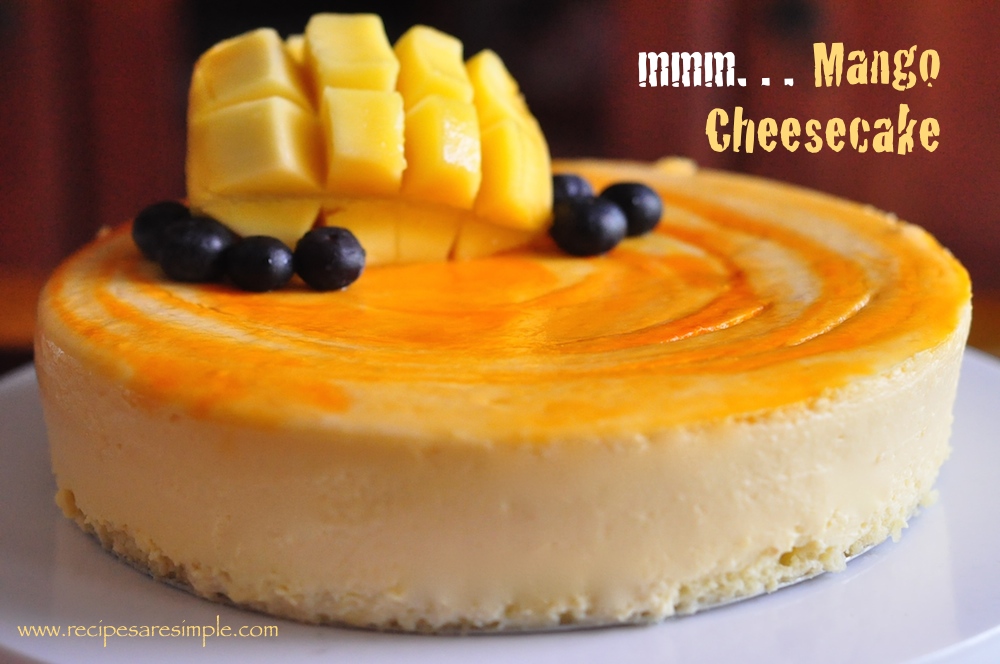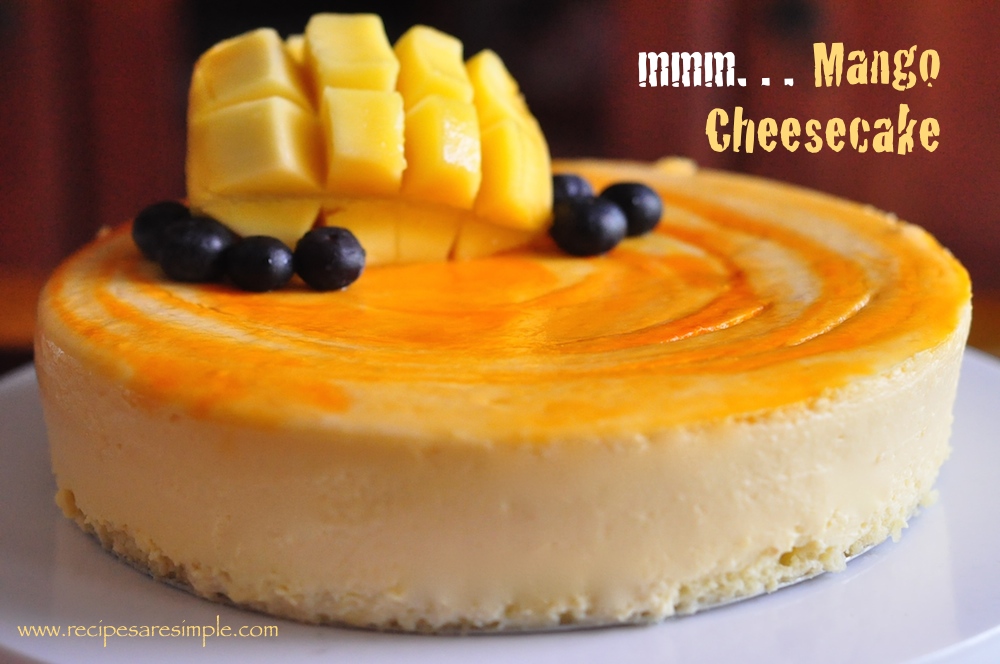 Mango Cheesecake with Sponge Base
  Definitely one of those Guilty Pleasures of Life. Cheesecake is meant to be be enjoyed slowly… tasting each spoon carefully, delightfully. And Mango Cheesecake?  It's just even more mmmmmm……. You will eat this very slowly because you won't want the experience to be over. That's how good it is.
The most important part in making the 'Mango Cheesecake with Sponge Base' is the Mango! You must choose a superior quality Mango with a grasping Mango Aroma as well as taste. It should not be tart and it should not be overly ripe. I would highly recommend using Alphonso. But Valencia Pride and Badami varieties are very good as well. Do taste the mango before you use it.
A Grahm Cracker crust is great for Cheesecakes but theres something about this sponge base that just gives this cake a more melt in your mouth quality.
You must chill the cake completely before serving ( preferably overnight), so plan accordingly.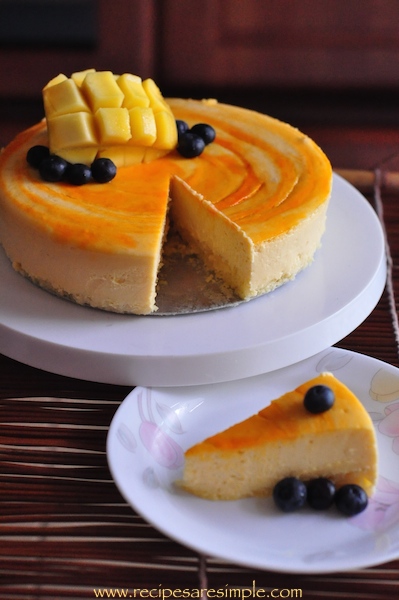 Mango Cheesecake with Sponge Base
Recipe Type: Cakes / Dessert

Author: Recipes 'R' Simple

Prep time: 20

Cook time: 1 hour 30

Total time: 1 hour 50 

Serves: 8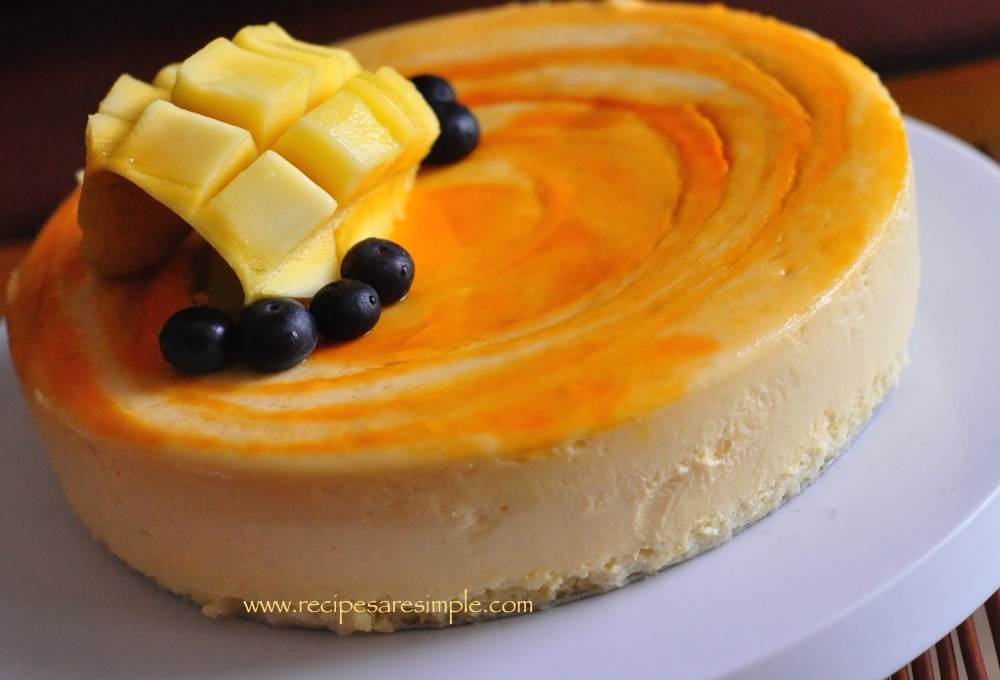 Ingredients for Mango Cheesecake with Sponge Base:
For the Sponge Cake Base: you will need a 9″  'springform' or 'removable base' cake tin
¹⁄3 cup CAKE flour
¾ tsp baking powder
pinch salt
2 eggs separated and left to come down to room temperature
¹⁄3 cup sugar ( extra fine)
1 tsp pure vanilla extract
1 drop pure lemon extract
¼ tsp cream of tartar
2 Tbsp unsalted butter, softened
PLUS Softened, unsalted butter for greasing the cake pan
For the Mango and Cheese filling
2 blocks of Philadelphia Cream Cheese ( 250 gms each)
½ cup sugar

( even less if your mango is VERY sweet)

¾ cup fresh mango puree

( chop the mango and process tip absolutely smooth)

2 Tbsp cornflour
1 egg at room temperature
¼ cup whipping cream
Method:
To make the sponge cake base:
Preheat your oven to 350 ºF/ 175ºC.
Grease the bottom and sides of cake tin and wrap the outside securely with foil paper.
If your sugar is not extra fine, process the sugar for 30 seconds  till you get a fine sugar.
Into a small bowl, sift the flour, baking powder and salt.
Dump this onto a parchment paper.
Continue to sift back into the bowl 2 more times.
In another small bowl, add the egg yolks and whisk.
Slowly add the sugar and continue to whisk.
Whisk till you get thick ribbon like streaks and the mixture is pale yellow in color.
Add the extracts and whisk for 5 more minutes. There should be no grainy texture of the sugar.
Add the flour a little at a time to the yolk and sugar mixture, folding in with a spatula till combined. No need to over mix.
Also stir in the melted butter.
Set aside.
To a larger, sterile bowl using sterile whisks as well, add the egg whites and cream of tartar. Whisk till foamy on high speed.
Whisk till glossy and the peaks stand stiff.
Add a little bit of the egg white into the yolk mixture and mix till smooth.
Then add the remaining egg white and fold in using spatula till JUST mixed through. Little specks of white is ok. Do not over mix.
Gently spread the batter over the bottom of the prepared cake tin.
Bake in the preheated oven for 15- 20 minutes (according to oven).
The top should just be set and no longer sticky. It should not turn golden.
Leave the cake in the tin and place the cake tin on a wire rack to cool.
Leave the oven on while you prepare the filling.
To make the mango cheese filling:
To a clean mixer bowl, Add one block of cheese ( softened) cornstarch and the sugar and whisk on a low – medium speed till the sugar is dissolved and the cheese is fluffy. ( Scrape down the sides of the bowl a few times)
Add the  remaining block of cheese and continue to whisk on higher speed till fluffy again. ( scraping down as needed)
Reserve 2-3 Tbsp of the Mango Puree and Add the remaining mango puree and mix through.
Also add the egg and whisk till just blended through evenly.
Lastly add the whipping cream and whisk for 5 seconds more. DO NOT OVER MIX.
Gently spread over the sponge base.
Dollop the reserved mango puree over the top and swirl just the surface to create a colored top.
Add boiled HOT water to a larger baking tray so that it comes half way up the prepared cake tin.
Place the cake tin in the centre of the baking tray.
 Place in the oven and bake for 1 – 1 ¼ hours( depending on oven).
The top should just barely jiggle in the centre but should be set on the top when touched. The sides should be done and just slightly coming away from the sides of the cake tin.
Remove the tin from the water bath and place on a wire rack to cool completely.
Cover with cling wrap. Then CHILL overnight.
Dip a sharp knife in hot water and run around the sides of the pan.
Remove carefully from the cake tin along with the base. Place on cake plate.
Decorate with fruits is desired.
Mango Cheesecake with Sponge Base
Try it and let us know – Mango Cheesecake with Sponge Base .
You must have your eggs, cheese and mango at ROOM TEMPERATURE, so do have everything outside before you plan on starting.
It must be stressed that you have to taste your mango before you use it. Perfect, firm sweet mangoes with a wonderfully 'mangoey' smell is a MUST.