8 July, 2016
Mamak Style Crispy Fried Chicken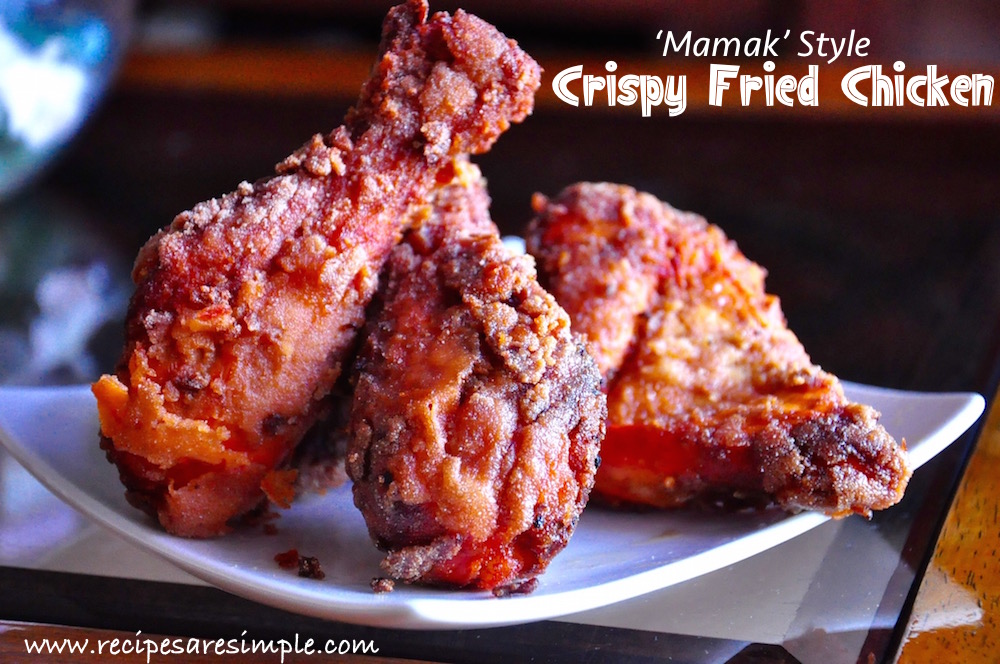 Mamak Style Crispy Fried Chicken
If you are a lover of fried chicken, then this you gotta try! With just a few simple ingredients, Mamak Style Fried Chicken is so juicy on the inside and the crust is down right addictive! What's different about this Fried Chicken is that the coating is made of Rice flour and offers a totally new and welcoming change to the regular fried chooks. 'Mamak' is the term used in Malaysia and Singapore for the Local Indian Muslims. Derived from the word 'Maama', meaning 'Uncle' in many Indian dialects, it is affectionately used by all the locals. Mamak stalls are famous for their Roti Canai, Nasi Lemak, Murtabak, Mee Goreng, Nasi Kandar, Nasi Goring, Rojak, Thosai, Nasi Biriyani, Mie Goreng and Teh Tarik. This recipe is a special version of the Red Fried Chicken that is often served. It is color free, crunchier and yumee.. hope you enjoy it!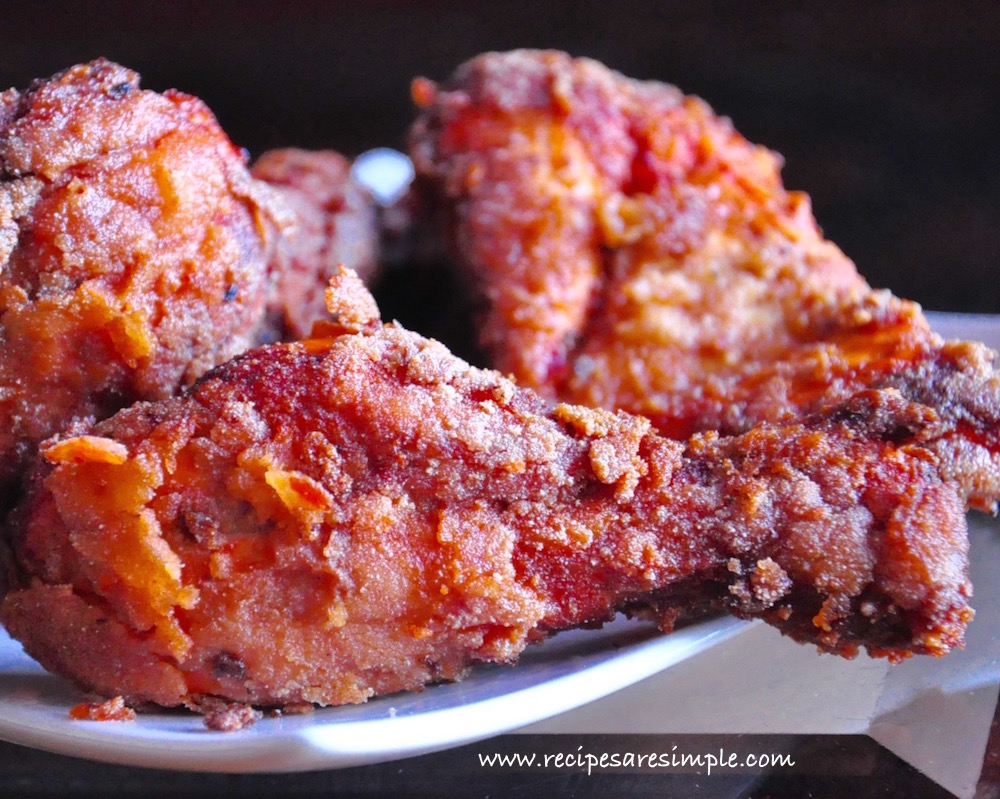 Mamak Style Crispy Fried Chicken
You are here: Home > Chicken  > Mamak Style Crispy Fried Chicken
Recipe Name: Mamak Style Crispy Fried Chicken

Author: Shana c/o Recipes 'R' Simple
Ingredients:
1 kg chicken, cut into medium sized frying pieces
10 mild, long dried red chillies (¼ cup)
1 Tbsp tamarind pulp
4 large cloves garlic
1 ½ tsp meat curry powder (like Baba's Meat Curry Powder)
1 tsp salt
¾ – 1 cup rice flour
½ cup sunflower oil





Method:
Remove the seeds and membrane of the dried chillies if needed (to reduce heat). I am using mild dried chillies so I skip this step.
Pour 1 cup of boiled water over this and keep covered for 30 minutes.
Also add the tamarind pulp to 3 Tbsp of boiled water and set aside.
Add the chillies, along with the soaking water to a blender.
Squeeze the soaked tamarind in the liquid to remove the seeds( if any). Discard seeds and pulp, to get a tamarind solution.
Add this as well as the garlic cloves to the blender.
Blend till all the chillies and garlic are blended/processed well.
Add this liquid to a large bowl and stir in the salt and meat curry powder.
Add cleaned, skinned and drained chicken pieces to this solution. This will act a brine solution to tenderize and season the chicken.
Set this aside covered for AT LEAST 30 minutes or overnight( more than 1 hour requires refrigeration).
Heat the oil in a medium sized, deep wok. (Using a wok helps when using only 1/2 cup of oil to fry the chicken. If you use a fryer or pan, you would need a lot more oil.
Add the rice flour to a cup and add a little bit at a time to a plate.
Use tongs to lift 1 piece of chicken from the solution at a time.
Dredge the piece in the thin layer of rice flour to coat all over.
Add 1 or 2 pieces at a time to the oil and fry for about 6 minutes on medium high heat. Using tongs, turn gently once, half way through the cooking time. Check the the chicken is nice and crisp and golden brown. Careful not to blacken the chicken. (You can always check one piece to test doneness. Country fowl will require more cooking time).
Drain on paper towels. Serve after resting briefly.
Serve with a salad or as a side with rice.
Quick Gravy using the leftover marinating solution:
Instead of discarding the solution, make a quick gravy . Leave 1 Tbsp of the oil used for frying in the wok. Heat and add the solution to this and bring to boil. Use 2 Tbsp of cashew nuts that have been soaked in warm water ahead of time and grind to a smooth paste. Add this paste to the simmering gravy. Shred 1 small piece of the fried chicken and add to the gravy (without any bone). Simmer till the gravy has thickened. Adding the cashew nut paste, balances the salt in the gravy while thickening it.
Mamak Style Crispy Fried Chicken
We add the flour a little bit at a time to the plate, so that the liquid from the chicken doesn't cause lumps in the rice flour. Simply add a thin layer to the plate after coating a few pieces
Key Ingredients: Chicken, Dried Chillies, Tamarind, Meat Curry Powder, Garlic, Rice Flour, Salt, Oil.
Leave a comment if you tried – Mamak Style Crispy Fried Chicken.