28 November, 2013
Malaysian Laksa Recipe – Curried Noodle Soup with Prawns and Fresh Herbs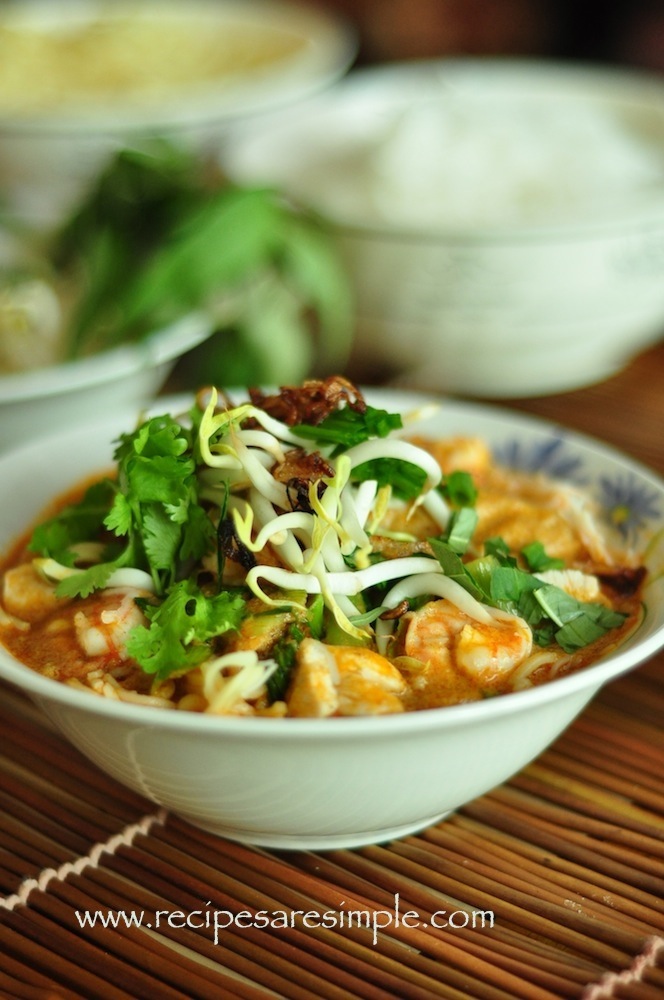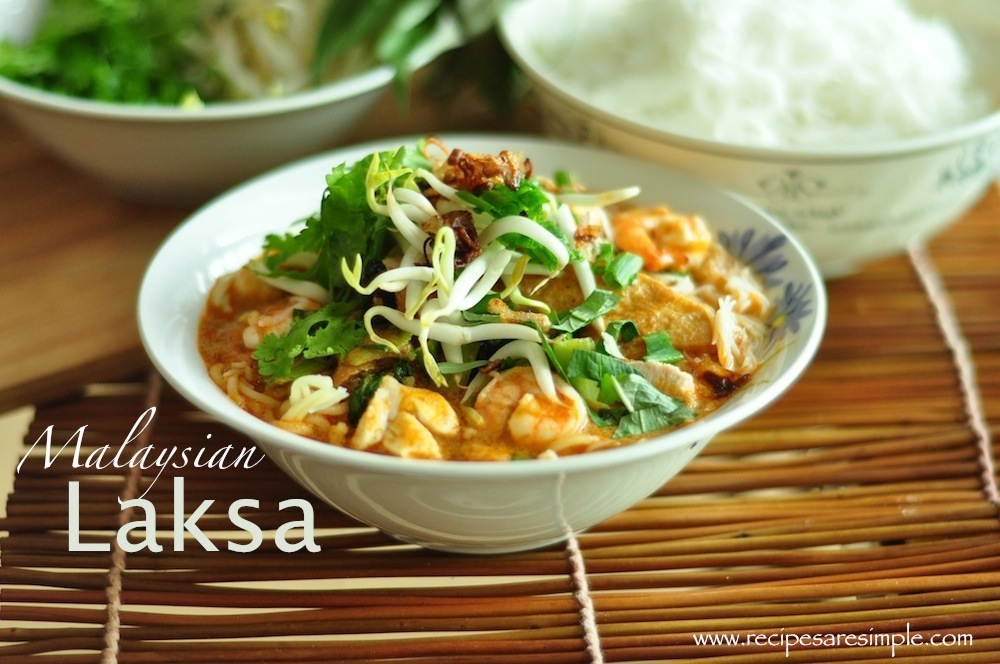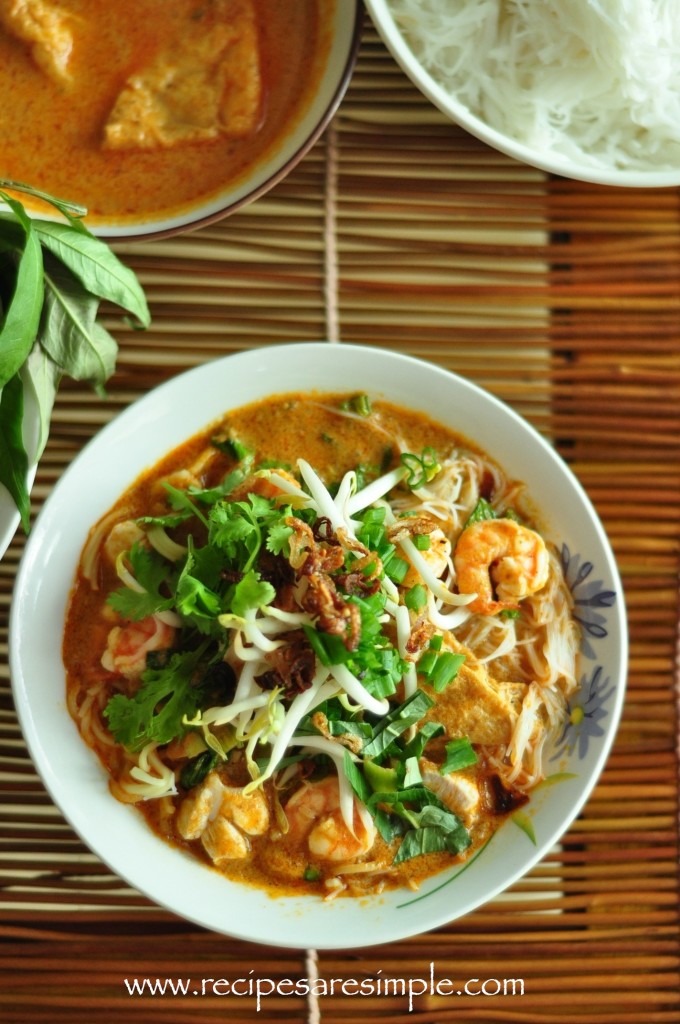 Malaysian Laksa Recipe – Curried Noodle Soup with Prawns and Fresh Herbs
I Love Laksa! It's Malaysian Comfort food at it best. A noodle soup with a curried broth, that is bursting with flavor!
Don't cringe at the thought of using dried prawns and Belachan( Shrimp Paste) in the broth.  They are used in discretion and add a depth of flavor that food enthusiasts really admire!   (Much like anchovies are used in Italian Pasta recipes).  A true Asian Festival of sorts in your mouth.
Topped with crisply fried shallots and the freshest herbs, it gives that oomph of freshness to the hearty soup.
You can use chicken.  And traditionally fish balls are used.  However I like it best with Prawns.  If you are looking for a good Laksa Recipe, look no further. (SCROLL DOWN FOR VIDEO)
Malaysian Laksa Recipe – Curried Noodle Soup with Prawns and Fresh Herbs
Recipe Type: Main / Pasta Noodle / Malaysian Cuisine

Author: Recipes 'R' Simple

Prep time: 20

Cook time: 20

Total time: 40

Serves: 4-5
Ingredients:
12-15 medium/large  prawns
200 gms good quality Rice Vermicelli Noodles
200 gms Egg Noodles
200 ml coconut cream or more to taste.
Small packet fried tofu puffs cut into half  OR fry your own Firm Tofu into medium cubes (preferred)
2 Tbsp good quality Thai Fish Sauce – I like Knife Brand
Juice of 1 small lime – to taste
brown sugar/palm sugar : 1 – 2 tsp to taste
optional – Bok Choy, a small packet, cut into large shreds
SPICE PASTE:
Short cut paste:
 ¼ cup store brought laksa paste + (1 long mild red chili, 5 shallots, 5 cloves garlic, 5 cm ginger , ½ tsp dried prawns.)
(OR )
Laksa Paste from scratch:
8 shorter dry red chillies
7 shallots
½ Tbsp  Galangal
½ Tbsp  Ginger
7 cloves garlic
1 fingers length, inner tender part of lemon grass
4 candlenuts
¾ tsp belachan (shrimp paste)
10 small dried shrimp
2 tsp coriander powder
¹⁄8 tsp turmeric
2 small petals of star anise (spice)
2 cloves (spice)
1 ½ Tbsp Brown sugar or Palm sugar
¼ tsp salt
5 Tbsp  Oil / ¼ cup
For Garnish:
Fresh Coriander/ Spring Onion Greens / Laksa Leaf (also known as Vietnamese Mint) – use any or all of these herbs.
Cleaned bean sprouts
Shallots  – Thinly sliced and fried crisp.
optional- half boiled egg per bowl.
lime wedges
Method:
Clean and devein the prawns.  Reserve the shells.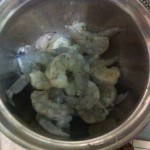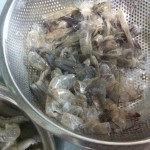 Heat the oil in a small sauce pan.  Add the reserved prawn shells.
Fry for 1 or 2 minutes till the shells are red and emit the loveliest aroma.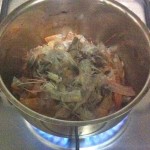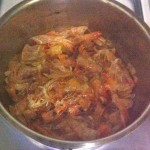 Strain this oil through a metal sieve and discard the shells.
Reserve this fragrant oil.  (We will fry our Laksa Paste in this oil).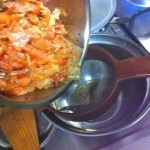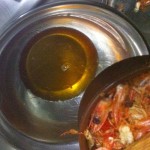 While the spice paste is being made, bring another pot of water to boil.
Add the rice noodles. Boil 2 – 4 minutes till tender. Remove the noodles with slotted spoon.
Add the egg noodles to the boiling water, 2 – 4  minutes till tender and drain as well.
To the same boiling water add the prawns and poach for 2-3 minutes till the prawns are just tender and cooked through.
Set the cooked noodles and prawns aside, covered.
If making the shortcut paste:
Add the mild red chili, shallots, garlic, ginger &  dried prawns to small blender/grinder and blend to a smooth paste.
Heat the Fragrant oil in a wide non stick wok and add this spice blend.  Fry for 1 minute.  Then add the  ¼ cup store brought laksa paste.
If making Laksa Paste from scratch:
Soak the dry red chillies along with half of the dried shrimp for 20 minutes, till tender. Drain.
Blend all the ingredients for the home made Laksa Paste, in a small blender/grinder till absolutely smooth adding a tsp of the reserved fragrant oil.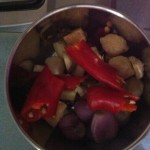 Heat the remaining fragrant oil in a wide non stick wok. Add this paste and fry on a low heat.
Whichever paste you opted for, Continue to make Laksa as follows:
Stir continuously till the paste gets cooked and moves together in one mass.  Stir for a good 1 – 2 minutes on low flame, sprinkling water  so that none of the spice burns.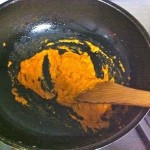 Add about 2½ cups of water /stock and bring to boil.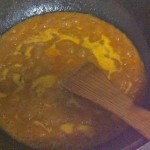 Add the coconut milk and simmer.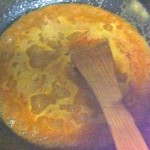 Add the fried Tofu Puffs, Fish Sauce and add lime juice and sugar as per taste.
 When taste is adjusted and the curried broth is cooked, to desired thickness, add the bok choy.
Cook only for 30 seconds more.
Remove from Heat.
To Serve:
Place Both types of cooked noodles into bottom of each bowl.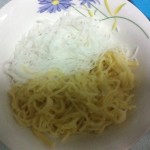 Place the cooked prawns over the noodles.
Pour over enough of the curried broth.
Top with the green herbs, followed by beansprouts, followed by the crisply fried shallots.
Serve hot! Yumm!
Malaysian Laksa Recipe – Curried Noodle Soup with Prawns and Fresh Herbs
Try it and let us know – Malaysian Laksa Recipe – Curried Noodle Soup with Prawns and Fresh Herbs .
 Some of the Ingredients:
You can add some diced boneless chicken as well if desired, cook in the same water used to cook the noodles and shrimp.
You May Also Like: