27 July, 2013
Malaysian Chicken Curry – Delicious Nyonya Chicken Curry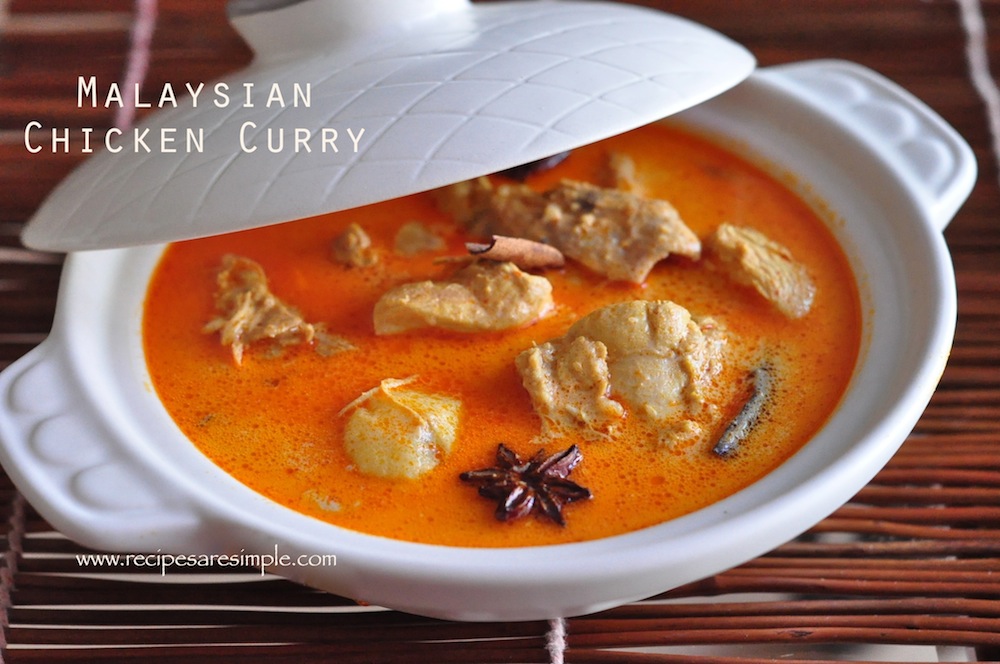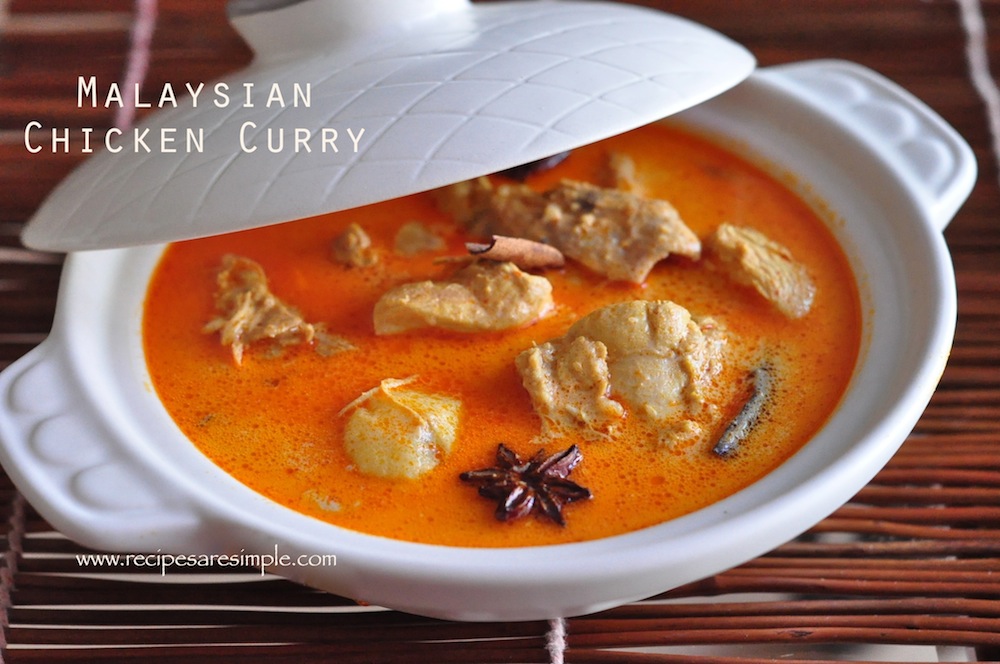 Malaysian Chicken Curry – Delicious Nyonya Chicken Curry
Deliciously -Aromatic with herbs, spice and tanginess. This is a Malaysian Chicken Curry (Nyonya Chicken Curry) that is loved by all.
Nyonya or Peranakan Cuisine  combines Chinese, Malay and Indonesian cuisines in a unique and flavorsome blend.
Peranakans are descendants of chinese migrants. Settlers in Penang, Malacca (Malaysia), Indonesia and Singapore. The word Nyonya or Nonya is a Malay word that refers to a socially prominent woman.  It has a combined meaning of  "Madame" and "Auntie". The term is used distinctively to refer to the Peranakan Cuisine i.e. – Nyonya Cuisine.
The unique flavor of this curry is determined by the 'rempah' or spice- paste that should be pounded with a mortar and pestle for bests results.

Malaysian Chicken Curry – Delicious Nyonya Chicken Curry
Recipe Type: Curry / Main / Malaysian Cuisine

Author: Recipes 'R' Simple

Prep time: 30 

Cook time:20

Total time: 50

Serves: 4 – 6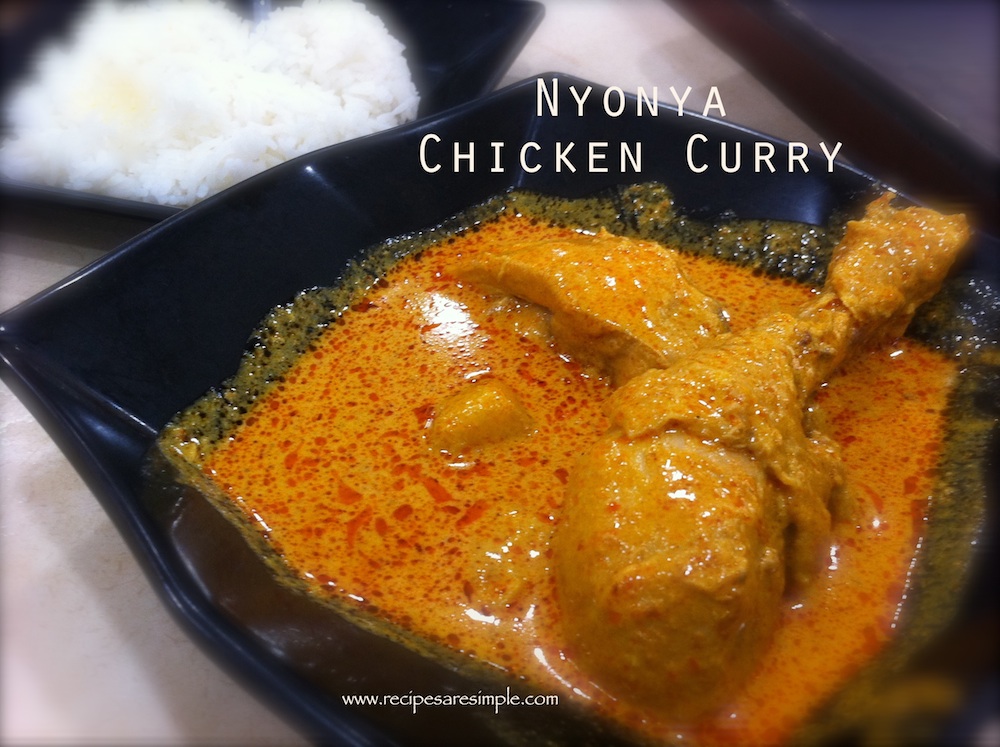 Ingredients:
1 kg chicken cut up into medium pieces
5-9 Tbsp Coconut cream (slightly thick) . Do not use the sweetened variety
1 stick of cinamon
2-3 cloves
4 Potatoes, cut into large pieces
1 star anise
5 curry leaves
pinch sugar
salt to taste. About 1 ½ – 2 tsp
For the Malaysian Spice Paste(Rempah):
10 dry chillies soaked in boiled hot water for 30 minutes
7 large shallots
5 cloves garlic
2 " Ginger
1″ Galangal 

(a subtle, mustard-scented rhizome similar to ginger also known as lengkuas,laos or blue ginger)Omit if you can't find it

2 " Fresh Turmeric root
¼ tsp – 

just a pinch 

 Belachan – malaysian dry shrimp paste
3 Tbsp Coriander Powder
¼ tsp – 1 tsp cumin – adjust according to taste. 

We prefer only ¼ tsp

1 tsp fennel
3 candlenuts

 (or substitute with unsalted hazelnuts or cashews)

2 tsp light soy sauce
 2 Tbsp Oil




Method:
Process the ingredients for the Spice Paste to a smooth paste 

along with oil. Do not add water.

For the Authentic flavor however, it is recommended to pound the ingredients to a fine paste using a mortar and pestle.

Wash and drain the chicken pieces well.
To a non-stick wok, add the the spice paste and heat on medium low heat. Stir continuously till it sizzles and becomes nice and aromatic, with no more of the raw smell.
At this point: add the coconut cream, curry leaves and the whole spices (cloves,star-anise and cinnamon).
Stir patiently till oil develops on top and the whole mixture moves together as one mass in the pan.
Now add the chicken and fry a little in this paste, stirring gently to coat the pieces well with the paste.
Allow to fry gently about 4 minutes, till lightly crisped evenly.
Mix in the salt, sugar and potatoes.
Add a little water just enough to keep the chicken moist.
Cook covered on low till chicken is cooked through OR transfer the chicken to a pressure cooker, wash out the pan with water and add to the cooker. Now pressure cook on medium heat for 3 'steam whistles'.
Allow to cool before opening.
Add a little coconut cream if desired to balance flavors.
Garnish with fresh coriander. Serve Malaysian 

Chicken Curry 

 with Plain White Rice  or Malaysian Roti Prata.
Malaysian Chicken Curry – Delicious Nyonya Chicken Curry
Try it and let us know – Malaysian Chicken Curry – Delicious Nyonya Chicken Curry .
Add water to coconut cream if you desire a looser consistency. Adjust the quantity to desired thickness of gravy.