19 August, 2014
Malai Tikka Kebab – Chicken Skewers Marinated in Cream cheese – YUMMY!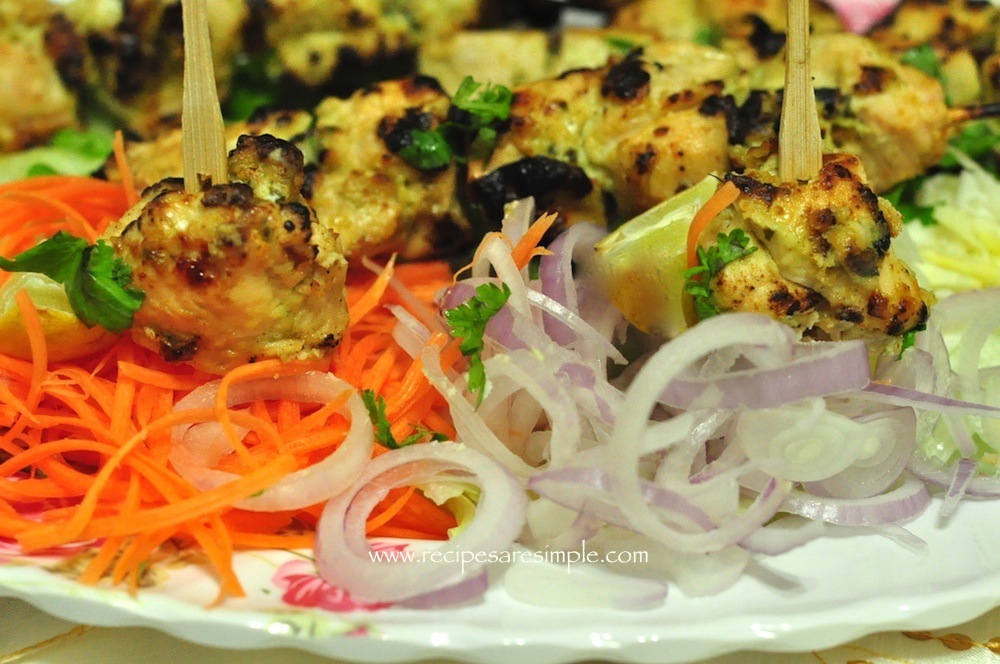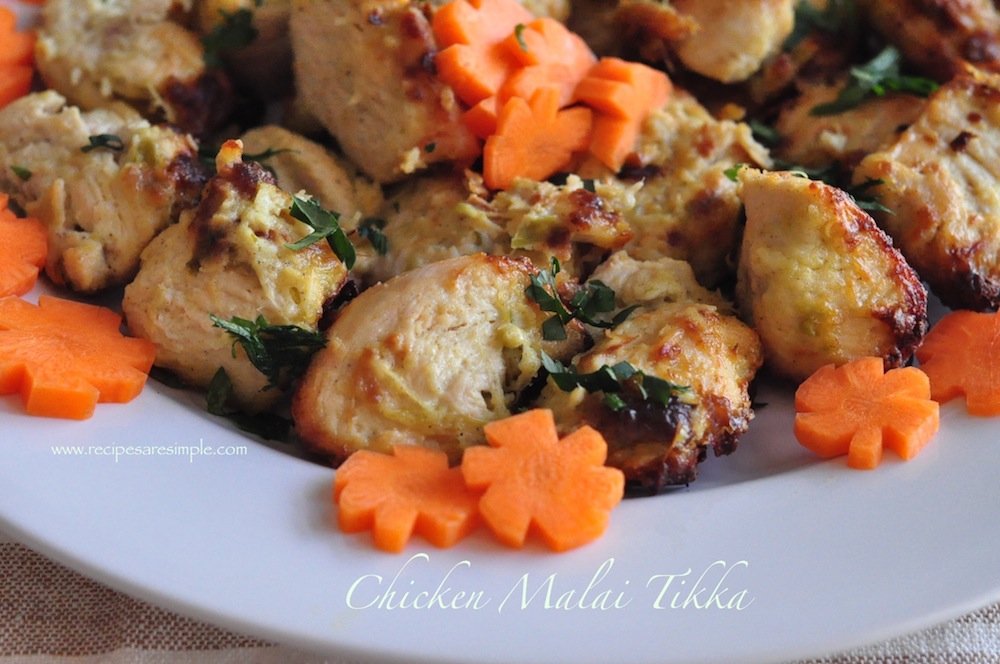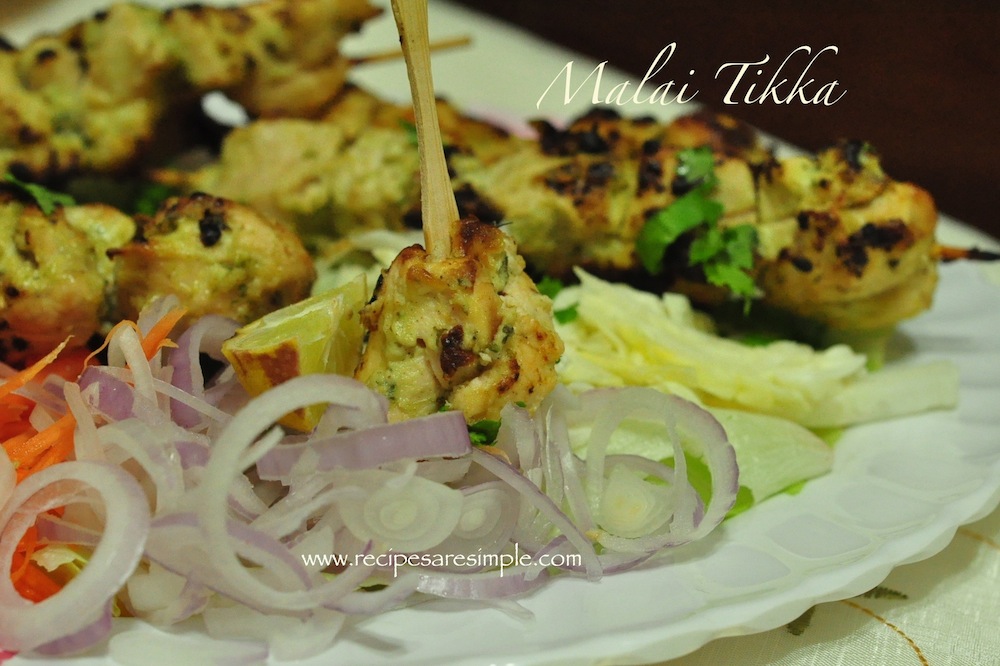 Malai Tikka Kebab – Skewers marinated in cream cheese
  Malai Tikka Kebab – These skewers are mouth watering delicious! A smooth creamy mixture of cream cheese and sourcream or thickened yoghurt, combined with some fresh cilantro offer the perfect marinade for these delectable bites. The key is to keep the skewers moist. Don't cook till the outer coating of marinade turns dry. Allow to remain slightly creamy and you can't go wrong! My kids thank me a million times when I make these. Serve with Naan and Chutney or Rice with a salad or gravy on the side.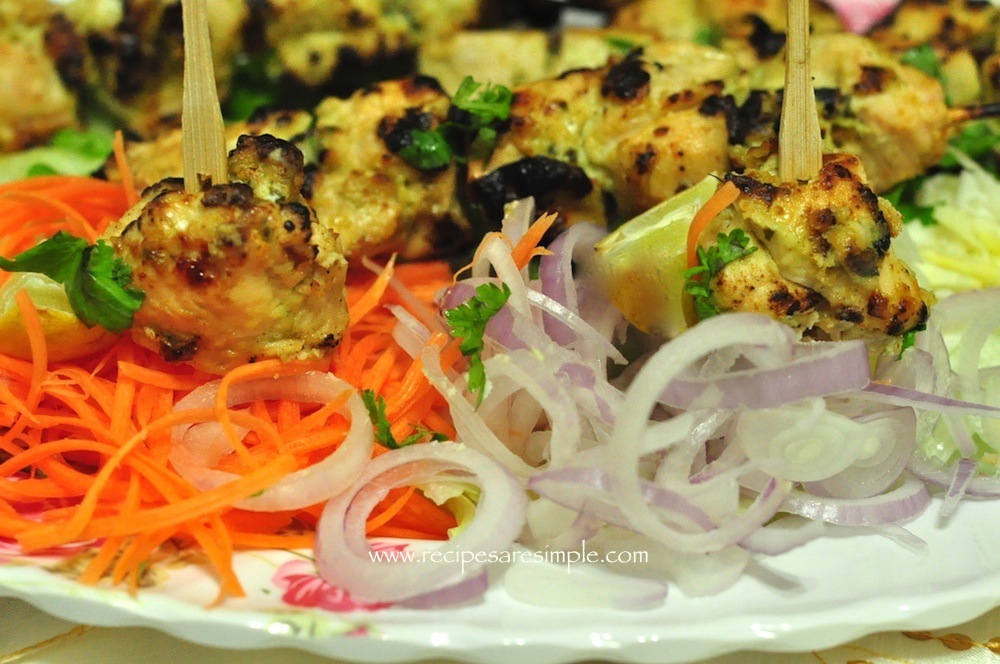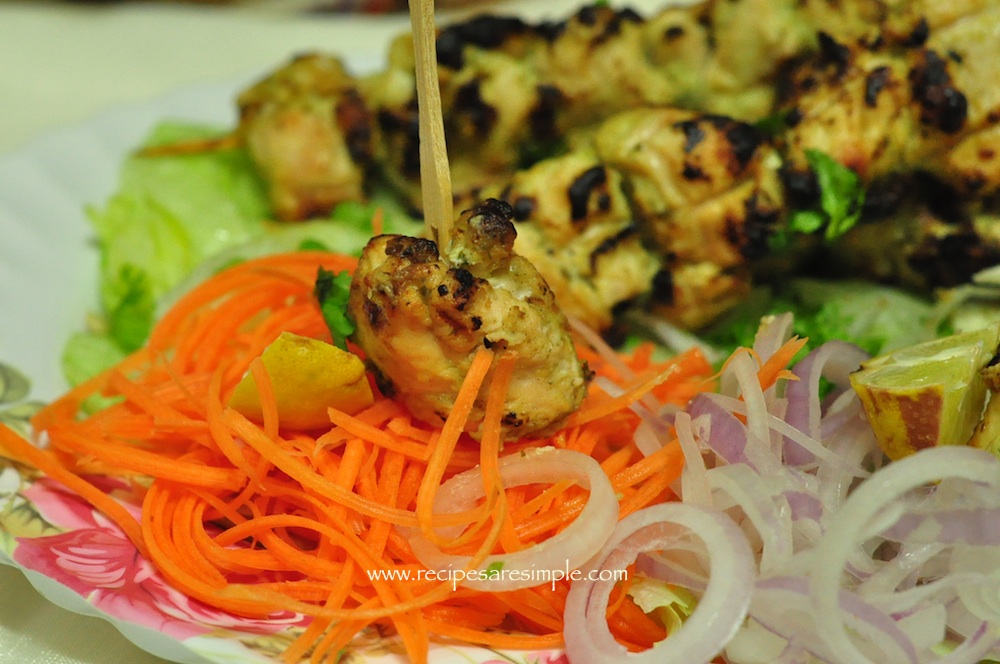 Malai Tikka Kebab – Skewers marinated in cream cheese
Recipe Type: Chicken / Grill / Indian Tandoor

Author: Recipes 'R' Simple

Prep time: 5

Marination: 3 hours 30 minutes

Cook time: 

Total time: 

Serves: 4 – 6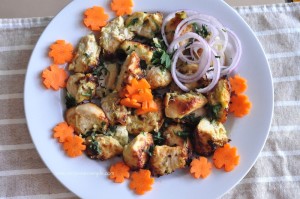 Ingredients:
800 gms Chicken Breast
3-5 Tbsp butter, melted
Fresh Cilantro, Onion, Carrot and Cabbage – shredded and sliced finely for garnish
You will need small bamboo skewers and for home made char marks a double sided grill rack is used
First Marinade:
1 tsp fine fresh ginger paste
1 tsp fine fresh garlic paste
1 tsp

white

pepper powder
½ tsp meat tenderizer( papaya based – powder or pulp)
½ tsp cardamom powder
1 tsp salt
Second Marinade:
½ cup cream cheese

(choose your favorite brand or use mozzerella cheese crushed to a paste)

½ cup sour cream (or substitute with ¼ cup 'hung' yoghurt plus ¼ cup pure cream)
1-2 green chillies
handful of coriander leaves
2 Tbsp Mustard oil
2 ¼ Tbsp corn flour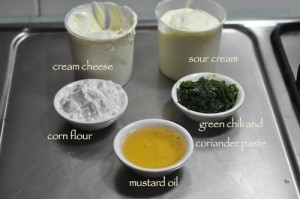 Method:
Cut he chicken breasts well into small chunks.

(A little smaller than hotel style tikka for home made).

Wash well and pat dry with kitchen paper towel.
Make a smooth paste of the ginger and garlic.
Marinate the chicken with all ingredients under 'First Marinade'.
Set in the fridge, covered for 30 minutes.
Meanwhile  – Grind the green chili and coriander leaves to a paste. Mix with all the other ingredients under ' Second marinade' except the mustard oil
Stir well till there are no lumps.
Lastly add the mustard oil and stir till you get a smooth homogenous mixture.
Marinate the chicken again with this paste after the initial marination. Rub well to coat all the chicken evenly.
Place back in the fridge to marinate 3 hours or overnight.
Soak the bamboo skewers in water.
When its time to grill. Preheat the oven on broiler setting ( top coil only). Preheat to the highest heat option.
Thread the chicken pieces onto the skewers with a little space between each piece.

(Reserve the marinade left in the bowl.)

For a home made charred effect, which  I recommend. Place the skewers inside a double sided wire grill rack with a handle and place on your gas burner on high flamer till slightly charred all over. You don't want to cook the chicken, just to char the coating evenly all over.
Transfer the charred skewers to an oven tray lined with foil paper.
Place on the upper rack( closest to the top coil) and broil for 10 minutes.
Turn the skewers over and broil again for 10 minutes.
Lastly baste with the melted butter and broil for the  a final 5 minutes.
Remove from oven. Chnge the oven to conventional oven setting( top and bottom coil both)
Place the remaining marinade in an oven proof bowl with a little melted butter added. Bake for 10- 15  minutes till it tastes cooked Add a little more butter at the end, and you have a lovely sauce to dip your Naan or Tikkas in.
Serve with Mint Chutney, Naan or Rice dishes like Vegetable Fried Rice.
Slice onions, carrots and cabbage into fine shreds/ rings.
Place the onion rings in iced water ahead of time to keep them crisp without the pungency.
Malai Tikka Kebab – Skewers marinated in cream cheese
Try it and let us know – Malai Tikka Kebab – Skewers marinated in cream cheese .
Do not let the creamy texture of the kebabs to fool you into over broiling to achieve a dryer coating. The chicken will be cooked tender in inside and yet have a creamy outer layer due to the cream cheese. Test one piece by cutting through the centre to check if it is cooked if you are worried but pleas don't overcook as the chicken will loose flavor and dry out completely.
You can skip the step over charring the skewers on the stove top if you do not care for the char marks. You will get lighter char marks by using the broiler alone.
Pour out any excessive liqud in the tray when it's time to turn over but to keep a little is recommended. Perfect for mopping up with hot Naan.