20 October, 2013
Malabar Pathiri – How to make Pathiri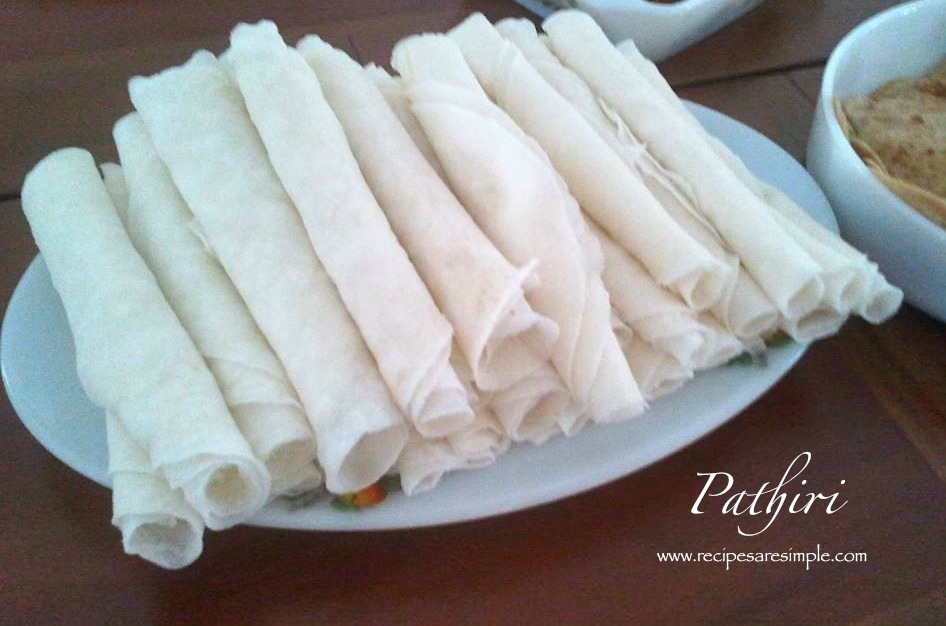 Malabar Pathiri – How to make Pathiri
Pathiri is a popular Muslim dish from Kerala. These Roasted Rice flour Pancakes are light and served for breakfast, lunch or dinner! Typically served with some coconut milk and a Chicken Curry Or Beef Curry! You will keep reaching for more!
Malabar Pathiri – How to make Pathiri
Author:
Prep time:
Cook time:
Total time:
Ingredients: serves 3 – 4 people
2 cups rice flour
2 ½ cups water
1 tsp salt
2 Tbsp coconut milk




Method:

Heat the water in a wide mouthed pot 'Uruli'. Add salt(1). Bring to boil.
Add coconut milk(2).
Add all the flour in one heap in the centre of the boiling water(3).
Do not stir. Allow the water to boil over the heap of flour(4).
Once almost all covered, Turn down the heat and stir with a wooden ladle quickly to wet the flour evenly(5 & 6).
Once you have mixed all the flour with the water,  turn off heat and cover the pot for 5 minutes(7).
Now is the most important part of making pathiri : The kneading.
You must knead the dough while it is still hot. Use heat proof gloves or use my method:
"Add all the hot flaky dough to a food safe large plastic bag like a microwavable zipper bag and put on you oven mits. Now knead the dough inside the plastic bag well, by flipping over the bag and pressing for a good  seven minutes. Keep checking to see if you have a smooth dough with no more chunky or white bits"(8).
Roll into lime sized balls using the pressure of your palms till the balls are smooth with no cracks. Flatten slightly(9).
Make balls similarly of all the dough and keep covered(11).
Use a chapathi press if you have one to press the pathiri as large as possible(13).
I find that placing flat plastic sheets/bags over both sides of the press helps to get a larger rounded pathiri.
Then continue to roll out with a rolling pin into a large, round pathiri as thin as possible without breaking or tearing(14). 

(Use very little rice flour for dusting- using too much will give you browned/burnt pathiri)

Heat a flat non stick skillet or tawa and place one pathiri at a time(15) 

( dust off any excess flour, first).

When you see tiny bubbles appearing, flip the pathiri over cook the other side for 30 seconds or so till it puffs up(16). press gently with spatula to help the 'puffing up' process.
Once the pathiri is cooked on both sides, transfer to a casserole dish, wipe off the pan to remove any flour residue and start the next one.
I like to roll out my 'pathiris' on the side as I roast them simultaneously. This keeps the pathiris from drying out like if you were to roll them

all

out first, and only then start  roasting.
Malabar Pathiri – How to make Pathiri
Did you enjoy our Malabar Pathiri – How to make Pathiri ?